By Angie Toole, Niceville Exchange Club President
Starting on September 9, close to 400 flags will be on display at the Mullet Festival Fairgrounds for the 10th year, honoring those who gave their lives in the service of their country.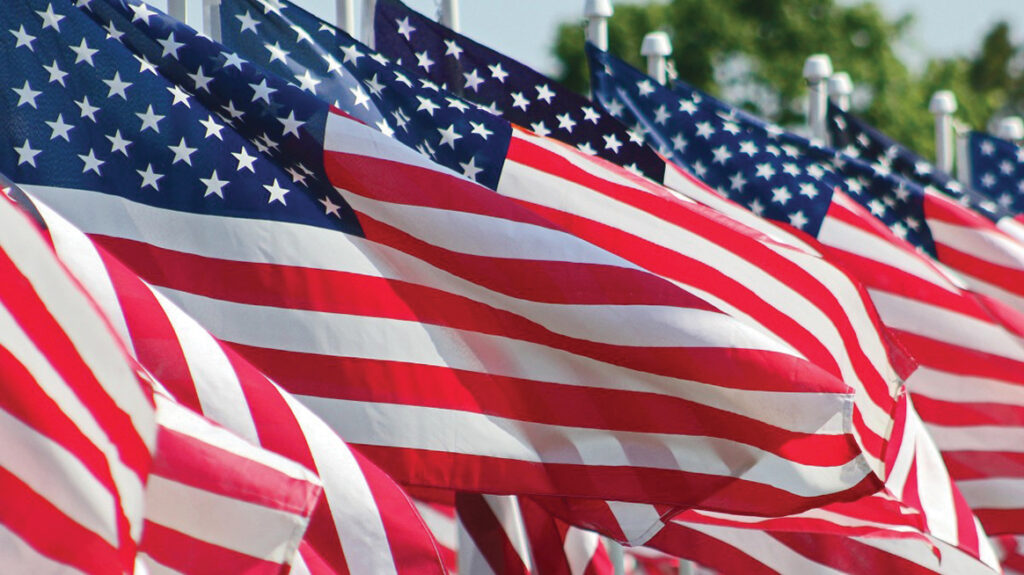 The Field of Valor, set up by the Niceville Exchange Club, recognizes those service members from the state of Florida who have fallen in combat since September 11, 2001. Posted on the Niceville field, each flag will bear a tag with the name, photo and information about a Floridian who served in Iraq or Afghanistan who lost his or her life in action.
Tammy Summers is a Gold Star wife who joined the Niceville Exchange Club after attending the Field of Valor in 2022. She took photos for her Facebook page of her husband, Sgt. First Class Severin W. Summers III, who died August 2, 2009, in Operation Enduring Freedom.
On the memorial page she has created to honor his memory, she posted: "I am honored and humbled to participate in putting out flags for our fallen military in my hometown of Niceville. I placed Sev's flag out and attached his biography. Remembering him today and always!"
Karla Lacey also volunteers at the field to honor her son, Sgt. First Class William Lacey of Laurel Hill. She works at Fort Walton Machining, which was one of the event sponsors this year, as it has in years past.
Visiting the Field of Valor hasn't always been easy for the Lacey family. Karla has been attending for several years, because it has been a healing experience for her. She also volunteered to spend time as a docent at the field this year, as she has in previous years.
Don "Pockets" Pardue is the chairman for this year's event. The former Marine admitted that honoring the military is a particular passion of his, especially honoring those who made the ultimate sacrifice.
This year's event will feature guest speakers including United States Air Force Retired Captain Nathan Nelson, who suffered a spinal cord injury from a rocket blast in Afghanistan. Capt. Nelson has served as a military affairs advisor for Congressman Matt Gaetz; director of the Northwest Florida Supercomputer Research Group; and currently works as project control lead and strategic growth lead for Integrated Solutions for Systems, a Department of Defense contractor and sponsor of the event.
For his service to the country, Captain Nelson received the Purple Heart, Air Force Commendation Medal, Army Commendation Medal, Army Achievement Medal, Air Force Organizational Excellence Award, Air Force Good Conduct Medal, Air Force Recognition Ribbon, National Defense Service Medal, Afghanistan Campaign Medal, Global War on Terrorism Service Medal, Air Force Legacy Service Award, Air Force Basic Military Training Honor Graduate Ribbon, Air Force Training Ribbon and the NATO Medal.
Eglin's Brig. Gen. Jeffrey T. Geraghty, Commander of the 96th Test Wing, Air Force Materiel Command also has committed to speak again this year at the event. He leads more than 10,000 military, civilian, and contractor personnel, in accomplishing the 96th Test Wing's missions of developmental testing and evaluation of conventional munitions, command and control systems, aircraft avionics and guidance systems, and radar cross section measurement.
Niceville High School JRTOC, Niceville firefighters, the local Patriot Guard Riders also are on the schedule to participate in the event.
The Rocky Bayou Christian School Chamber Choir singers are slated to perform a medley of patriotic and military branch songs.
The Exchange Club of Niceville is part of the National Exchange Club and has been active for 30 years. The National Exchange Club is the only service organization exclusively serving communities in the United States. More than 630 local clubs throughout the U.S. and Puerto Rico provide individuals with opportunities to use their time and talents to benefit their local communities and the country as a whole. Exchange's Core Values are family, community and country.
Through the Programs of Service – Americanism, Community Service, and Youth Programs – members support activities that benefit youth, promote pride in our country, and honor military and public service providers, to name a few. Exchange's National Project is the prevention of child abuse.
To find out more about you can be a part of making the Niceville/Valparaiso/Bluewater Bay area a better place to live by joining the Niceville Exchange Club, come to our next meeting (held on the second and fourth Thursday at Café Bienville), visit our website at http://nicevilleexchange.club/ and Facebook at https://www.facebook.com/Niceville-Exchange-Club-603451859685687.