By Lori Leath Smith
Publisher Note: It is always an honor to write about a Hometown Hero. For many, the word hero brings a particular image or personality to mind. Yet, our heroes vary in age and are as unique and special as the life they have lived and the inspiration they are for each of us. They come from all walks of life, and their occupations, ambitions and accomplishments motivate us to embrace our own life's challenges with determination and hope. As we listen to them share the trials and triumphs of their life journey, our heart is awakened to the reality of exactly how fragile and precious life is. The truths they communicate are a solemn reminder we should strive daily to cherish every moment and celebrate the ones who make our life beautiful in every way. Niceville local Judah Claire Pierce is one such non-assuming hero. Her story is one of resilience, persistence and zeal to maintain a sense of normalcy through soul-crushing pain.
At age 10, Judah Claire Pierce experienced an ordinary day at summer camp nestled in the foothills of Georgia. A spontaneous dash down a hill strewn with large tree roots resulted in a minor fracture in her left foot – an incident now three years past. Reflecting on that moment, Judah remarked, "Little did I know that this seemingly innocent act would lead me down a path I never could have imagined."
Her path is one etched with unrelenting pain. Each morning, Judah awakens to a world filled with stabbing, searing and crushing sensations—a chronic condition she vividly describes as "feeling like I am being burned alive. No matter what I do, the pain persists relentlessly. It affects even the simplest tasks like going to school, tidying my room, or just trying to live a normal life…making me feel as though I'm wearing a mask of happiness," shared Judah.
Initially deemed a minor injury, her condition baffled doctors as her relentless suffering defied relief. Through an array of medical interventions and rigorous physical therapy, she eventually received a rare but life-altering diagnosis: Complex Regional Pain Syndrome (CRPS), a neurological anomaly casting her into a realm of chronic, intense pain to her left leg.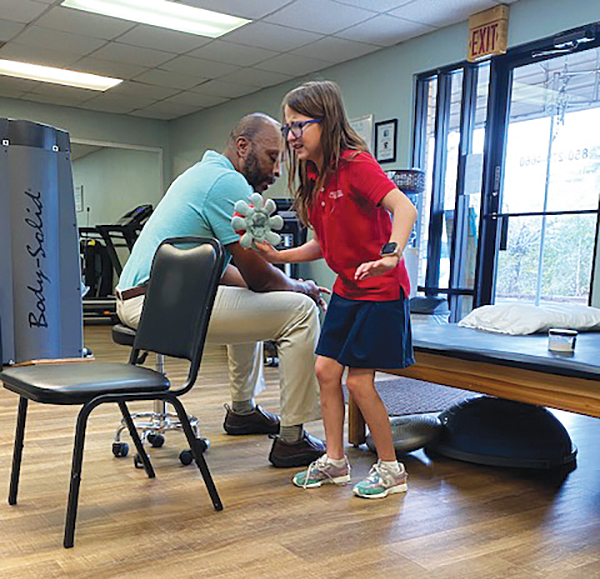 Termed the "Suicide Disease" from the relentless pain it induces, CRPS stems from autonomic nervous system imbalances and dysfunction. As Judah's parents, Blake and Candace Pierce, describe it, "CRPS is one of the most excruciatingly painful diseases known to humankind, surpassing even childbirth and amputation without anesthesia on the McGill Pain Index." Highlighted as one of the top 20 most agonizing conditions, many instances follow forceful traumas to limbs or ankles, among other triggers. However, the mechanism behind why these injuries provoke CRPS remains elusive.
"Working with the doctors was a challenge, because Judah's pain never matched her injury. She would scream in pain," recounted Candace, Judah's mother. She continued, "As a mom, it's so hard to watch your daughter crying in pain every day, just trying to live her life and you can't fix it. With all these healthcare degrees, I still can't stop my daughter's suffering."
During the summer of 2022, the Pierces found their way to a distinguished CRPS program at the Children's Hospital of Philadelphia where she relearned how to walk and run barefoot, revitalizing mobility in her left leg. "Unfortunately, unlike others who completed the program, my pain did not go into remission and has only intensified since then," said Judah.
While CRPS often leads many affected children to wheelchairs and eventual bed confinement, her father, Blake, proudly stated, "Yet, Judah refuses to let this awful disease steal her childhood." Despite enduring countless hurdles, she persistently greets each new day with a smile, striving to maintain a semblance of normalcy amidst the emotionally draining and physically relentless pain.
"I believe it's Judah's faith that fuels her with such resilience," commented Candace. "She identifies closely with Paul in the Bible who was given a thorn. 'Therefore, so that I would not become arrogant, a thorn in the flesh was given to me, a messenger of Satan to trouble me—so that I would not become arrogant. I asked the Lord three times about this, that it would depart from me. But he said to me, 'My grace is enough for you, for my power is made perfect in weakness. So then, I will boast most gladly about my weaknesses, so that the power of Christ may reside in me.' ~ 2 Corinthians 12: 7-9, New English Translation." "It's that we all want it to go away; and even though it sucks, it's not the end," said Candace.
Now approaching age 13, Judah embraces her challenges. Her recent academic feats are noteworthy, encompassing top grades at Okaloosa STEMM Academy, securing 1st Place in the Regional Science Fair, participating in the State Science Fair, being a Thermo Fisher Jr. Nominee, winning the NASA Earth Systems Science Project Award, achieving recognition as a regional History Project winner and participating in the state National History Day. Judah excels in math, enjoys Cotillion, passed the Python certification exam, and is active in piano, violin, tennis, and as VP of the Hope Squad. She's also into acting, singing and leads worship for her church youth group.
Home for the Pierces is Niceville, where Blake is stationed at Hurlburt AFB. Candace revealed Judah's goal is to graduate at age 15 and explore aviation, possibly joining the military to fly or pursuing engineering.
However, her pain has escalated, prompting the Pierces to urgently seek relief for their daughter. "We recently discovered the Spero Clinic, a unique medical center in Arkansas offering a 12-week Neurologic Rehabilitation program that approaches CRPS treatment differently," said Candace. "This clinic has achieved remarkable success in achieving remission for CRPS patients worldwide. Our aim is to have her begin treatment after Christmas. Unfortunately, due to the limited understanding and rarity of CRPS, insurance doesn't cover her 3- to 4-month stay or treatment plan."
Judah and her family have partnered with the Burning Limb Foundation, a 501c3 non-profit, to raise funds for her Spero Clinic treatment. You can help by contributing a tax-deductible donation to the 501c3 fundraising account for Judah. Visit https://burninglimb.networkforgood.com/projects/198056-help-judah-pierce-on-her-journey-to-the-spero-clinic.
You can also support by purchasing a t-shirt designed by Judah at https://www.bonfire.com/crps-treatment-for-judah-at-spero-clinic/.
For additional details about the Spero Clinic, visit https://www.thesperoclinic.com/conditions/complex-regional-pain-syndrome/.
"…the reality is that CRPS has consumed my life for the past three years," said Judah. "It has forced me to grow up faster than my peers, confronting challenges that no child should have to face. Yet, in the midst of it all, I remain resilient and hopeful, believing that with your support, I can conquer this pain and reclaim my childhood."