By Kenneth Books
The average human body contains about 60 percent water. And we die after about three days without ingesting liquids.
Yet, most of us take water, the most crucial element in the world, for granted.
The Choctawhatchee Bay Estuary Program is designed to create awareness of that body of water and how its values include environmental, economic and social benefits.
"We are a grant-based program funded from the BP oil spill settlement and EPA," says Sabina Pennington, Public Outreach Specialist. The RESTORE Act, or "Resources and Ecosystems Sustainability, Tourist Opportunities, and Revived Economies of the Gulf Coast States Act," provides financing in response to the Deepwater Horizon oil spill that took place April 20, 2010.
In 2019, the Choctawhatchee Bay Estuary Coalition was established to provide a regional program for the management, restoration and protection of the Choctawhatchee Bay and watershed. It comprises 10 counties in Alabama and four in Florida, each of which is a source of water flowing into the Bay.
"It's important for everybody to work to bring awareness of the importance of watersheds and the environmental and economic impact to our communities," Sabina says. "It's wonderful to work collaboratively to benefit the estuary program with a common goal. I think of it as "Connecting our Waters to People."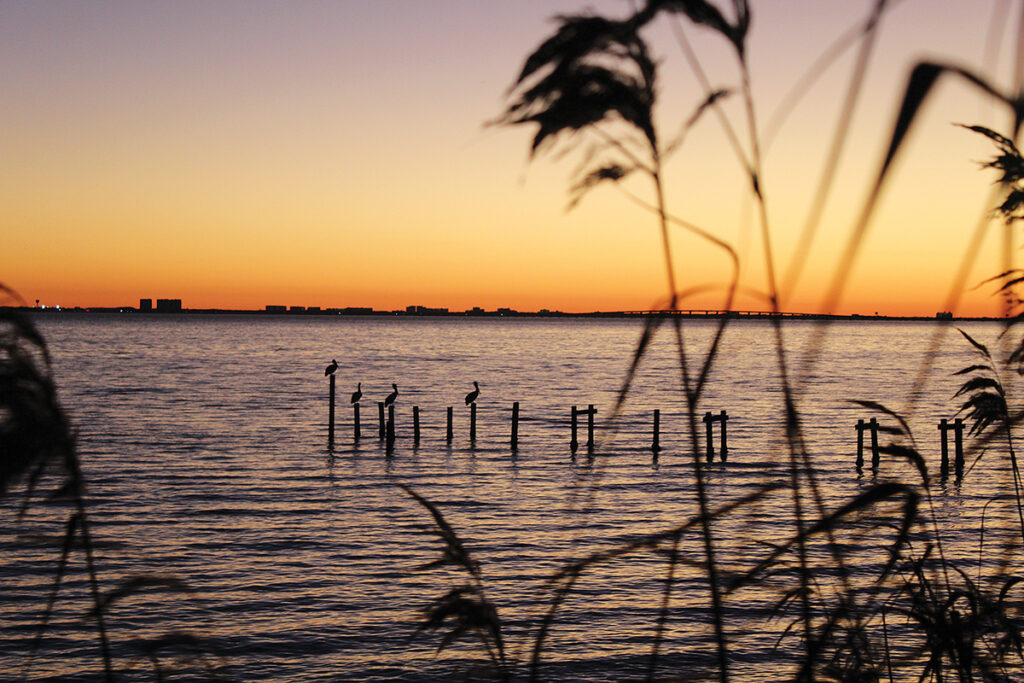 An estuary, she said, is any body of water that meets the sea.
The watershed has a surface area of 5,400 square miles, with an average daily fresh water inflow of 63,665 gallons.
It's also the home of a diverse group of wildlife, from blue herons to turtles. The Coalition members include Holmes, Walton, Okaloosa and Washington counties in Florida, the Air Force, the Choctawhatchee Basin Alliance and the Choctawhatchee, Pea and Yellow Rivers Watershed Management Authority in Alabama.
"The Coalition works with the public to share and educate the importance to our communities, not just environmentally, but economically and socially," Sabina says. In the future, she says, a comprehensive conservation management plan will be developed to bring together five focus areas. "I kind of call it a to-do list," she says.
The coalition seems to be made to order for Sabina, who emigrated from Czechoslovakia at age 3. She saw her position advertised on the Okaloosa County website and showed it to one of her sons, who told her, "Mom, it's perfect for you." She holds a bachelor of science in environmental science from the University of Massachusetts and a master of science from Johns Hopkins University in environmental management and planning. She moved to the Emerald Coast with her husband, Allen, a retired Air Force major and has three sons: AJ, 22, a recent Florida State University graduate, Alex, 17, a senior at Niceville High School and Adrian, 15, a sophomore at NHS.
"The coolest thing is I engage with the public," Sabina says. "Education and outreach are the most important and pivotal part of any program. It's very important to our community to bring awareness to the local economy to the betterment of the beautiful area we have here. We are so blessed. It's important to the life we enjoy here. It's about empowering each citizen to know and understand that they make a difference."
A Citizens Advisory Committee meets every other month. "The CAC is pivotal to help us better understand the needs of our communities and to provide input on the best ways to manage and preserve our estuary," Sabina says. "It's so important to have people in our communities share in the decision-making processes related to the estuary program. The CAC is the bridge between the estuary program managers and the public, ensuring that community concerns and priorities are taken into account. The CAC members include residents, business owners, environmental advocates, scientists, educators, recreational users and other people who have a vested interest in the health and well-being of the estuary. The next CAC meeting is Oct. 26. If anyone wants to participate they can email me for the zoom link at spennington@myokaloosa.com.
Sabina said she is also looking for kids in middle and high school ages who are interested in being future stewards. The group is called TEACH (Teen Environmental Advisors for a Cleaner Habitat). Anyone who is interested can email her.
In celebration of National Estuaries Week, which takes place Sept. 16-23, the National Oceanic and Atmospheric Administration's Office for Coastal Management is holding a photo contest. To enter, go to coast.noaa.gov/nerrs/about/photo-contest. The deadline is Tuesday, Aug. 31.
On Sept. 16, the organization will hold an Emerald Coast Native Plant Fair from 9 a.m. to 3 p.m. at Paradise Plants & Palms, 695 Valparaiso Pkwy. in Valparaiso.
Area schools are also holding campus clean-ups. Interested parties can email Sabina at spennington@myokaloosa.com.
On Sept. 23 a Family-Fun-Fest event, "Come get your Passport to the Bay," is scheduled. Participants can enjoy fun activities, prizes and vendors and learn about the critters and creatures of the Choctawhatchee Bay. More information can be found at the program's website: choctawbay.org.