You're Invited to the Importance of a Community-Based Estuary Program, Sept. 7 at 6:30 p.m. at Crosspoint Church Niceville, Room 800 on the 2nd floor of the Chandler Center (NW door of 519 Helms St.). Attendees will discuss the importance of estuaries, and how connecting the birds and the bees, the water and the trees can help overcome challenges that local communities face. Admission is free and open to the interested public.
The Freeport Republicans will meet at the Hammock Bay Clubhouse Sept. 12, 6 p.m. ( 5:30pm Registration). The September speaker is FL Representative Shane Abbott. To attend, email Paul Renfroe, President: SeeHigher@PaulRenfroe.com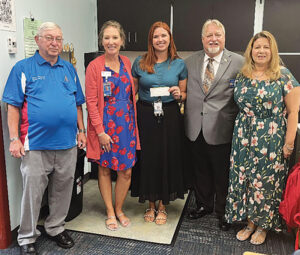 Okaloosa No. 312 F.& A.M. annually adopts first year elementary school teachers in the Niceville area. They are presented with a check to assist in establishing their first school room as a teacher. The selected first year teacher from Edge Elementary is Cecelia Roff. Pictured left to right: Robert Anderson, Melissa Kearley, Cecelia Roff, Timothey Kennedy and Norma Kennedy.
You don't want to miss "Tacos Under the Trees'' on Saturday, September 16th! Join us at the E. O. Wilson Biophilia Center for an all-you-can-eat taco bar, bottomless margaritas, live music, tequila tasting, a ride on our new Turtle Train, and much more! Space is limited! Register online today and find further information by visiting eowilsoncenter.org.
The Walton Republican Executive Committee (WCREC) will meet Monday, Sept. 18 at 6 p.m. Registration begins at 5:30 p.m. at the Hammock Bay Clubhouse, 1850 Great Hammock Bend in Freeport. Registered Republicans of Walton County are welcome to attend. Come find out what the Republican Clubs in Walton County are doing and how to become a Precinct Committeeman/woman.
Join the Heritage Museum of Northwest Florida in celebrating National Constitution week by hearing the story of "The longest siege of the American Revolution; the Battle of Pensacola" presented by author Wesley S. Odom, Saturday, Sept. 23, 10:30 a.m.-1:30 p.m., 115 Westview Ave., Valparaiso. Lasting nine weeks in 1781, this little-known battle impacted the Revolution in a decisive way and, in this lesson, you will hear the surprising end of the siege. $10 per attendee and $6 for museum members. Special group price $20 for a group of 4 or $15 for members. CALL 850-678-2615 Visit heritage-museum.org.
Join the E. O. Wilson Biophilia Center on Saturday, September 23rd, from 9 a.m. to 2 p.m. for its annual "Fallapalooza" at the E. O. Wilson Biophilia Center. There will be food trucks, yard games, bounce houses, animal encounters, and much more! Admission is $8 for adults and $5 for ages 4–12.
Enjoy contemporary art at the 31st Annual Emerald Coast National Juried Art Exhibition, McIlroy Gallery, Mattie Kelly Arts Center Galleries at Northwest Florida State College. See contemporary art made by 20 different artists from across the U.S. guest juried by Dr. Maria Elena Buszek, Professor of Art History, University of Colorado. There will be a debut solo exhibition by ECN 30's Best-in-Show artist, Ainaz Alipour, MA in film ('21) and MFA fine art ('24). See a blend of high & low-tech materials and processes, including virtual reality, projection, 3D Printing and hand sewing. Free and open to the public. Exhibition Dates: August 31-December 15, 2023. MKAC Galleries Hours: Monday – Thursday: 10 a.m. – 4 p.m.