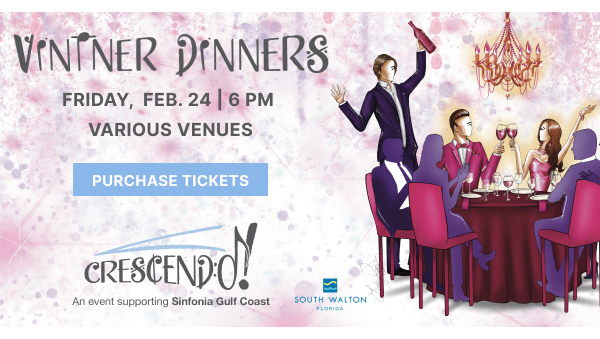 A Liturgical Mass at Christ Our Redeemer Church, Niceville, will celebrate Black History Month on Jan. 29. The Most Rev. William Wack, C.S.C, Bishop of Pensacola-Tallahassee, will be the celebrant. This is a rich and colorful event to emphasize black involvement in the Catholic Church. The Eglin AFB Brotherhood Gospel Choir will begin with a concert at 2 p.m., with a celebration of mass starting at 2:30. All denominations are welcomed.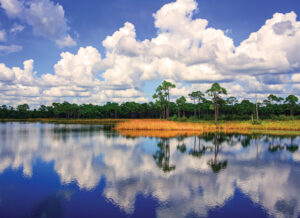 The Florida Association of Counties (FAC) has unveiled the county photos featured in its 2022-23 annual calendar: Keep Calm & Love Water. Okaloosa County is featured on the cover, a photo taken by Nick Tomecek. Walton County was selected for February, with a photo by Marlon Davey. Each year, FAC opens a contest to all Florida's 67 counties to be one of the 15 featured in its annual calendar. More than 500 photos were submitted from 52 Florida counties. The winners were announced during FAC's Legislative Conference in Pinellas County.
The 7th Annual Mardi Gras Golf Scramble to benefit the Heritage Museum of Northwest Florida will be held at Regatta Bay Golf Club on Sunday, Feb 26. Shotgun starts at 8:30 am. A buffet lunch, hole-in-one opportunities courtesy of Step One Automotive, raffles, prizes, and a silent auction will be included. For more information phone the museum at (850) 678-2615 or call tournament director Barbara Palmgren at (850) 974-1910.
The Freeport Republicans January meeting will be Monday, Jan. 9, at the Hammock Bay Clubhouse, 1830 Great Hammock Bend, Freeport. Registration, 5:30 p.m.; meeting, 6-7 p.m. The meeting for February will be Monday, Feb. 13.
The Walton County Republican Executive Committee (REC) will meet Monday, Jan. 16 at the Hammock Bay Clubhouse, 1830 Great Hammock Bend Freeport. Registration, 5:30 p.m.; meeting, 6-7 p.m. These meetings are open to Republicans in Walton County. To learn what the various clubs in Walton County are doing, to include speakers and events, this is the place to find out. The REC meets monthly on the third Monday of each month at the same location and time.
A Chili cook off benefit for CALM will be held at 3rd Planet Brewery, 1400 E John Sims Parkway, Niceville Saturday, Jan. 28, starting at 5 p.m.
Tickets are on sale for the Ascension Sacred Heart Foundation's 2023 Emerald Ball to benefit Ascension Sacred Heart Emerald Coast. Celebrating the 20th anniversary of th hospital, the event is Saturday, Feb. 4, 6 p.m., at the Hilton Sandestin Beach Resort Golf and Spa and is presented by Howard Group, Grand Boulevard and Silver Sands Premium Outlets.
Proceeds from this year's event will go toward purchasing a new computerized tomography (CT) scanner for both adults and kids. This is the third year for the event, with the previous two events each raising approximately $200,000. A new CT scanner will improve diagnostic image quality and save patients time during the scan. The hospital plans to install the scanner next year. Tickets are $150, which includes reserved seating, dinner, two drink tickets, live music and dancing. Sponsorship opportunities at all levels are also available, with a special reception for sponsors before the main event. Guests clad in shades of emerald will enjoy a wine and bourbon pull, a photo booth and an opportunity drawing for a $5,000 shopping spree at McCaskill and Company.
For more information on tickets or sponsorship, contact Lisa Wainwright at lisa.wainwright@ascension.org or by phone at (850) 278-3702.
The Emerald Coast Children's Advocacy Center (ECCAC) officially announced that Lee Curtis has joined their team as the non-profit's head of Marketing and Donor Advancement. She will lead the marketing efforts of ECCAC's Centers in Okaloosa and Walton counties.
Highly active in the community, Curtis has served on the board of directors of the Walton Area Chamber, as well as serving as the chamber's Chairman of Mentoring Emerald Coast. Curtis was also on the board of the Junior League of the Emerald Coast, and worked with Seaside School activities. For further information about the Emerald Coast Children's Advocacy Center, visit www.eccac.org or call (850) 684-4422. If abuse is suspected, call the anonymous Florida Abuse Hotline at 1-800-96-ABUSE.
CHELCO's Board of Trustees has approved a retirement of $3.4 million in capital credits to be returned to approximately 69,000 current and former members. Each year, the Board of Trustees determines if CHELCO's financial condition will allow the retirement of a portion of the capital credits. CHELCO returns them to members on a 20-year cycle, meaning that those who were CHELCO members in 2002 and/or 2021 will receive a capital credit check based on how much business the member did with CHELCO in those years. Visit CHELCO.com to learn more about capital credit allocations and retirements.
The Walton County Board of County Commissioners will hold a ribbon cutting ceremony for the U.S. Highway 331 Water and Sewer Project Jan. 4 at 1 p.m. at the entrance of the Northwest Florida Commerce Park at Woodlawn on U.S. Highway 331 S., across from W. Indian Creek Ranch Road. The public is invited to attend. Community partners, along with representatives from the City of DeFuniak Springs, the Walton County Economic Development Alliance (EDA) and the Triumph Board are expected to be in attendance. The $4.7 million project, funded through grants from the United States Treasury ($3 million) and Triumph ($1.7 million), allows for future commercial and residential growth along the U.S. Highway 331 corridor and provides the water and sewer infrastructure needed to support the new Northwest Florida Industrial Park at Woodlawn. Construction, which involved the installation of approximately 15,738 linear feet of 16-inch water main, approximately 17,002 linear feet of 6-inch force main and 4,682 linear feet of 8-inch force main, and two pump stations, began in August 2021 and was completed this month. For more information, call Rachel Jenkins, Public Information Officer, at (850) 892-8155.
The Walton County Board of County Commissioners, along with staff from the Library System, Parks and Recreation, and the Walton County Department of Health, participated in an unveiling ceremony of Trail Tales Story Posts at Padgett Park on Dec. 6. Trail Tales is a way for adults and their young children to combine literacy skills and healthy exercise as they walk along the park's pathway to visit the reading stands. The first story displayed is Big Dance by Aoife Greenham and is available during regular park hours. Padgett Park is located at 810 J D Miller Road, Santa Rosa Beach. For more information, contact Rachel Jenkins, Public Information Officer, at (850) 892-8155 or jenrachel@co.walton.fl.us.
There will be an Audubon Program Thursday Evening, January 5th – The Hidden Beauty of North West Florida. Join us with well-known local photographic artist, Jeff Waldorff, of Waldorff Photography, will present some of his photos of the nature, wildlife, and scenery of Northwest Florida. This program will be in Room 800 on the 2nd floor of the Chandler Center (NW door of the 519 Helms St.) at the Crosspoint Church in Niceville. Socializing with refreshments begins at 6:30 PM, and the program begins at 7:00. Admission is free and open to the public.