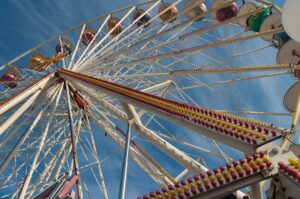 The Walton County Fair 2023 takes place October 16 – 21 at the Fair Grounds in DeFuniak Springs, Florida. Lots of family fun for the week! See Walton County Fair website for schedule of events, rides, pricing, youth activities, contest entries, live entertainment, and more!
The fair prides itself on continuing to update the areas for exhibits and entertainment. Exhibits at the fair still include animal, art, agriculture, handicrafts, potted plants, photography, and canned foods divisions. Children also have the opportunity to showcase their skills and talents with animals, speeches and educational posters.
Entertainment is a big deal at the fair. Each year the building is filled with music – from gospel to country and western performers. The gospel sing on Saturday night has become a great hit and much-anticipated event.
Open Monday – Friday 5-10 p.m. and Saturday 12-10 p.m.
Learn more: waltoncountyfair.com. 790 N 9th St. (Highway 83), DeFuniak Springs.