2023 will mark the 75th Annual Fishing Rodeo in Destin, and each year it gets better and better. Created back in 1948, the Destin Fishing Rodeo had one simple goal: to extend the tourist season another month. Destin has always been a popular tourist spot for fishing, and keeping those extra vacationers here helped our town thrive.
The Destin Fishing Rodeo has expanded into one of the largest fishing tournaments along the Emerald Coast. The rodeo is a month long, spanning October 1-31st and roughly 30,000 anglers compete each year.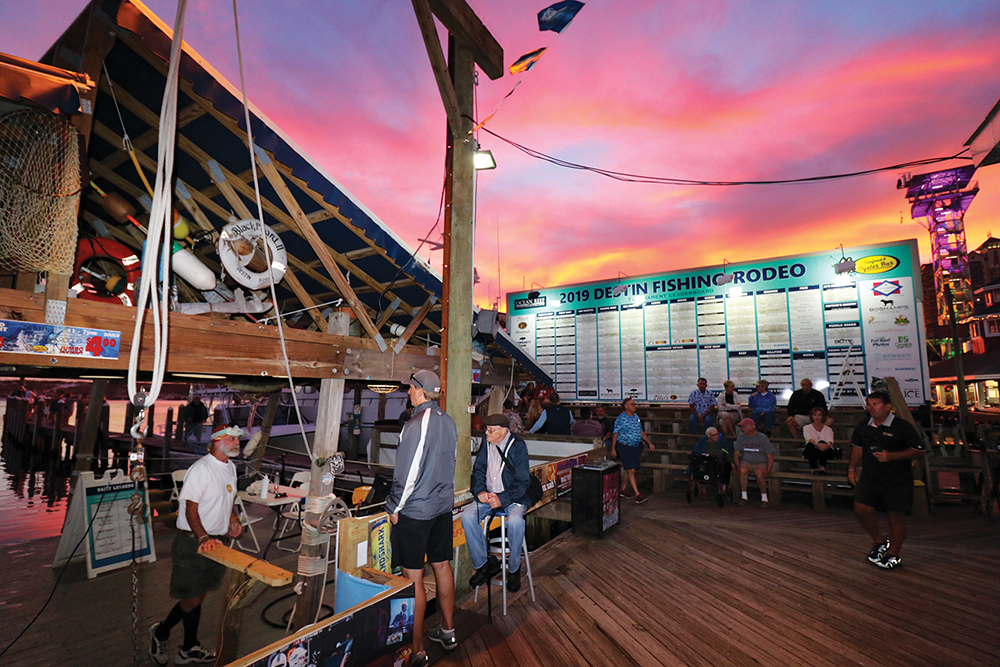 The weigh-ins happen on the docks behind AJ's Seafood and Oyster Bar, located on the Destin Harbor. They are free to the public and are open daily from 10 a.m.-7 p.m. For boats to participate, charter and private boats must be registered at least 24 hours prior to weighing in a fish. There is no fee for anglers fishing on a registered vessel (private or charter) and shore fisherman can participate by simply bringing their catch to the scales. Fish by kayak, paddle board, pier, bridge, jetty, shoreline and surf – whichever you prefer.
If you're planning to make a trip down to the docks, expect to see a broad spectrum of fish being weighed in. From Sharks to Amberjacks, Grouper to King Mackerel, Tunas to Marlin, the rodeo has it all. Anglers are competing for over $100,000 in cash and prizes, awarded for both daily and overall catches. 2022 was the first year that the Extended Voyage Division added five extra species of fish for a total of ten eligible fish.
The Destin Fishing Rodeo leaderboard includes grouper, amberjack, scamp, yellowfin and big eye tuna, dolphin, wahoo, Almaco Jack, snowy grouper and yellowedge grouper. There was also a Ladies, Seniors and Junior Divisions added in 2022 for wahoo, alongside king mackerel, grouper, amberjack and blackfin tuna.
Even if you're not a fisherman, the energy level and excitement that comes from being at the docks for weigh ins is like nothing else we've ever experienced. Boats back into the scales, pull the fish from their boat while the announcer hypes up the crowd. Fish are strung up on the scale while the crowds cheer and applaud the boat and their team. For the best seat in the house, get there early, grab a few beers and snag a seat on the bleachers by the leaderboard or above on AJ's upper deck.
Halloween on the Harbor will signify the end of weigh-ins on Wednesday, Oct. 31, when the captains, anglers, volunteers, and even Miss Destin, will be dressed in their favorite costumes. Everyone is invited to partake in the fun!
October kicks off with the Destin Seafood Festival, in conjunction with the Destin Fishing Rodeo! Make your plans to visit the Harbor all month long!