By Doug Stauffer
For the first time in its 80-year history, the United States Merchant Marine Academy (USMMA) at Kings Point, N.Y., will witness an extraordinary accomplishment: three students from Niceville High School's Class of 2019 will graduate together. Christopher Loffer, Gavin Wilson and Samuel Scholl will make history on June 17, 2023, as they receive their diplomas from the prestigious institution known as one of the five federal service academies.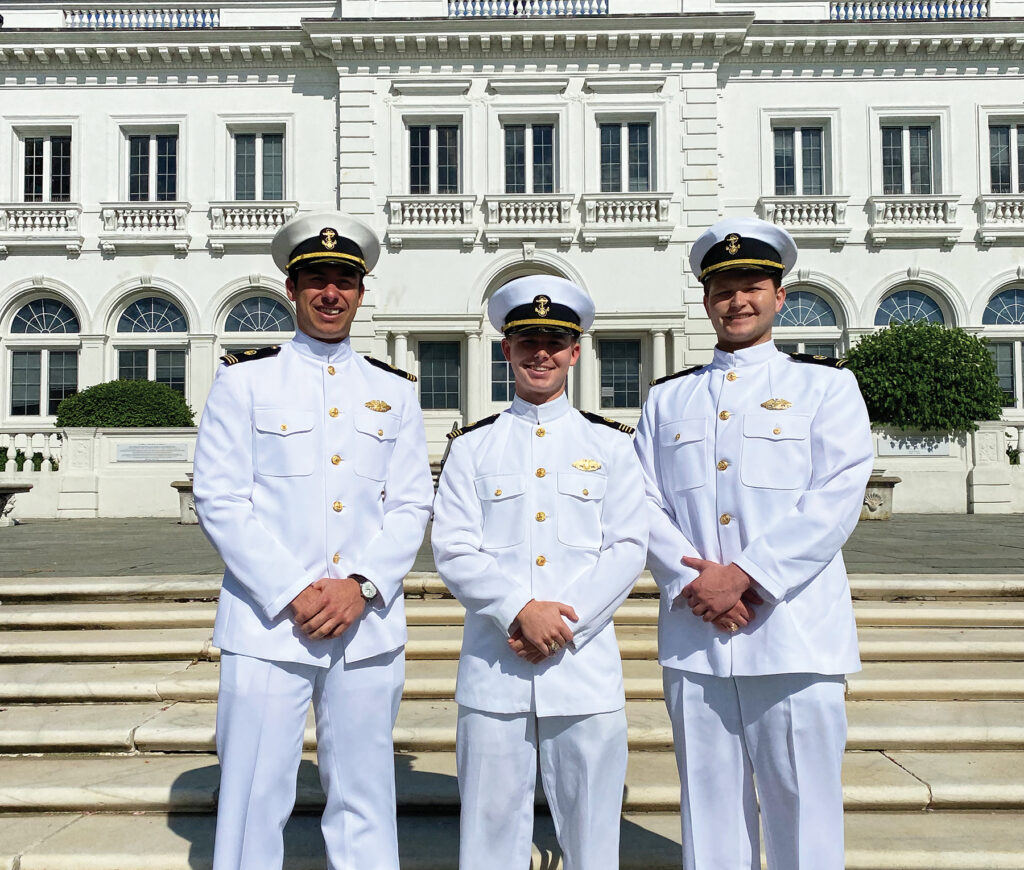 Nestled on the stunning former estate of Walt Chrysler on Long Island, N.Y., Kings Point boasts a small student body of under 1,000 and produces approximately 210-230 midshipmen each year. Congressman Matt Gaetz nominated all three midshipmen.
Congressman Matt Gaetz conveyed his deep admiration and pride for the trailblazing trio's extraordinary achievement. He enthusiastically stated, "I couldn't be more proud of Midshipmen Loffer, Wilson and Scholl's accomplishments these past four years as they have successfully navigated one of our Nation's most esteemed Maritime Academies. As a Niceville Eagle myself, I am proud to have been able to nominate them to the United States Merchant Marine Academy. They have certainly demonstrated all that Niceville High School offers and what Northwest Florida represents. I wish them the best of luck as they go underway in their careers and in service to this nation."
Kings Point is renowned for its unparalleled educational and training approach, which sets it apart from other federal service academies. Midshipmen undergo a rigorous program, spending one of their four years at sea aboard ocean-going vessels, gaining invaluable hands-on experience in marine transportation and engineering. Graduates receive a bachelor's degree in marine transportation or marine engineering and a third's mate license or a third engineer's license, respectively—each oceans unlimited—issued by the Coast Guard.
Another distinguishing feature of Kings Point is that its graduates are not obligated to serve on active duty post-graduation, unlike their counterparts at other academies. Instead, they may opt for reserve duty and sail on their license for five years, serving aboard U.S. flagged (Jones Act) ships. Remarkably, only about a third of the graduates pursue active duty, joining various military branches.
The USMMA's mission is to "educate and graduate licensed merchant mariners and leaders of exemplary character who will serve America's marine transportation and defense needs in peace and war." Midshipmen are organized into a military-style structure called the Regiment of Midshipmen, designed to prepare them for leadership roles in the maritime industry and armed forces.
The incredible achievements of Niceville High School graduates don't end with the Class of 2019. In the coming years, two more midshipmen from the school will graduate from Kings Point, followed by another from the Class of 2019, who overcame a setback and is now part of the Class of 2025.
As proud representatives of Niceville High School, the Class of 2023 graduates have left an indelible mark on the USMMA's history. Their groundbreaking accomplishments not only celebrate their perseverance and determination but also inspire future generations of students aspiring to succeed in such esteemed institutions.