"I played tennis up until college and started playing pickleball, because I had some time on my hands during COVID. I loved it. It's a fun game."
~ Jeff Harris, Owner of Run With It and Pickleball at the Palms
Back in 2016, I was editing the late, great Beachcomber magazine in Destin, and my boss suggested that we run some articles on pickleball. I had no idea what a pickleball was, but thankfully, a man named Phil Gardner explained it to me and my readers.
"Pickleball is a cross between tennis, ping-pong and badminton," he wrote. "It's most often played in two teams of doubles, but can be played as singles. The game is played on a badminton-sized court over a net similar to those in tennis. A whiffle ball is propelled by solid paddles over the net."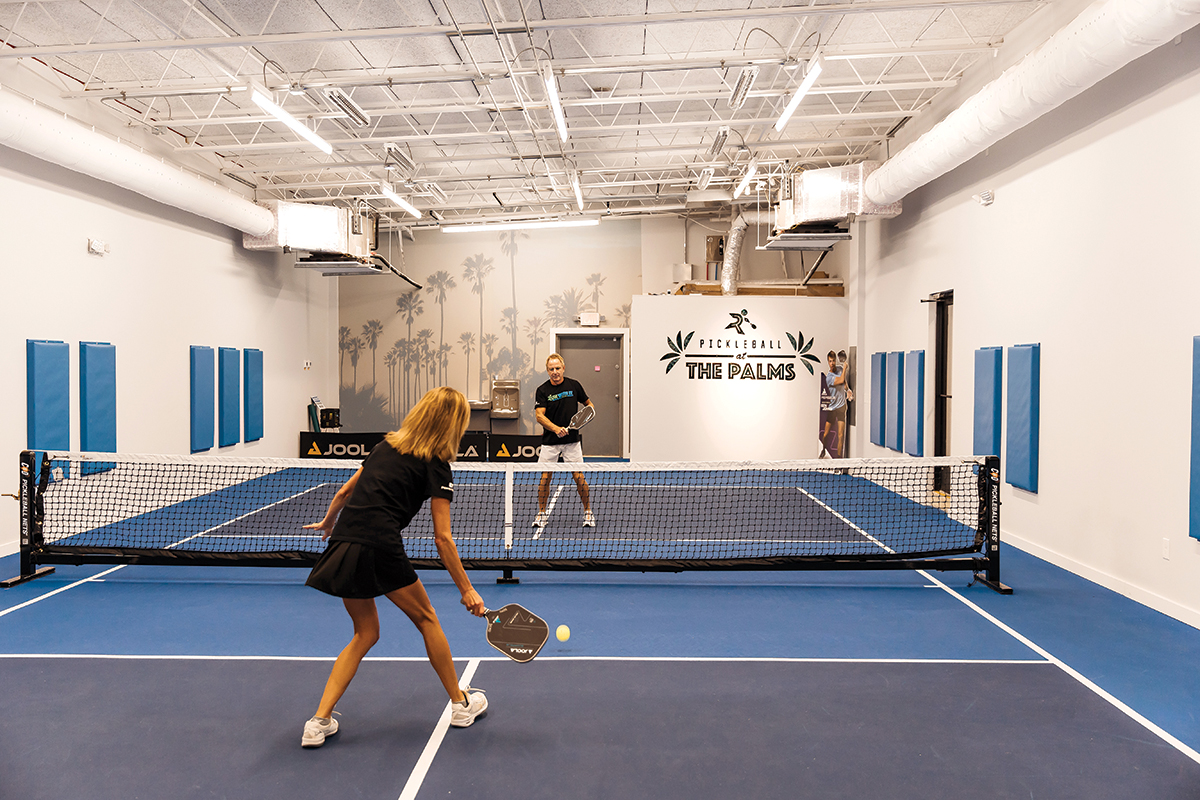 He added: "Pickleball is an action game that teaches coordination and exercises reaction and mobility. Players learn quickly that positioning on the small court is paramount to mastering the game…and that mastery of the game is an evolving journey."
In 2018, Mike Minich, president of Southern Events Management, Inc., took up the game. "I was originally part of putting on volleyball tournaments," he says. "Karen Parrish was one of the people who started running pickleball tournaments and had people playing at Destin Methodist Church. The recreation center in Fort Walton Beach had two courts also."
In 2020, the Fort Walton Beach Recreation and Cultural Services director converted two unusable tennis courts into six pickleball courts at the recreation center on Jet Drive. "They filled up right away," says Mr. Minich. "Pickleball is a sport that can be played by anyone, any age. You see people in their 50s and 60s playing every morning on Jet."
Ms. Parrish left the area to take a job in Arizona with USA Pickleball, the national governing body for the sport, and left the Emerald Coast Pickleball Facebook group in his hands. "I'm still doing it," he says. "We share interesting things, and there is no advertising for products or services. We want to let people know about tournaments."
I've never picked up the paddle. So, Mr. Minich recommended that I check out Joe Baker's YouTube videos. "He's the driest human I've ever seen, but his videos are the best to learn from. He teaches paddle control, strategy… that's how I learned."
Jeff Harris, owner of Run With It since 2008, jumped on the pickleball train in October 2020 and immediately loved the sport. "I realized how popular it was," he says. "There would be six courts and 50 to 60 people waiting to play."
"I also saw that nobody was selling pickleball accessories locally," says Mr. Harris. "Walmart had some cheap stuff, but they were always out of stock."
With the new demand for pickleball equipment, Mr. Harris, his wife Donna and his team brought in paddles, balls and many other accessories. Within a few months, it exploded. "We brought in more brands, as well as court shoes, which are different from running shoes. It opened up a whole new world for us. The cool thing is that we already carried running skirts, which can also be used for pickleball."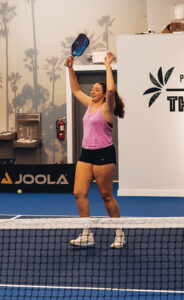 Due to its popularity and the need for an indoor court, he and his wife Donna launched Pickleball at the Palms in Feb. 2023, a designated indoor pickleball court, one of the very few places to play indoors in our region slated only for Pickleball, as opposed to a regular gym. Mr. Harris says the cool, indoor court is extremely popular and stays booked 70-85% of the time.
Mr. Harris says he also has a competitive streak. "I go to tournaments and I've even qualified to play in some," he says. "But I just turned 60 and can play in the 60-plus division. I'm not competing with teenagers anymore, which makes life a lot easier for me."
Pickleball at the Palms is located at 21 Racetrack Road NE in Fort Walton Beach. Hours of operation are 10 a.m. to 6 p.m. Monday through Saturday and noon to 4 p.m. on Sundays. "We use an app called CourtReserve," says Mr. Harris. "Just sign up there for clinics or to rent the court." Open play is Fridays from 11 a.m. to 1 p.m. (beginner level) and 4 to 6 p.m. (intermediate level). Cost is $5 for two hours of play, and if you want to rent the court for an hour, it's only $24.
He and Donna were in the restaurant business for 21 years in Birmingham, Ala. Things came full circle when Mr. Harris stumbled upon a pickleball/restaurant franchise called Chicken N Pickle, which is sort of the Top Golf of pickleball. "I was interested in opening one, and Donna said, 'You can do that with your next wife, because you're not doing it with me!'"
Mr. Harris is one of over 4.8 million pickleball players, or "picklers," in the U.S., according to a 2022 report from the Sports & Fitness Industry Association. Pickleball grew nearly 40 percent between 2019 and 2021, making it America's fastest-growing sport.
According to USApickleball.org, Pickleball is celebrating its 58th anniversary. Interestingly, the game was actually invented in 1965 on Bainbridge Island. Three enterprising dads – Joel Pritchard, Bill Bell and Barney McCallum – created the game when their children were bored with their usual summertime activities. They started with original handmade equipment and simple rules.
Although accounts of how the name originated differ (especially since no pickles are used), according to Joel's wife, she started calling the game pickleball, because "the combination of different sports reminded me of the pickle boat in crew where oarsmen were chosen from the leftovers of other boats." However, according to Barney, the game was officially named after the Pritchards' dog Pickles, who would chase and run off with the ball. With really no official name in its first couple of years, as the game progressed over time, an official name was needed and "pickleball" was it!