By Lori Leath Smith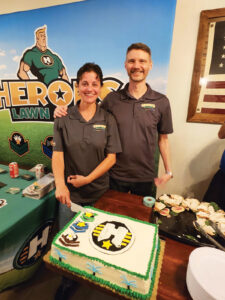 Niceville local Brad Buinicky's mantra is, "Learn from the past and cling to good memories. Plan for the future and hope for the best. But live in the present and maximize your potential there."
As the local Emerald Coast area owner of Heroes Lawn Care, Brad has definitely started a business with maximum potential; Heroes Lawn Care is fulfilling a great need in our area and Brad says he's excited to serve our local communities. For example, "Many people don't realize they need to set their soil up for success. But, with the proper soil structure and fertilization, the lawns we care for reap benefits such as higher water retention, soil nutrition permeability and improved drainage. We provide the specific structure for your grass roots to grow strong."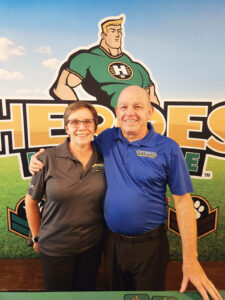 The company, based in Valparaiso, launched locally with a Grand Opening event at 3rd Planet Brewery in March, attended by as many as 200! It provides lawn care services such as fertilization, "Doody Duty" and irrigation.
Fertilization programs include an 8- or 10-step system with seasonal pesticides and pre-emergent fertilizers scientifically selected to be applied at the correct times of the seasons, customized to our area to make the biggest difference towards a green lawn.
Irrigation services include yearly and mid-season inspections, turn on, sprinkler and irrigation repairs, winterization, and system and controller upgrades.
Eco-Conscious Lawn Conservation can include pet waste packages such as monthly, one-time, weekly or bi-weekly service, Doody Deodorizer Plus brown patch treatment and brown spot repair.
Providing instant estimates through the website, on-site consultations or over-the-phone estimates, Heroes serves Valparaiso, Crestview, Destin, Fort Walton Beach, Mary Esther, Miramar Beach, Navarre, Niceville, Santa Rosa Beach and Shalimar.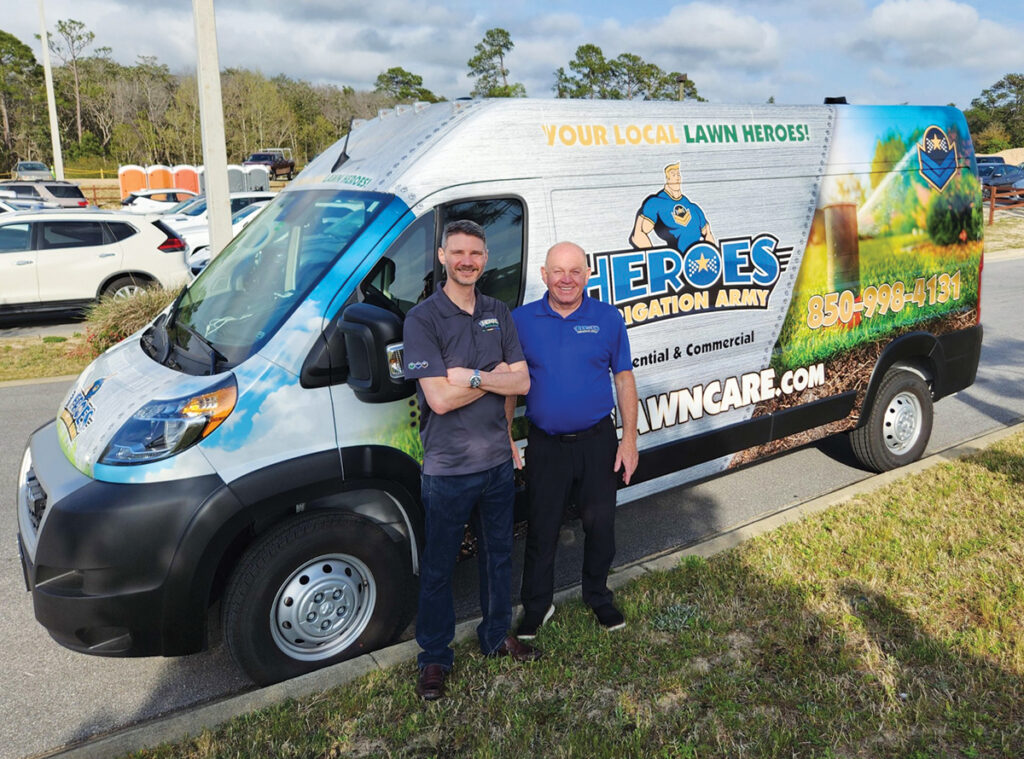 Brad says he plans for Heroes Lawn Care to be a part of vital local support. "Being an active presence within our community and pushing programs centered around eco-friendly sustainability and support for local troops and veterans is part of what makes Heroes a stand-out community leader," says Brad. "It is our aim to provide assistance to local community events, charities and more in the hopes that we make our neighborhoods a little safer, our futures a little brighter and provide our friends and family with an abundance of opportunities for communal growth."
Brad holds a special tie to the Heroes brand – he's served in the military as an Air Force Officer since 2004. Through his operations training, he's built the skillset and know-how to coordinate teams with efficiency and quality at the forefront. "We take a special interest in initiatives that involve making our community clean and helping out our local and active-duty military families with lawn care and access to holistic health resources," says Brad. When Brad isn't leading the charge for clean, green lawns, you'll find him enjoying the salt life, watching his daughters participate in Taekwondo and soccer, or cheering on his alma mater's football program.
A family business, Brad's wife Fernanda, a Brazilian native, has been a veterinary technician and hospital head technician by trade since 1996, with experience in the restaurant and education industries. Fernanda is passionate about serving others and values hard work, sacrifice, honesty and a good laugh. She also enjoys spending time with Brad, her mom and two daughters.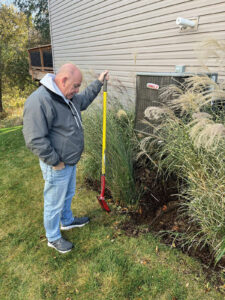 General Manager Lloyd Young retired from the HM Forces of Great Britain where he served several tours of Armed Conflict. Lloyd has a BS in Hotel and Catering Management and an Associate in Golf and Turf Science. For Lloyd, joining Heroes was a natural step for him. "I have been working in the Turfgrass industry for over 20 years and moving from golf courses to domestic and commercial properties just seemed right." His professional background includes construction of more than 16 golf courses, plan operator/plant operator instructor and chief instructor of the Royal Aerospace Establishment. He and his wife having moved to our area just last October, Lloyd says he desires the ability to affect the jobs and lives of the Heroes' customers, taking proposals from conception to completion. And apparently he is having a huge impact; he was just awarded Employee of the Month for the entire nationwide franchise organization in March! Lloyd's main interest? Golf, Golf and Golf–from watching it to playing it!
Having lived on the Emerald Coast since 2017, Brad says he takes great pride in Heroes Lawn Care and he can't wait to help you with your lawn care needs. Give Brad and the crew a call at (850) 495-7829 or fill out a short contact form at HeroesLawnCare.com to learn more or schedule a personalized lawn assessment! Have a charity, event or donation drive that you think would be a great fit for Heroes? Be sure to let them know. And check them out at facebook.com/heroes.emeraldcoast.