By Kenneth Books
Surrounded by the Gulf of Mexico and Choctawhatchee Bay, it's natural for local residents to take to the water and try to land that trophy fish. But there's more to fishing than baiting a hook and casting a line. No one is born with fishing skills. And, as the saying goes, give a man a fish and you feed him for a day. Teach him to fish and you feed him for life.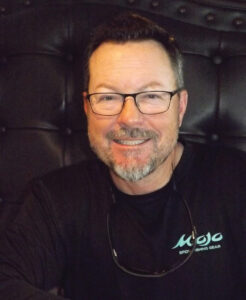 Into the breach steps Capt. Rob Hansill, an engineer who retired from the Marine Corps after 22 years, with a penchant for teaching.
Four times a year, Rob runs the Get Hook'd Academy at Bluewater Bay Marina, providing young people with techniques that will serve them for the rest of their lives on the water. The four-session classes take place in early spring, May, August and September. This will be the fourth year the Academy has operated. So far, there are 94 graduates of the Academy.
"We base it on school holidays, so we can get four consecutive Mondays in a row," Rob, 51, says.
Each class runs three hours, from 4 to 7 p.m., which Rob admits is "kind of a stretch for a kid who goes to school all day, but it works."
Rob's teaching method includes quick demonstrations followed by hands-on training. For example, he'll show a knot, then the students will work toward mastering it.
The students are provided videos of the classwork, which they can take home and review. "We give them as much information as possible to make them successful and confident," Rob says.
Rob is no stranger to the water or to fishing. Since 2018, he has run L4K Charters in the waters off Bluewater Bay. "The skills I learned in the Marine Corps help me to manage my business," he says.
But he's not the only authority figure in the Academy. Volunteers are key personnel. Many are mothers, fathers, brothers or sisters, he says, most of whom don't fish. "A lot of times, they end up learning as well," he says.
The Academy tuition is $200, and the necessary gear runs another $410, Rob says. Half Hitch Tackle in Destin sells him the equipment at cost.
"We give the kids top-of-the-line equipment," Rob says. "You can't go to Walmart and buy a little kit; it won't do."
The next class, which meets May 1, 8, 15 and 22, will include 16 students, Rob says, which is a larger number than he prefers. "I try to keep it at 12," he says, "but it's hard to keep up with demand." Students range in age from 7 to 12, all recruited through word of mouth.
The most difficulty the Academy runs into is bad weather. "We pray for the best weather and calm water," Rob says.
The fourth class is an actual fishing tournament, letting the students practice their new-found skills. And the tourneys sometimes have interesting aspects.
"The first tournament, we had two girls on the boat," Rob says. "One caught a fish, accidentally stepped off the boat and went into the water. She handed me her rod and real and said, 'Don't lose my fish!' Then she went on to win the tournament."
Former students often stay in touch with Rob. "I've had kids run into me at Walmart, run across the aisle and hug my legs," he says. "I get emails with pictures of fish and captions that say, 'Look what I caught.'"
Rob started the Academy after he spied a couple of little boys with big reels. They were casting but obviously didn't know what they were doing. "I talked to their mom and asked if I could take them fishing," Rob says. "We went four times. I didn't charge them anything. And they caught something every time."
While the emphasis is on fishing, Rob says the Academy has other long-reaching effects. "We're creating good environmental stewards and environmental protectors," he says. "They become responsible kids and leaders of the future."