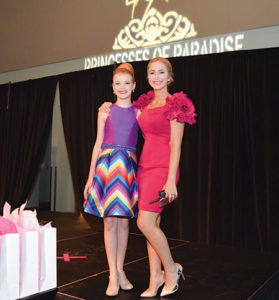 Meet local Freeport resident Mia Bennett, a 19-year-old student at Florida State University. She's held many pageant titles including Miss Freedom USA 2019, Miss Tristate BBQ 2018, Miss Emerald Coast BBQ 2018 and Miss Northwest Florida 2017. But, securing titles isn't her goal. Since age 16 her passion has been for others to have the same amazing experience. "I want to be a role model for young girls, and to promote the idea that beauty is in our individuality," she said.
Mike Schumacher, a member of the management team for Special Olympics Florida-Walton County, concurs. "In high school, Mia was a volunteer with the Special Olympics program. She volunteered at events and used her talent in photography to help promote our program on Social Media," he said. She was also active in beauty pageants and had already won local titles. But, even at her young age, Mia's heart was stirring. "In 2012 after I had won Junior Teen Miss Freeport, I had many encounters with many people," she said. "But one little girl with special needs made the largest impression on my heart. She tugged on my dress and looked at my crown and told me just how badly she wanted to be a princess, too. From that day forward, I realized that not every woman feels like the princess that they truly are."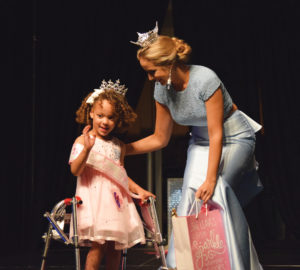 Her passion grew into action. In 2015, Mia approached Mike about hosting a beauty pageant for Special Needs women and girls. "Although our program could not financially support her pageant," said Mike, "we were able to help her get items donated, promote the event and recruit contestants."
And in May of 2016, Mia set out to show them just how wonderful they can look with a crown on their head for, in her words, "They are all royalty in the Lord's eyes."
The first pageant was held in June of 2016 at South Walton High School. "It was a great success and very emotional for many families and the people who attended," said Mike. "We had special needs girls who were thrilled with all of the attention and activities of being involved in a beauty pageant. We also had special needs women well into their 40's and 50's who were given an opportunity they never had and never thought they would get. They were all crowned as beauty queens that day!"
In 2017, Mia helped to inspire the creation of La Lumiere. "What started as fundraising events hosted by Hannah Martin to support the Walton County's Special Olympics program, turned into a non-profit organization to support Special Olympics and other programs like Princesses of Paradise for the special needs community in Walton County," said Mike. "In 2018, La Lumiere was able to start providing financial assistance through a sponsorship to help fund Mia's Pageant and La Lumiere is proud to be supporting the 4th Annual Princesses of Paradise Pageant in 2019," he said.
The Princesses of Paradise Pageant is for girls and women with ​​​​special and unique needs. "Our goal is to provide a night to remember for the rest of their lives and to give them the entire pageant experience from top to bottom," said Mia. With the unique awards process, every contestant receives a crown and a sash with their own title and no title is higher than another. However, this does not do away completely with the element of friendly competition. "We strive to build the participants' self-esteem in showing them that all women are princesses in their own way," said Mia. "Being in pageants has given me so much confidence and that is something I want my contestants to experience, along with a night to remember for the rest of their lives."
​The 4th Annual Princesses of Paradise Beauty Pageant will be held on Nov. 16 at 2 p.m. at the Florida State University Panama City campus. FSU Panama City, where Mia attends, is in full support of the pageant and the amazing work Mia is doing for the local community. If you'd like to become a sponsor or donate, visit princessesofparadise.com or email princessesofparadisepageant@gmail.com.