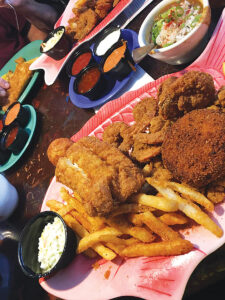 Fudpucker's Beachside Bar & Grill
Fudpucker's Beachside Bar & Grill in Destin has been locally owned and operated since inception in 1982. Fudpucker's restaurant stands out by being dedicated to its owners' three favorite "F" words: Food, Fun and Family. And, you can be assured that there's plenty of each when you visit Fudpucker's restaurant in Destin. Fudpucker's is not just a restaurant, it's not just a bar, and it's certainly not just a "tourist" place – it's a one-of-a-kind entertainment experience, and one that can be enjoyed by kids and families of all ages.
(850) 654-4200
20001 Emerald Coast Pkwy., Destin
fudpucker.com
JoJo's Coffee and Goodness
Owner and operator Angela "JoJo'' Stevenson invites you to enter a cafe and relaxed coffee shop atmosphere for a daily dose of "goodness." Feel free to work on site (free WiFi) or meet up with friends or family. Stop in for cinnamon rolls, scones (cranberry orange, chocolate caramel and cheddar thyme, strawberry coffee cake), cranberry orange muffin, red velvet cookies, brownies with espresso ganache or caramelitas. Try a breakfast special with a piece of quiche or kolache-hashbrown casserole. Breakfast burritos are rolled and ready daily. Choose from andouille, bacon, chorizo or veggie. Or tantalize your taste buds with a made-to-order breakfast sandwich on croissants or bagel with two eggs and cheese and then choose if you want to add Jojo's homemade smoked jalapeño beef bologna, bacon, house smoked barbecue or ham. Cinnamon rolls and kaloches still hold the top spot for sellouts. Stop in for featured muffins, coffee cake or pound cake–great with maple cinnamon latte or caramel macchiato. In summer, some of Jojo's most popular coffees are cold: Nitro, Cold Brew, fruit smoothies and frozen affogatos are the way to go. Of course, there's always freshly roasted coffee every morning, even all day. Order ahead and pick up some for all your celebrations.
Hours 7:30 a.m.-2 p.m. Tuesday-Saturday
(850) 737-6194
4652 Hwy. 20 East, Niceville
bigorangehousedesigns.com
LJ Schooners Dockside Restaurant
Suds, Songs and Sunsets! Welcome to LJ Schooners Dockside Restaurant at the Bluewater Bay Marina Complex. Named after "LJ Schooner" (the LJ is for Lazy Jack), a cherished four-legged icon on Bluewater Bay Marina docks, the open-air oyster bar and restaurant offers a magnificent view of the water, marina and unparalleled sunset any time of year. There are, of course, oysters and a delicious varied menu with dinner specials such as blackened mahi and grilled shrimp with hollandaise, served over cheese grits.
Special September Event September 10—16th Annual Cardboard Boat Race! 4 p.m. September: Live music every Friday and Saturday.
Sundays – Brunch 9 a.m.-1 p.m.
Beach Madness Mondays 4-7 p.m.; extended Happy Hour 4-7 p.m.
Tuesdays – Kids Eat Free (with adult purchase)
Wednesdays – Sailboat races 6 p.m.
Thursdays – Throwdown Paddle Board Races 6 p.m.; Open Mic/Karaoke 6-10 p.m.
Dine-in, pick-up, to-go. Oyster bar hours: Monday-Thursday, 3-10 p.m.; Friday-Saturday, 11 a.m.-midnight; Sunday, 9 a.m.-9 p.m. Happy hour daily, 3- 6 p.m.
Restaurant hours: Monday-Tuesday, closed. Wednesday-Saturday, 11 a.m.-9 p.m. Sunday, 9 a.m.-9 p.m. Sunday brunch, 9 a.m.-1 p.m.
Food Truck: 5-9 p.m. Monday & Tuesday | Friday & Saturday.
(850) 897-6400
bluewaterbaymarina.com/schooners
290 Yacht Club Dr., Unit 200,
Niceville in Bluewater Bay
Ovide at Hotel Effie
An elegant, culinary adventure, Ovide brings together classic Gulf Coast flavors and southern culinary traditions. Every dish is fueled by a passion for sustainability and seasonality that gives each bite incredible flavor unlike anything you've tasted before—you will want to savor every bite, from an intimate meal for two to a get-together for 10 or more. Ovide embraces the local food and cherished flavors of the Gulf Coast and presents them with a sophisticated, refreshing French influence and southern flair. Have you tried the Seasonal Special at Ovide at Hotel Effie? Mondays, 5 p.m., choose one starter, one entrée and one dessert for $50. Ask your server about the wine pairing option. Hours: Breakfast 7 – 11 a.m. Mon-Fri. Lunch Closed. Dinner: 5 – 9 p.m., Sunday-Thursday; 5 – 10 p.m. on Friday and Saturday. Brunch: 7 a.m. – 2 p.m. Saturday and Sunday.
(833) 873-3343
Hoteleffie.com
Grand Sandestin Blvd., Miramar Beach
Tisano's Garlic Grill
Tisano's owner Trinity Coleman grew up in a restaurant family. Her mother and grandfather both owned restaurants in their hometown of Stroud, Oklahoma, and Trinity grew up working in their restaurants. After graduating college and marrying an Air Force man, Trinity left the restaurant business, but she's always missed it. In 2021, the Coleman family was assigned to Hurlburt Field, and they moved to Niceville. Trinity fell in love with the community and decided it was time to get back into the restaurant business, so she and her husband bought Tisano's, and she has poured her heart into it ever since. Her husband Trey recently retired from the Air Force. They have three children at Niceville High School and Florida State University.
Today, Tisano's has become a local favorite! Tisano's makes almost all of their dishes from scratch. They focus on Italian food, but also bring in some country favorites and some international cuisine that they've learned to love from living around the world. They also offer several Gluten free options. Their recipe for success is simple. "We just want to provide a clean restaurant, with awesome food and friendly staff, at a fair price," said Trinity. When you visit Tisano's, Trinity and Trey want you to feel like you're going to a friend's house for a great meal and good company. We highly recommend you give the house-stuffed mushrooms and the homemade lasagna a try.
Monday: 25% off for active duty military
Tuesday: Two can dine for $39! Two entrees with salad and bread with two glasses of wine for just $39
Wednesday: $3 house wine by the glass and 1/2 off all bottles
Thursday: $5 Martini's
Happy hour every day from 3-6.
(850) 353 2643
Tisanos.com
4506 E. Hwy. 20, Suite 150, Niceville