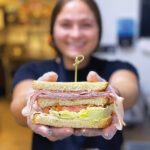 JoJo's Coffee and Goodness
Owner and operator Angela "JoJo'' Stevenson invites you to enter a cafe and relaxed coffee shop atmosphere for a daily dose of "goodness." Feel free to work on site (free WiFi) or meet up with friends or family. Stop in for cinnamon rolls, scones (cranberry orange, chocolate caramel and cheddar thyme, strawberry coffee cake), cranberry orange muffin, red velvet cookies, brownies with espresso ganache or caramelitas. Try a breakfast special with a piece of quiche or kolache-hashbrown casserole. Breakfast burritos are rolled and ready daily. Choose from andouille, bacon, chorizo or veggie. Or tantalize your taste buds with a made-to-order breakfast sandwich on croissants or bagel with two eggs and cheese and then choose if you want to add Jojo's homemade smoked jalapeño beef bologna, bacon, house smoked barbecue or ham. Cinnamon rolls and kaloches still hold the top spot for sellouts. Stop in for featured muffins, coffee cake or pound cake–great with maple cinnamon latte or caramel macchiato. Some of Jojo's most popular coffees are cold: Nitro, Cold Brew, fruit smoothies and frozen affogatos are the way to go. Of course, there's always freshly roasted coffee. Order ahead and pick up some for all your celebrations.
Hours 7:30 a.m. – 2 p.m. Tuesday – Saturday
(850) 737-6194
4652 Hwy. 20 East, Niceville
bigorangehousedesigns.com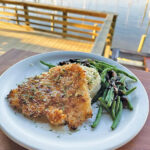 LJ Schooners Dockside Restaurant
Welcome to LJ Schooners Dockside Restaurant located at the spectacular Bluewater Bay Marina Complex. Named after "LJ Schooner" (the LJ is for Lazy Jack), a cherished four-legged icon on Bluewater Bay Marina docks, the open-air oyster bar and restaurant offers a magnificent view of the water, marina and unparalleled sunset any time of year. There are, of course, oysters and a delicious varied menu with dinner specials such as blackened mahi and grilled shrimp with hollandaise, served over cheese grits.
Monthly: Sundays – Brunch 9 a.m.-1 p.m.; Wednesdays—Bartenders Cocktail Special 3-10 p.m.
May highlighted events include Get Hook'd Academy May 1, 8, 15 and 22 with a fishing tournament at the end; live music all Memorial Day weekend with Catalyst Friday, May 26, 6-10 p.m., and Duchess, Saturday, May 27, 6-10 p.m., Gilligan's Island Sunday, May 28, 4-8 p.m., and Parker Willingham, Monday, May 29, 4-8 p.m.; Throwdown Paddle Board Races Thursdays, 6 p.m., Open Mic/Karaoke Wednesdays, 6-10 p.m.
Dine-in, pick-up, to-go. Oyster bar hours: Monday-Thursday, 3-10 p.m.; Friday-Saturday, 11 a.m.-midnight; Sunday, 9 a.m.-9 p.m. Happy hour daily, 3- 6 p.m. Restaurant hours: Monday-Tuesday, closed. Wednesday-Saturday, 11 a.m.-9 p.m. Sunday, 9 a.m.-9 p.m. Sunday brunch, 9 a.m.-1 p.m.
(850) 897-6400
bluewaterbaymarina.com/schooners
290 Yacht Club Dr., Unit 200, Niceville in Bluewater Bay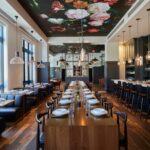 Ovide at Hotel Effie
With celebrity chef Hugh Acheson bringing his award-winning culinary skills to the table, you will want to pull up a chair and savor every bite, from an intimate meal for two to a get-together for 10 or more. Ovide embraces the local food and cherished flavors of the Gulf Coast and presents them with a sophisticated, refreshing French influence and southern flair. Chef Hugh is no stranger to the spotlight. The James Beard award-winning Georgia chef owns several acclaimed restaurants, including Five & Ten, Empire State South and the National, has been a Top Chef Masters competitor, a Top Chef judge and is a celebrated cookbook author. Have you tried the Seasonal Special at Ovide at Hotel Effie? Mondays, 5 p.m., enjoy some of Chef Hugh's favorite dishes with a seasonal prix fixe menu. Choose one starter, one entrée and one dessert for $50. Ask your server about the wine pairing option. Visit Hoteleffie.com for more information.