Jaime Dorsey is a California transplant successfully growing her interior design firm, Dorsey Design Co., in Bluewater Bay and surrounding areas. She has a trained eye in design, after designing and remodeling homes and commercial real estate properties in California. Over the past four years, she has helped create dream spaces that her clients love year over year. When she moved to Florida in 2022 with her family, she found that her true passion is in designing home interiors. Her attention to detail, respect for classic architecture and strong work ethic make her a standout leader in this space.
Dorsey Design Co., is a family-owned business and is composed of herself as Lead Designer, her husband, Brian Dorsey, and brother-in-law Daniel Dorsey. Together, the brothers help execute her designs and knock down walls if they need to! With their vast knowledge of construction and hands-on training from their father (who has an extensive history of professional car design and home construction) they are no strangers to dust, remolding and hard work. Supporting roles with other family members help make Dorsey Design Co., a growing success.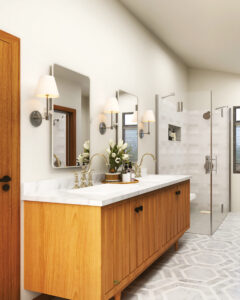 Many have come to know Jaime and Dorsey Design Co., by their classicism with modern twist designs; a unique and compelling style that is one-of-a-kind, timeless and beautiful.
With the use of mix materials, textures and colors, combined with an understanding and expert application of detailing, scale and proportion, Dorsey Design Co. has a bi-coastal resume of projects in both the retail and home spaces. However, the true passion lies in home interior design and making a house a home for their clients.
Dorsey Design Co. is currently accepting design requests for kitchen design and entire home remodels. Jaime is particularly passionate about updating older homes with modern, fresh and functional designs. Their philosophy has always been rooted in the utmost care, professionalism and respect for their clients. Their expertise helps ease any worries or concerns their clients may have around a room or entire home remodel. Dorsey Design Co. prides itself on listening to their clients' wants and needs and working together to find the best way to execute them, while guiding them through the process every step of the way.
To learn more about Jaime & Dorsey Design Co., visit www.dorseydesignco.com or find them on Instagram at @dorseydesignco_.
Apex Design center Senior Partner Chuck Hall said his clients have been impressed with the knowledge and insight Jaime has provided. As a home improvement business focused on providing "expert blue collar" solutions to our clients' projects Jaime has brought that "Design Expertise" we have been missing. Having her as a resource enables us to offer our clients another level of service including color, texture and style selections with professional visual renderings that leave nothing to chance. Jaime always puts the clients interest 1st guiding them to right choices. We have learned a lot from her already and continue building our product assortment to better accommodate our clients.