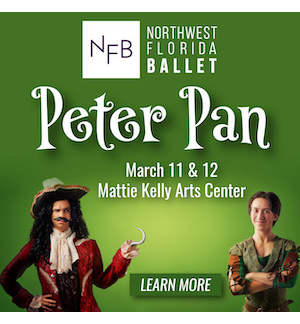 Brozinni Pizzeria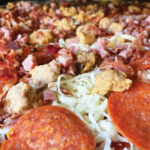 Brozinni Pizzeria's family-friendly pizza place offers you a taste of New York right here in Niceville. Now featuring the Big Apple's signature crust, its famous buttery garlic knuckles will leave you wanting more, including appetizers such as buttery garlic knuckles, bread sticks, homemade stuffed pepperoni or sausage sticks, cheese bread, meatball sticks, pizza, Cocoons Famous smoked tuna dip, and crackers/pita chips. There are also salads, build your own pizza, specialty pizzas, pasta/spaghetti, calzones, drinks and desserts. Every ingredient used has been hand-selected.Call to Order or Order Online at bronzinnis.revelup.online and have delivered.
JoJo's Coffee and Goodness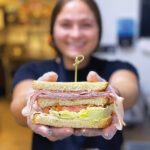 Owner and operator Angela "JoJo'' Stevenson invites you to enter a cafe and relaxed coffee shop atmosphere for a daily dose of "goodness." Feel free to work on site (free WiFi) or meet up with friends or family. Stop in for cinnamon rolls; scones: cranberry orange, chocolate caramel and cheddar thyme; strawberry coffee cake; cranberry orange muffins; red velvet cookies; brownies with espresso ganache or caramelitas. Try a breakfast special with a piece of quiche or kolache-hashbrown casserole. Breakfast burritos are rolled and ready daily. Choose from andouille, bacon, chorizo or veggie. Or tantalize your taste buds with a made-to-order breakfast sandwich on croissants or bagel with two eggs and cheese and then choose if you want to add Jojo's homemade smoked jalapeño beef bologna, bacon, house smoked barbecue or ham. Cinnamon rolls and kaloches still hold the top spot for sell outs. Stop in for featured muffins, coffee cake or pound cake–great with maple cinnamon latte or caramel macchiato. Some of Jojo's most popular coffees are COLD. Nitro, Cold Brew, fruit smoothies and frozen affogatos are the way to go. Of course, there's always freshly roasted coffee. Order ahead and pick up some for your New Year's celebrations!!
Hours 7:30 a.m. – 2 p.m.
Tuesday – Saturday
(850) 737-6194
4652 Hwy. 20 East, Niceville
bigorangehousedesigns.com
LJ Schooners Dockside Restaurant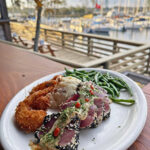 Welcome to LJ Schooners Dockside Restaurant located at the spectacular Bluewater Bay Marina Complex. Named after "LJ Schooner" (the LJ is for Lazy Jack), a cherished four-legged icon on Bluewater Bay Marina docks, the open air Oyster Bar and restaurant offers a magnificent view of the water, marina and unparalleled sunset any time of year. There are, of course, oysters and a delicious varied menu with dinner specials such as Blackened Mahi and grilled shrimp with hollandaise, served over cheese grits.
FOR YOUR VALENTINE: It's a dinner to remember with live music from Jared Herzog 5-9 p.m. The menu includes Appetizers: Shrimp Cocktail and Toasted Cheese Ravioli; Entree: Creamy Tomato Basil Gnocchi – Shrimp, Chicken, Surf & Turf or Creamy Tuscan Chicken; Entrees served with side salad and bread; Dessert: Housemade Traditional Cheesecake w/Strawberry Compote or Chocolate Lava Cake a la mode with Fresh Berries.
Monthly: Sundays—Brunch 9 a.m.-1 p.m.; Wednesdays—Bartenders Cocktail Special 3-10 p.m.; Thursdays—Open Mic/Karaoke 6-10 p.m.
February highlighted events include Chess Night Feb. 1; Feb. 8 and 22 Prime Rib Nights from 5-9 p.m. and Wine Tasting from 5-7 p.m.; and Mardi Gras Party Feb. 18 with Fais Do Do from 6-10 p.m.!
Dine-in, pick-up, to-go. Oyster Bar Hours: Monday-Thursday 3-10 p.m., Friday-Saturday 11 a.m.-midnight, Sunday 9 a.m.-9 p.m.. Happy hour daily 3- 6 p.m. Restaurant hours: Monday-Tuesday, closed. Wednesday.-Saturday, 11 a.m.-9 p.m.. Sunday,. 9 a.m.-9 p.m. Sunday brunch: 9 a.m.-1 p.m.
(850) 897-6400
bluewaterbaymarina.com/schooners
290 Yacht Club Dr., Unit 200,
Niceville in Bluewater Bay