By Christopher Manson

Celebrating its 35th year this month, the Cultural Arts Alliance (CAA) of Walton County's ArtsQuest Fine Arts Festival is one of the organization's signature – and biggest – events. In recent years, the CAA has expanded this into Art Month, with visual, performing, and literary arts programming in diverse formats at various venues throughout Walton County.
Additional Art Month events and programs include Under the Sea, a fundraiser for the CAA's Underwater Museum of Art; the Longleaf Writers Conference, formerly the Seaside Writers Conference, a gathering of creative writers from across the nation, featuring award-winning scribes from the worlds of poetry, fiction and screenwriting offering workshops and seminars; Digital Graffiti at Alys Beach, a unique "projection art" festival employing digital technologies; "Sinfonia Goes Pop!," a free concert at the Alys Beach Amphitheatre; performances by the Emerald Coast Theatre Company; and, of course, gallery events.
Find the complete Art Month schedule at culturalartsalliance.com.
CAA Events Director Allie Anderson says patrons can expect new twists for May 13 and 14's ArtsQuest festival at Grand Boulevard Town Center. "Things are different with the layout," she says. "We're expecting around 5,000 people over the weekend." This year's festival includes adult art classes with the likes of Justin Gaffrey, non-stop live entertainment and new sponsors.
"The other events are happening almost every day throughout May," says Ms. Anderson. "We support and promote them all and want people to go to as many as they can."
Ms. Anderson handles all of the huge CAA events, including the 30A Songwriters Festival and the Flutterby Festival. "Anything involving 500 or more people," she says.
She came onboard in September 2022. Prior to that, Ms. Anderson ran her own business designing custom apparel – t-shirts, tote bags and the like – for sororities all over the country. Originally from Panama City, she has also lived in Dallas and California.
Now she's back in Panama City with her two daughters and couldn't be happier. "It's nice to be back with friends and family," says Ms. Anderson. "I appreciate the growth that's going on. There's so much to do here now. I just love the community and how much everyone supports each other."
Her connection to the arts began at a young age. "I was an artist growing up, and my mom is a glass artist," she says. "We used to do paint classes together. We were always around the arts, and I really found an appreciation for it at a young age. My mom is the one who told me about the CAA position."
ArtsQuest officially kicks off Thursday, May 11, at 6 p.m. with the Underwater Museum of Art fundraiser at Grand Boulevard Town Center. The event celebrates the museum's fifth installation with art, dancing, cocktails, food and more. "We'll have two sculptures by Allison Wickey and Zachary Long – about six feet tall each – at Under the Sea for people to view before they go underwater," says Ms. Anderson.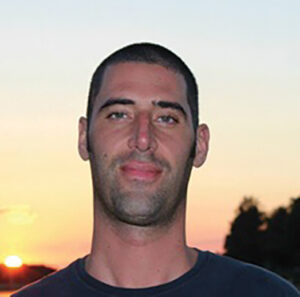 Dallas Primavera, this year's ArtsQuest featured artist, is a longtime CAA member. His work will be featured on posters and t-shirts. Mr. Primavera is based out of Jacksonville Beach and has been painting for over 20 years. "I'm traveling around the state of Florida to do art shows and trying to get my name out there," he says.
The Florida State alum says he's always been a vivid dreamer. "I have developed a skill that I will try to put into words," the official bio reads. "As I close my eyes, every night I relive the same dream – long halls filled with paintings on both sides, in every color, shape and size.
"At first, I would wake up with a feeling of jealousy, like what I saw was exactly where I was going. A warm wave of understanding washed over me as I realized everything I saw was mine to come. Best part, I remembered everything I dreamt about. To this day, the process is the source of my inspiration, and it keeps getting stronger.
"He does beautiful work," says Ms. Anderson. "The posters are amazing." Discover more at artbydallas.com.