By Anna Fisher, Emerald Coast Theatre Co.
My Dad took me to see Camelot when I was around 12 years old. It was my very first experience seeing a live performance, and I remember walking up the steps at the Fort Walton Beach Civic Auditorium with such excitement that I had butterflies. We had the honor of escorting none other than Mrs. Mattie Kelly herself that day, as she was one of my Dad's clients at his brokerage firm.
Oh, the music, the lights, the voices, the costumes! Guinevere was so beautiful with her long flowing locks and shimmery gowns and I was in awe of the spectacle of everything. My only other experience with a musical was catching a rerun of Grease 2 on TV whenever I got really lucky. But this live performance feeling was different. It had texture and weight; it was fully immersive and glowing, like an intense sunset that washes over everything in its path.
The power of that live performance never left me. I still feel the magic of it every time I watch a new cast thrill our audience with everything they've got. The most rewarding moments of all happen when I get to watch children experience that magic for the first time at ECTC.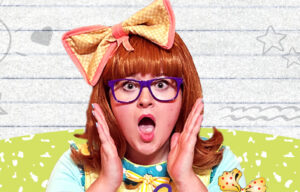 We are bringing Junie B. Jones the Musical to life on stage October 13-22 and I am so excited to have multiple schools attending on field trips, as well as our offerings to the general community. Aside from the boost that live theatre gives students in every area of education, it gives space for kids to imagine and dream, just like I did so many years ago.
We have something inspiring for the adults in October as well. Me and My Gal: A Musical Tribute to Judy and Gene October 26-29 is a joyous walk down memory lane with such songs as "Singin'in the Rain" and "Get Happy." Like putting your toes in the sugar white sand, attending a live performance is one of the best reset buttons we can employ in this technology age. I turn off my phone, take a deep breath, and just feel all of the music, dance and life that is being played out before me.
Whether you're attending Junie B. Jones, Me and My Gal, or any of the multiple productions we offer throughout the year, I hope you get those same butterflies of excitement and anticipation as you walk up the steps to ECTC. Come join us in real life and real time to experience the magic of that reset for yourself.
For more information and tickets, visit www.emeraldcoasttheatre.org.