For a decade, Stinky's has been the host of two fishing tournaments; one in the spring and one in the fall. The Stinky's Fall Pompano Beach to Bay Grand Slam Fishing Tournament will be held from October 1 through October 28. The tournament has a new name and some of the rules have changed. Most notable is the addition of pompano. By adding pompano and requiring one of the three fish to be speckled trout, the tournament originator hopes to garner more angler participation and assure the Choctawhatchee Bay remains a part of the fishing experience. The aggregate weight of three fish caught determines the winner. Anglers will be fishing for trout, redfish, whiting, and pompano.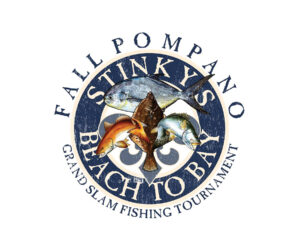 "Our team works hard to host two of the most competitive annual fishing tournaments in Walton County. We are honored to facilitate events that highlight our precious natural resources. Both fall and spring tournaments are fun for all skill levels of anglers, but the unique length of our tournaments make them a challenge for professionals, and fishing enthusiasts alike," said Chef Jim Richard, tournament originator and Stinky's Fish Camp owner.
The purse for the annual tournament was over $4500 in cash and prizes in 2022. The tournament purse is a combination of sponsorships and donations. This year, the tournament purse is expected to exceed past prizes. "We could not do this without our sponsors. Year after year they return, and most of our sponsors choose to support both tournaments. Growing the tournament means we must grow the purse," says Chef Jim Richard.
Local broker and owner of Mainsail Realty Company, Clayton Bonjean, took the tournament championship title last year. "This tournament made me a better fisherman because I had to change the way I fish to catch a flounder. I wake up before dawn to go fishing. It is a time of day where my real estate clients aren't calling and it doesn't interfere with my family time. It's a peaceful start of my day and it is the best time for fishing," says Bonjean.
To learn about tournament rules and to register for the tournament visit www.stinkysbaitshop.com. On the website, you can also find information about the 17th Annual Spring Pompano Fishing Tournament.
Follow tournament progress at Stinky's Bait Shack on Instagram @stinkysbaitshop and Facebook @stinkysbaitshack and visit their website at www.stinkysbaitshop.com.