Local Clarinetist Attends Renowned Interlochen Arts Camp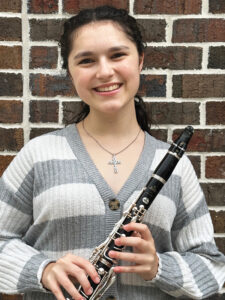 Sophia Cafarelli, 16, of Niceville, attended Interlochen Arts Camp, the nation's premier multidisciplinary summer arts program for aspiring artists in grades 3-12, this summer. She participated in Interlochen's week-long Clarinet Intensive Program June 16-23.
Sophia just completed her sophomore year at Niceville High School and has already earned numerous awards for clarinet performance, including her selection to the Florida All-State Band in grades 7 and 8, and the Florida All-State Orchestra in grades 9 and 10. She also served as first chair clarinet of the Okaloosa All County Band, was selected as the single clarinet for Florida State University's Wind Ensemble Summer Program (Grades 9-12) in 2022, and has received the Choctaw Bay Music Club's Summer Band Scholarship ($300) each year from 2019-2023. In addition, Cafarelli has performed at multiple churches in the local area, including First Presbyterian Church of Niceville, of which she is a member. Cafarelli is also active in NHS theater and chorus, performing in lead roles in Niceville's productions of "A Curious Incident" and "A Chorus Line," and being selected for Florida All State Choruses grades 7-10, culminating in her selection and participation in the Florida All State Reading Chorus in Jan 2023.
Artistic students ages 8-18 from throughout the world convene at Interlochen to expand their capacity in music, theater, dance, creative writing, visual arts and film. Through daily classes, enriching electives, and frequent performances, Interlochen students explore the full breadth of the arts, pursue creative breakthroughs, and forge lifelong cross-cultural friendships. With a global alumni base that includes creative leaders in the arts and many other fields, Interlochen Arts Camp has been at the forefront of arts education for nearly a century. The Camp's distinguished alumni include Norah Jones, Josh Groban, Martha Graham Dance Company Artistic Director Janet Eilber, painter Laura Owens, New York Times theater critic Jesse Green, Google co-founder Larry Page, Pulitzer Prize-winning poet Mary Oliver, Olympic ice dancer Naomi Lang, actor Anthony Rapp, cartoonist Cathy Guisewite and many more. Approximately 17 percent of the nation's professional orchestra musicians have roots at Interlochen, and the alumni community has been awarded nearly 100 Grammy Awards.
Musical Pizzaz In Grand Park This Summer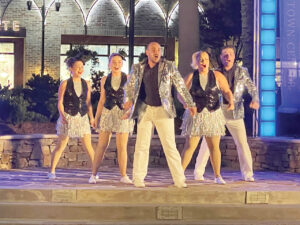 Get on your feet and dance at Grand Boulevard this summer with Emerald Coast Theatre Company's production of "Broadway on the Boulevard." This high-energy 45-minute show features some of Broadway's best-known songs and dance numbers from a talented cast of performers on stage in Grand Park.
Part of Grand Boulevard's Coastal Culture series, "Broadway on the Boulevard" is a FREE, family-friendly show that performs every Thursday night, Now-July 27, 8- 8:45 p.m. Seating is first come, first serve. In case of rain, "Broadway on the Boulevard" will be performed at Emerald Coast Theatre Company, located upstairs in the 560 building. "We at ECTC love Shakespeare but we also love sparkles, sequins, and musical pizzaz!" said Nathanael Fisher, Co-Founder and Producing Artistic Director of ECTC.
Summer fun continues every day as Tommy Bahama provides live music and libations for sale while lawn games take place Monday- Sunday, 4-8 p.m. throughout the summer in Grand Park. Enjoy connect four, corn hole, giant chess games and more.
Grand Boulevard's Farmers' Market is open year-round Saturdays, 9 a.m.-1 p.m. in Grand Park. This outdoor market features dozens of unique vendors offering mostly locally sourced food-based items such as produce, eggs, olive oils, crab cakes, meats, pickled vegetables, sweets, gourmet jams and even homemade doggie treats. Specialty soaps and lotions are also sold.
Part of the Coastal Culture Series, these events are made possible by the Grand Boulevard Arts & Entertainment Program. Visit GrandBoulevard.com.
The Seaside REP Theatre presents: Cinderella
Wednesdays at 6:30 p.m., May 24 – August 9, at North Barrett Square in Rosemary Beach. Presented by The Merchants of Rosemary Beach, a group of traveling actors create much onstage merriment by presenting their own version of the classic children's story, Cinderella. North Barrett Square, Rosemary Beach.