Saturday, October 30th | 9 a.m. – 5 p.m. • Sunday, October 31st | 10 a.m. – 4 p.m.
By Lori Smith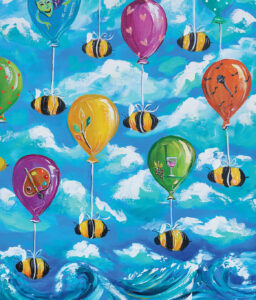 Mattie May Kelly (1912-1992), a member of one of Destin's pioneer families, wanted to leave a legacy. So, a handful of visionaries established a new non-profit in 1995 in her honor, the Mattie Kelly Arts Foundation (MKAF), to provide resources for the promotion of the Arts in Okaloosa and Walton Counties through cultural events and educational opportunities. Mattie Kelly had bequeathed a 52-acre parcel of property reserved for the future development of a cultural and educational facility for the residents and visitors of the community which now features the Cultural Arts Village on a portion of the land. Annual Concerts in the Village are held here as well as the upcoming 26th Annual Festival of the Arts, the largest juried fine art festival in our area!
Known as one of Northwest Florida's premier fine arts shows and one of the most anticipated cultural events of the year, the MKAF Festival of the Arts is happening Oct. 30-31 at the Cultural Arts Village in Destin. "The festival is a celebration of the wonder of arts and culture," says Deb Nissley, MKAF Director of Operations and Festival Producer. "We will feature new surprises this year including free entrance to all festival-goers! I encourage everyone to stop by to enjoy beautiful art, live music and great food!"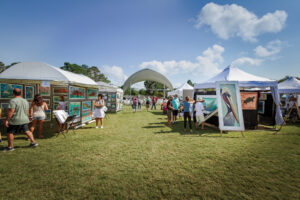 During the festival, more than 100 artists convene each year from throughout the U.S., who offer up their original artwork in the form of oil, watercolor, acrylic and glass paintings; photography, sculpture, pottery, wood, paper, fiber, mosaics, mixed media, jewelry designs and more. They compete for $10,000 in cash prizes in 29 award categories, including the coveted "Best in Show" and "People's Choice Award" which is selected by festival fans. The festival will also feature a Collaborative Art Exhibit, which showcases select artwork of more than 60 community adult and student artists.
Hosting the annual festival is one of the most significant ways MKAF is able to continue its commitment to provide inclusive arts education programs for children and adults of diverse abilities and backgrounds. These include an array of high-quality visual and performing arts programs such as Arts for All Abilities, Arts Empower and Warrior Arts. Arts for All Abilities is a program committed to helping people with disabilities learn a variety of art programs.
Arts Empower, led by accomplished artists, serves K-12 students, at-risk youth, and children and adults with special needs. Warrior Arts seeks to offer therapeutic art classes for veterans/active duty military in order to heal both visible and invisible injuries. Warrior Arts' signature program is the Zentangle, an open-ended drawing activity that increases focus and creativity, while alleviating stress and anxiety. MKAF's outreach program has been recognized by The Florida Department of Education with the Award of Distinction.
MKAF also offers a comprehensive model of artist residences, hands-on workshops and public education events featuring music, theatre and the visual arts. Programs are offered free of charge to participants made possible by grants, private and corporate gifts; and supported by MKAF event fundraising. For signature events, a portion of profits from Concerts in the Village and Festival of the Arts help to fund these community outreach initiatives.
Now in its 26th year, MKAF bridges the gap to those who either lack access to the arts or could uniquely benefit from the experience. Since 1995, these outreach programs have inspired more than 337,800 children and adults in over 75 schools and partner agencies in Okaloosa and Walton counties.
For more information, visit MKAF.org or call (850) 650-2226.
To read more about Mattie Kelly, her family and her living legacy, see the February 2020 Destin Life article here: https://mydestinlife.com/the-kellys-a-destin-pioneer-family-leaves-living-legacy-for-community.