By Christopher Manson
Last month, local anesthesiologist and paddleboard enthusiast Ryan Wegner headed to the Bahamas for a massive 80-mile, approximately 16-hour paddle event benefiting Piper's Angels Foundation for Cystic Fibrosis. The Palm Beach Gardens-based nonprofit hosted its 10th annual Crossing for Cystic Fibrosis June 21-25.
Wegner, the father of twin Autistic 14-year-old boys, heard about the event from his cousin, who will join him for the Crossing. "I was aware of cystic fibrosis through my education and my involvement with kids with special needs," he says. "I feel like this is something I need to do. It's part of my nature to help other people."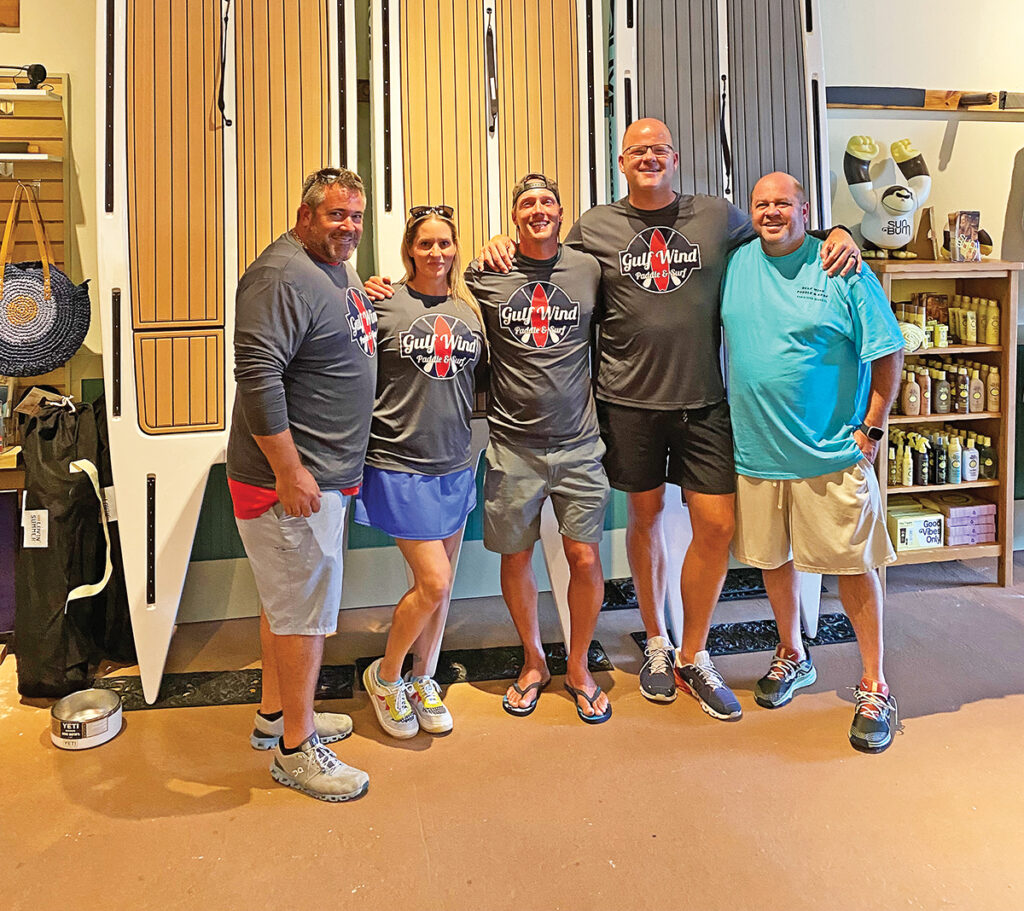 Two hundred paddlers participated this year. Wegner will be part of a relay team, paddling for three or four hours. He brought a 12-foot live watersports board, made by a Clearwater company and graciously provided by the owners of Santa Rosa Beach's recently opened Gulf Wind Paddle & Surf store.
"I'd only been using it for a month," says Wegner. "It's amazing." To prepare for the Crossing, he trained daily "whether it's in the gym or on the water." When we speak at Gulf Wind – "The Coolest Li'l Surf Shop on the Panhandle" – he tells me that each paddler must raise $2,000 individually. He's been reaching out to locals – mostly through his job – and friends to meet or exceed his goal.
"Ryan came in and introduced himself, and we saw an opportunity for us to do some philanthropy," says Matt Duncan, who co-owns Gulf Wind with Tony Maganzini. "We're helping Ryan with the board and uniforms, and sponsoring his team." In turn, Wegner is raising awareness for the store and its top-of-the-line wares.
Wegner is the only Crossing participant from the area, but he was cheered on by Panama City Beach resident Jessica Shuflitowski, the mother of a 5-year-old boy with CF, Stone. Shuflitowski, Stone, and husband Gary Coram trailered their boat down to South Florida for the event. For the first time in his life, Stone met other children with CF – from a distance of at least six feet, due to medical rules.
Stone's mom says treatment for CF patients is nonexistent in the immediate area. She and her son make the trek to Pensacola for treatments – blood work, breathing tests, etc. – every three months "unless something else comes up," she says. She is grateful to Piper's Angels for offering incentives to CF patients. "They offer grants for saltwater equipment. I can get Stone a paddleboard or surfboard, and they'll pay for lessons. He'll be interested in trying anything."
According to the Piper's Angels Foundation website, Cystic Fibrosis is a chronic disease that affects the lungs and digestive systems of about 30,000 children and adults in the United States. A defective gene and its protein product cause the body to produce unusually thick and sticky mucus that clogs the lungs and leads to life-threatening lung infections. The mucus also obstructs the pancreas and stops natural enzymes from helping the body break down and absorb food.
"It's a progressive disease," says Shuflitowski. "And it's a very invisible illness. My son looks completely normal, but at the turn of a hat, he can be hospitalized for a month."
She adds that there is zero federal funding for CF, and that any grants come from foundations and sponsorships. "A lot of CF patients are living longer now, and more adults are living with it than ever before." This is largely due to the drug Trikafta, which was approved by the Food and Drug Administration in 2019.
But, "it's one of those things where you can either afford it or not. My son will be eligible to take it when he's 6." Currently, the cost of Trikafta for a single patient runs about $80,000 a month.
Learn more about the Crossing for Cystic Fibrosis at crossingforcysticfibrosis.com and pipersangels.org. Gulf Wind Paddle & Surf is open Monday through Saturday from 10 a.m. to 6 p.m. Visit it online at gulfwindpaddlesurf.com.