Studying music is a rewarding experience for students of any age, and in recent years online lessons have made it much, much easier to access. The growing popularity of online music lessons comes with many benefits, like the flexibility to learn from anywhere, at any time, and without the need to travel. However, choosing between in-person and online lessons can be a tough decision to make – each type of lesson comes with its own set of advantages and disadvantages, and it ultimately depends on the student's preferences and lifestyle.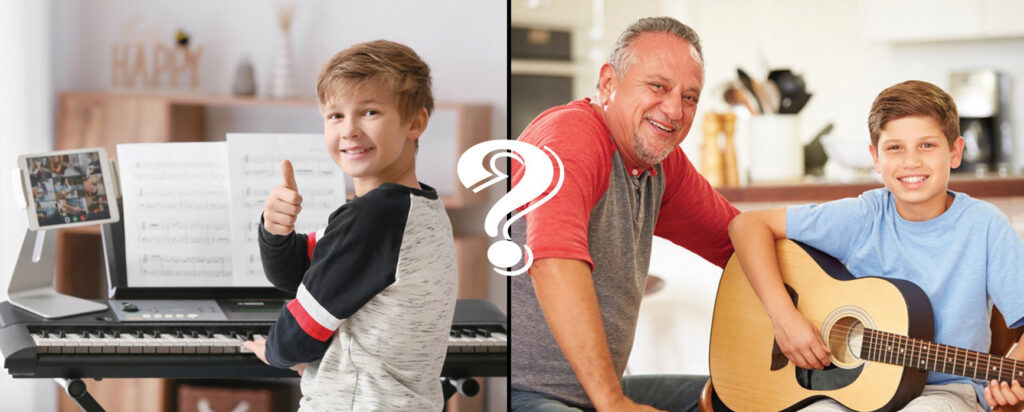 So, which type of lesson is right for you? Here are some factors to consider.
In-Person Music Lessons
The in-person approach has been the typical method of learning music for centuries. The physical presence of the teacher allows for a more hands-on approach, where they can observe and give feedback on the student's posture, technique, and progress. This can be particularly helpful for beginners who need extra guidance on playing their instrument with optimum comfort and technique, for example keeping the fretting hand relaxed when playing guitar, or moving the hands and wrists freely on the piano.
In-person lessons also offer a great social aspect. Students can develop respect and friendship with their teachers (and each other in group classes) in order to build a closer community and inspiration to learn. As an added bonus, the accountability of an in-person class motivates the student to show up and perform their best.
Online Music Lessons
Online lessons can be especially beneficial for those with busy schedules or who travel often. Lessons can happen anywhere, so long as you have your instrument, a device with a camera & microphone, a good WiFi connection and a quiet space!
Online make-up lessons can also be a fantastic alternative when last-minute disruptions happen, such as bad weather or a car breakdown.
Despite these advantages, online lessons can have their limitations. Technical issues can disrupt the flow of the lesson, and the lack of physical presence can make it difficult for the teacher to observe and correct the student's technique. Additionally, some students may struggle to stay focused without the engaging atmosphere of an in-person class in the music room.
If you need some guidance on getting started with learning online, here are some things to take into account:
Setup – All you'll need is a phone, laptop, or iPad and an app such as Zoom, FaceTime or Skype. Some nice additions might include a webcam and an external microphone, but these are definitely not essential. Ask your teacher if you'll need any resources like paper, pencils or textbooks. It might also be helpful to have access to a printer in order to print out music sheets and worksheets from your teacher.
Location – try to choose a quiet space, free from noise like traffic and free from distractions like younger brothers and sisters.
Scheduling – though it's easier to reschedule lessons online, try to maintain a consistent routine for your lesson each week and avoid canceling or rescheduling too often.
Staying focused – unfortunately, the teacher can't reach through the screen to guide you. Students who are younger may need an attentive parent to stay with them during the lesson to keep them on track.
Ultimately, there is no right or wrong answer when it comes to choosing between in-person and online music lessons. Some students may benefit from a blended approach, with once-a-month in-person lessons for technique observation, and online lessons for convenience the rest of the time. The most important thing is to find a learning method that works best for you, and to be consistent and committed in your practice and progress.
Studio 237 Music Lessons offers online, in-person or a blended lesson. Give us a call at 850.231.3199 or text 850.797.3546 to ask about designing your best learning experience.