By Cali Hlavac
Crystal LaFosse had a vision of starting a fishing club through all her work in the fishing industry, and 2022 was the year she brought that dream to life: The Emerald Coast Big Game Fishing Club was born.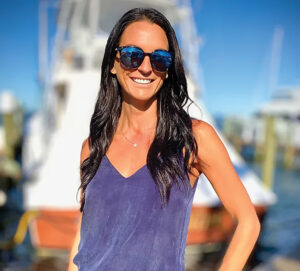 As the Founder and Director of the Emerald Coast Big Game Fishing Club (ECBGFC), Crystal has experience running marinas, tackle shops, tournaments and events, boat provisions and is passionate about all things fishing. "The momentum of ECBGFC is going strong and it's exciting to see my vision come to life," LaFosse said.
Last year was an incredible first year for ECBGFC, with more than 225 members and many supporting sponsors. They held four themed club meeting events for members to get together and discuss hot fishing topics, stories and upcoming events. They also kicked off the year with a Billfish Extravaganza tournament, including 15 boats participating and paying out more than $100,000. A Youth Tournament was next, with more than 60 youth anglers participating and tons of prizes awarded. Then Hit the Gulf, a month-long tournament where teams compete by picking two consecutive days to fish with a payout over $20,000. They concluded the year with a black-tie Sportsman's Ball hosted at the Destin FWB Convention Center, with more than 300 attendees and an awards presentation to top teams and anglers.
ECBGFC's mission is more than just bringing anglers together. It is the only group hosting tournaments on the Gulf Coast that are catch and release for the billfish division to support conservation. "Education, conservation, and giving back to the community is what we strive for," LaFosse said. ECBGFC was able to donate over $10,000 in 2022 to causes like the Destin High School Fishing Class, and the new Destin For Success Scholarship Program awarding scholarships to art students in Okaloosa and Walton County.
In 2023, LaFosse plans to expand. "We now have a Destin Advisory Board consisting of great people who play a big part in our community and a new team in Panama City Beach, she said." With plans to add a new chapter in Panama City Beach, more club meetings and tournaments are expected, on top of a new tournament for the Destin Chapter. LaFosse also plans to expand the Hit The Gulf tournament by adding a private and charter boat division, along with a tournament later this year in Los Suenos, Costa Rica.
Membership is expected to increase as well in 2023. ECBGFC offers individual and team memberships, which include spouses at a very affordable price. "Don't let the words Big Game fool you! Our Club is open to inshore and offshore anglers and anyone that just wants to be part of a great community organization," said LaFosse. Memberships are inclusive to ECBGFC events and tournaments at all locations and include a ticket to the Sportsman's Ball.
"We truly appreciate the support and welcome everyone on board," said LaFosse. "Our community can get involved by not only joining the club, but also being a part of our Destin for Success Fundraising Event that makes giving back possible."
For more information, visit the website at www.ECBGFC.com or get social with us on Facebook & Instagram @ecbgfc.
SCHEDULE OF EVENTS
Destin Chapter:
April 1 – Inshore Tournament at Boathouse
April 13 – Club Meeting at Harbor Docks
May 11-13 – Billfish Extravaganza Tournament at Harbor Docks
June 1 – Club Meeting at Harbor Docks
July 29-30 – Youth Tournament at Harbor Docks
Aug. 10 – September 11 – Hit the Gulf Tournament at Harbor Docks
Aug. 12 – Destin for Success Fundraising Event at Harbor Docks
Sept. 16 – Sportsman's Ball at the DFWBF Convention Center