By Cali Hlavac
It's Cobia Season on the Emerald Coast, a short window of time each year where the cobia migration rolls through our waters and fishermen ride high in their towers trying to spot them. However, things are looking a bit different around here this year, with very minimal cobia being spotted anywhere.
Boshamps held its annual Destin Flathead Classic Cobia Tournament April 20-23, with 31 boats participating, but very few fish overall – including only one being weighed in over the 45-lb. limit. That fish was caught by the boat Lucky Dog and was worth $108,000 in prizes. One weighed in at 44.8 lbs. with a few others between 25-35 lbs. The consensus from all the boats participating was that almost no cobia were spotted in our local area over that weekend.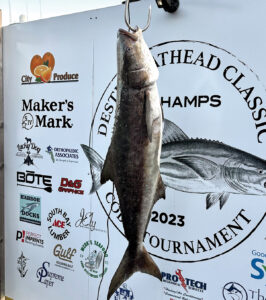 The Boathouse Oyster Bar follows the Flathead Classic with its own tournament, the Ding-A-Ling Cobia Tournament, April 28-30. Fish will need to be 45 lbs. to qualify for that tournament as well. It's open to charter boats and private boats, with anglers hoping to see a larger population of fish before that tournament in hopes of being able to weigh in a fish or two.
The Cobia fishery has slowed over the years, with the FWC now requiring them to be 36-inch fork length to be legal. Anglers can keep one per day or two per vessel, whichever is less.
If you've been on the docks, you've probably heard stories of the massive schools of fish our Emerald Coast used to see during the cobia migration, with the average fish size 30 lbs.-plus. So, what has happened? Some captains will say the water temps have pushed our migration farther up the East Coast so we are seeing less, while others will say that we have overfished the population. Which one is true? That's up to you.