By Will Estell
If you're a music fan and live or play anywhere along the beaches of Northwest Florida's Gulf Coast, you likely already know about country music's biggest party at the beach, Gulf Coast Jam. The festival, which takes place in Panama City Beach annually, is now one of the largest outdoor music festivals (of any genre) in the country, boasting an attendance of more than 30,000 people per day for each night's headlining shows.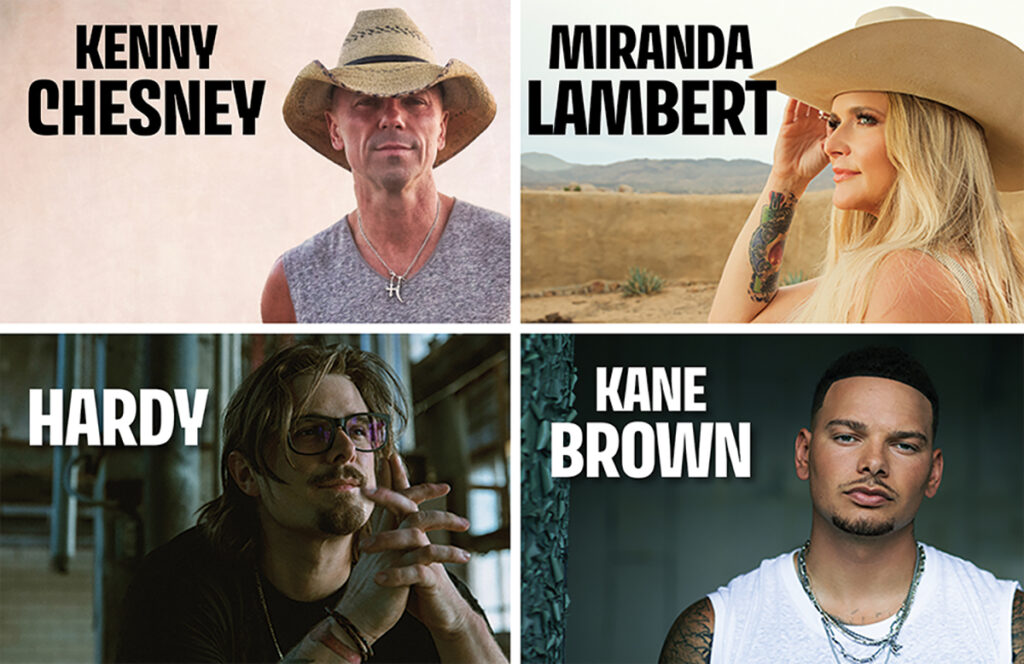 For 2023, Gulf Coast Jam was more popular than ever, having sold out most ticket packages six months in advance. The party was June 1-4, and brought millions in revenue to accommodation providers, restaurants, retailers and entertainment establishments across the three-county (Okaloosa, Walton, Bay) area, where most of the thousands of jammers stay, dine and take in the beach.
Having covered the festival for six years now, I can attest to its growing popularity and draw. I've seen everyone from Tim McGraw, Luke Bryan, Old Dominion, Brooks & Dunn, Cadillac Three and Florida Georgia Line to Riley Green, Big & Rich, Lynyrd Skynyrd, LOCASH and Kid Rock, along with many other well-knowns playing to growing crowds of music lovers from every state and those who travel from abroad to attend the festival.
For 2023 Gulf Coast Jam's headliners encompass some of country's most popular artists, including Kenny Chesney, HARDY, Maranda Lambert and Kane Brown, as well as well-known hitmakers such as Chase Rice, Justin Moore, Gabby Barrett, Breland and Bailey Zimmerman – with many others rounding out the total 32 artists taking the stage over the four-day event.
Kenny Chesney's late addition to the bill was secured only four weeks out from the festival weekend, having been added as the replacement for Morgan Wallen, who was originally on the ticket, but was forced to cancel a chain of concert dates due to a vocal issue.
I've had the pleasure to see Kenny play at both festivals and live at the CMA Awards, as well as, having conducted one-on-one feature magazine cover interviews with him twice in the past seven years (with a third interview set for next year before his 2024 tour) and I can assure anyone who hasn't seen him work a stage and crowd that he knows how to throw a party.
Craig Campbell of Campbell Entertainment Group in Nashville, who has played an instrumental role in orchestrating various behind-the-scenes aspects of Gulf Coast Jam since its first year, says the talent alone runs well into the multi-millions each year.
"It's actually because of our great sponsorships, and the generous support of Panama City Beach that we are able to throw this level of music festival and keep the ticket prices where they are," Campbell said. "That's one of the aspects that Rendy and Mark, (the festival founders and organizers) are most proud of: bringing great music to Panama City Beach and making it attainable to most everyone."
For additional information, follow Gulf Coast Jam on Facebook and Instagram or visit GulfCoastJam.com where you can grab your T-shirts, hats and festival merchandise.
Will Estell is a writer, media entrepreneur, and real estate professional with more than 600 published magazine features in an array of genres. Over the past 25 years, he has been instrumental in founding 12 new magazines – both regional and national in scope and distribution – from concept to fruition, as well as serving as editor in chief for numerous others. Originally from the backwoods of rural Mississippi farm country, Will is a father of three young adults, who splits his time between Destin and Navarre, with his wife, ABC 3 news anchor, Laura Hussey. He is a regular contributor to Life Media's publications and does a little songwriting himself these days.