By Will Estell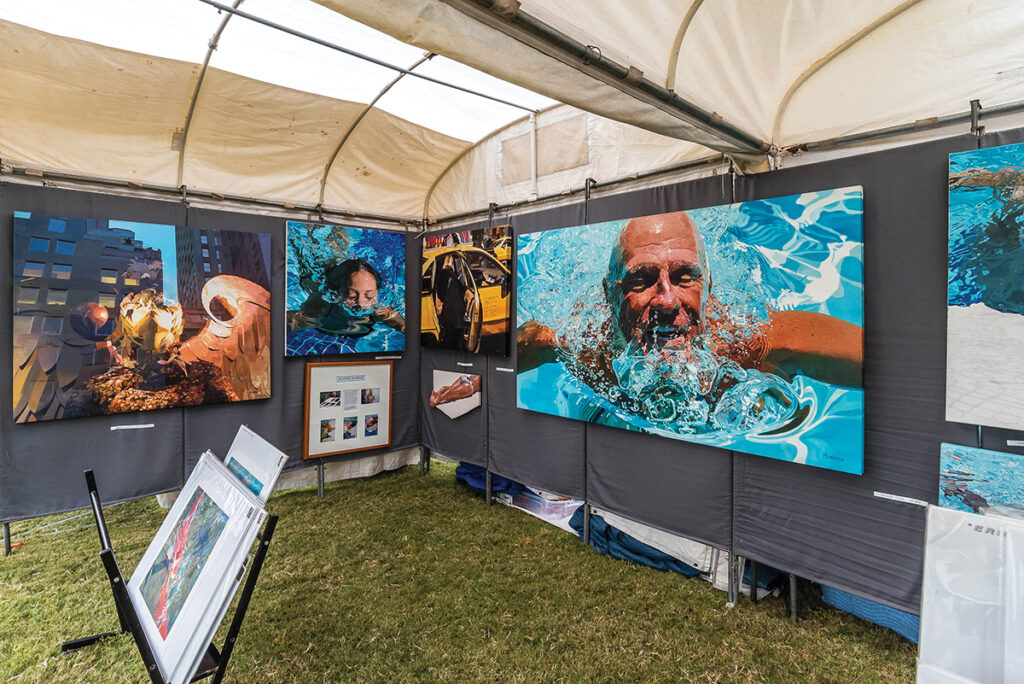 If you're a fan of the arts—whether visually, musically or through their power of healing, and if you live anywhere in Okaloosa, Walton or Bay Counties, then you're likely already familiar with Mattie Kelly Arts Foundation (MKAF)—the outreach and events this organization has been bringing to Northwest Florida's Gulf Coast for almost three decades.
MKAF has grown from its humble beginnings to becoming one of the largest champions of the arts in our beautiful communities that dot this piece of paradise. MKAF is a mission-driven, membership based, not-for-profit organization, with all MKAF event proceeds going to support ArtsReach, the organization's outreach mission.
MKAF events do more than entertain the tens of thousands who attend them each year; they elevate the quality of the people, schools, groups and communities they impact. MKAF events, such as the annual Festival of the Arts, various concerts, wine tastings and culinary gatherings might be thought of simply as entertainment or something fun to do, but the true mission and impact of the organization is about so much more than providing a good time for attendees and members. It's about making a measurable difference—a real and lasting impact for the betterment of our communities and the people MKAF serves.
Since its inception in 1995, MKAF has enlightened, empowered and educated more than 400,000 children in more than 100 schools and partner agencies throughout Northwest Florida's Gulf Coast. These exciting "Arts Empower" programs provide arts in our children's schools where, as you know if you have a student, much of the arts funding had been stopped. MKAF saw the need and is producing dynamic arts learning opportunities through its ArtsReach education initiative serving local K-12 students, at-risk youth and even those with disabilities through "Arts for All Abilities." A newer program, Paint the Music, is a collaboration between MKAF and Sinfonia Gulf Coast (SGC), and explores the musical classics while channeling students' inner Picasso—students paint to musical selections and are invited to a live SGC concert performance. If you have a child participating in one or more of these school programs, you know how effective they are and crucial the arts are toward molding our upcoming generations.
Through "Warrior Arts," MKAF, too, serves our military population suffering with both physical injuries and invisible traumas and hardships, bringing therapeutic benefits to active duty and veteran military service members. This unique and healing program features Zentangle drawing for mindfulness and there are numerous testimonies to the program's effectiveness.
MKAF's spring and summer Concerts in the Village series showcases some of the most entertaining and talented touring artists in the entire country, bringing thousands of both local and vacationing music and arts lovers to MKAF's Arts Village in the heart of Destin. This fun, musical series raises both awareness and funding, so that MKAF can impact more and more people in our community with each coming year.
As for the upcoming fall and winter events that you can take part in while also knowing you're making a positive difference just by being there, MKAF has quite a few just around the corner:
Festival Of The Arts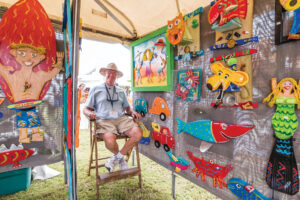 Now in its 28th year, Mattie Kelly Arts Foundation's Annual Festival of the Arts is the place to be Oct. 28-29. The largest and most celebrated art fair in all of Okaloosa and Walton counties, the annual art fair brings in top-tier artists in an array of media from throughout the country. This October, the growing event will feature more than 100 artists, some with multiple display spaces, all ready to show, talk about and sell their pieces, while competing for various accolades in their respective categories as part of this juried festival. "This year, we enjoyed overwhelming interest and after the blind jury scored more than 200 applicants, we are proud to present more than 100 artists hailing from 17 states across the U.S. and Europe," said Festival of the Arts Producer, Deb Nissley.
In addition to all the unique and creative pieces on display, MKAF's Festival of the Arts also features live music, food trucks, beverages, comedian Jason Hedden as emcee for the festivities and even a VIP Lounge Experience. There's also an available cash bar featuring locally sourced craft beer, including Mattie Light from Destin Brewery, and MKAF's famous Bloody Mary bar to accompany your fun in perusing the festival, seeing friends and finding those perfect pieces to call your own…ones you'll treasure for years and perhaps even hand down.
This year's festival will include a new edition, MKAF's Arty Kick Off Party, October 27th at 6 p.m. at Destin's Henderson Beach Resort—an exciting way to usher in the festival while also partaking in great food, drinks and entertainment.
This year's Festival will also bring additional entertainment with Stage Crafters performing scenes from the Broadway musical "Something Rotten," along with local Gulf Coast artist and MKAF Board Member, Maxine Orange and her Splatter Studio, which allows children to suit up and exercise their artistic inspiration while creating their own personal art to take home from the festival. It's never too early to instill a love of the arts in the future of our communities. What better place than MKAF's Festival of the Arts to introduce the younger members of your family to a love of arts, music and community?
It doesn't stop there! MKAF members and the community are invited to join in on more amazing entertainment and fun from small intimate concerts in area listening rooms to MKAF's annual Wine Walkabout at Destin's Ruth's Chris Steakhouse, to the coming inaugural Salt Water Music Fest, bringing three days of music and fun to MKAF's Arts Village October 12-14th.
Salt Water Music Fest
If you're a fan of live music and lots of fun, you will certainly want to grab your three-day tickets or VIP table for the inaugural Salt Water Music Fest, presented by MKAF and Salt Water Vacations.
The spectacular festival takes place at MKAF's Arts Village in the heart of Destin, and brings internationally renowned headliners: Grammy winning R&B sensation Macy Gray and CMA nominated country hitmakers LOCASH, as well as six other hit Nashville songwriters to MKAF's Dugas Pavilion stage for what is sure to be a fun-filled celebration of music across multiple genres.
With hits like "I Try," "Sweet Baby," "Beauty in the World," "Still," and "Why Don't You Call Me," you're sure to enjoy a night of reminiscent musical fun, moving to the tunes of Macy Gray, just as country fans are sure to sing along to LOCASH staples like "I Love This Life," "I Know Somebody," the band's remarkably popular 2023 patriotic hit, "Three Favorite Colors," and the chart-topping, "You Gonna Fly" written by LOCASH'S Chris Lucas and Preston Brust for Keith Urban.
The festival and ticket proceeds will further support and grow awareness for MKAF's outreach to our communities, schools, veterans and residents of these coastal communities. (Read more about the festival from my one-on-one interview with LOCASH on page 34 in this issue.)
As if that's not enough music, MKAF has also added to its 2023 fall season two, new MKAF Unplugged live concerts! These popular listening-room style concerts will showcase singer-songwriters, solo artists, musicians, duos and small bands performing for limited numbers of attendees in intimate acoustic sets. The two upcoming fall concerts include American country music singer-songwriter Erin Enderlin on Sunday, Oct. 25, and the country rock duo, Capps & Hughes on Sunday, Nov. 1st. Both limited availability events take place on Henderson Beach Resort's Sunset Terrace in Destin. These particular concerts are a remarkable value, as they are offered as a bundle for only $75. Tickets also include complimentary valet service, light bites and a cash bar.
MKAF's CEO, fearless leader, and champion of the arts Demetrius Fuller, had this to say about the addition of the new Unplugged Series: "Our first Unplugged benefit concert last June featuring Adam Ezra and Corrina Smith was so well received that we partnered with our friends at the Henderson to add these acoustic sets. With limited seats on a terrace, overlooking beautiful Henderson Beach State Park and the Gulf at sunset, this is a wonderful way to gather with friends to experience live music, a cocktail and delicious food. It's literally the magic memorable evenings are made from."
Whichever MKAF events you choose to attend and support this fall, one thing is for sure: By being a member of, or simply an attending supporter of Mattie Kelly Arts Foundation's growing number of artful community events, you will be doing so much more than enriching your own life through contact with the organization's art, music, and outreach programs. You will quite literally be making a lifelong difference in the lives of others. How's that for having your proverbial cake and eating it too?
For more information, including tickets to any of the array of MKAF events, Salt Water Music Fest, and to become a MKAF member and take advantage of their corporate sponsorship opportunities, visit MKAF.org.
Will Estell is a writer, media entrepreneur and coastal real estate professional with more than 600 published magazine features in an array of genres, from celebrity interviews to travel and tourism to automobiles and real estate. During the past 25 years, Will has been instrumental in founding and co-founding 12 new magazines from concept to fruition, as well as serving as editor in chief for numerous others. Originally from the backwoods of rural Ripley, Mississippi, Will is a father of three who splits his time between Destin and Navarre, along with his wife, ABC 3 news anchor, Laura Hussey. Will is a regular contributor to Life Media and numerous other publications, as well as a member of the Mattie Kelly Arts Foundation's board of directors.