By J. Zimchek
Gulf Coast Shutter and the Overhead Door Company of Northwest Florida (both Dillard companies) together are such a well-known entity, you'd be forgiven for thinking they've been around forever. But it was in 2011, when Wayne Bernheisel acquired Gulf Coast Shutter (founded in 2001) that this local business really became part of the local community. Now, with the acquisition of Quality Gates and Openers in Panama City, it's poised to extend its reach even farther down the Gulf Coast.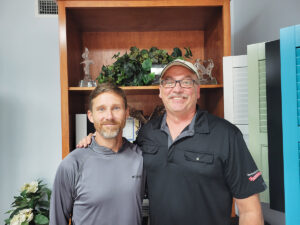 Wayne Bernheisel had always wanted his own business, but the path to this end goal wasn't a straight one. It took a stint in the Air Force and corporate jobs with companies like Rolls-Royce and Crane Aerospace & Electronics before he was able to buy Gulf Coast Shutter in 2011. It turned out to be the perfect time for him to combine his love of community with his dream of a self-owned enterprise. "I wanted something that provided me an opportunity to be out serving the community and building relationships," he said. "To me, that was really important and more fulfilling. Coming from the corporate side, the local community was not such a priority during my tenure." For him, Gulf Coast Shutter and the Overhead Door Company of NW Florida offer a way to provide the community with needed products, for security and otherwise, but also much-needed services. Its tagline – Live Life Beautifully Secure – is reflected in a product line that ranges from basic hurricane screens to Colonial and Bahama Shutters with plenty of curb appeal to a variety of eye-catching garage door options.
And though it got its start primarily in residential, it is now a major supplier for commercial as well. Whether it's dealing with a large business or a comparatively small residential project, customer service is paramount. Recently, an older gentleman and his brother came into the showroom and said they needed springs for sheet doors on their outbuildings. Bernheisel and his team dug up the information for them and passed it along. It's this kind of community interaction that helps build strong local ties, reinforced by his out-of-office roles whether he's serving in his Niceville church or sitting on both the board of the Destin Chamber and the Apprenticeship Advisory Council for NW Florida State College. He's also been a member of the Destin Rotary Club since 2011 and will be president-elect for the next term.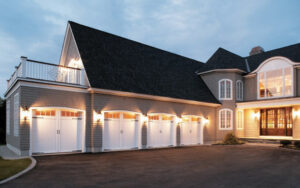 The recent merger with Quality Gates and Openers in Panama City under the ownership of Chris Harris allows Bernheisel and his team to extend this community reach well outside of Walton County. Now, they have over 40 employees spread between two locations, one location to cover the Southport to Port St. Joe region and another to service the Valparaiso/Destin area stretching west to Pensacola, as well as everything in between.
Additionally, Quality Gates and Openers offers a broad range of services that will nicely complement those of Gulf Coast Shutter and the Overhead Door Company. "We design, we fabricate, we powder coat, we install, and we service automated gates," explains Harris. He rattles off a list of gates that includes (but is not limited to) driveway gates, gates for residential homes, industrial complexes, boardwalk gates, garden gates, pool gates and pedestrian gates in general. They can also install keypads, card readers, wrist bands – if you can use it to open a gate, Harris is your guy. He's been in the gate business for 16 years, ever since he bumped into a former mentor in the construction industry driving around working on automated gates. Harris had been looking for a new opportunity and the man offered to take him on as a 50/50 partner on the spot. Now, it's a multi-million dollar business with 15 employees. In addition to offering a range of installations, Harris also offers a 24-hour response time for stuck or broken gates, whether or not he installed them. "I don't know anyone around that is reliable doing that," says Harris. "Service is something we pour a lot of effort into." Like Bernheisel though, Harris is also big on community. Every Veteran's Day since 2021, the company has held a dinner and given a veteran and installed an automated gate that Quality Gates. But it doesn't stop there – Harris is also a long-time football coach at Mosley High School, and the company participates in both Bay and Walton County chambers, the Community Association Institute, the American Fence Association and recently joined the Panama City Beach Rotary Club.
For more information or a consultation, call (850) 269-1066 or visit Overhead Door of Northwest Florida at www.destinoverheaddoor.com, Gulf Coast Shutter at www.gulfcoastshutter.com, and Quality Gates and Openers at www.qualitygatesandopeners.com.