By Lori Leath Smith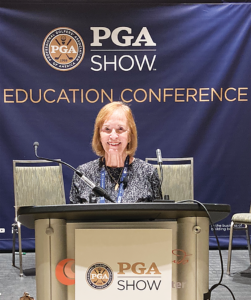 Never wanting to learn the game of golf, local resident Barbara Palmgren found herself doing just that when she ended up marrying Lornie, an avid golf player. So, she found a professional and took lessons. "The most important lesson I learned was that golf is a humbling game," Barbara said in her book "Saving a Golf Course." The moment a golfer thinks he or she has the game under control, the next shot lands in the water, the nearby woods or the formidable sand trap, cancelling the illusion of victory. On the plus side, a random long drive or miracle putt can bring the golfer back to play. This cycle of yin and yang continues throughout years of hope and frustration. Golf is a sport that can be enjoyed well in old age if knees and hips cooperate."
Little did Barbara know that years later, not only would she end up helping to save a local golf course, but also write a book about it!
Her book about saving Shalimar Pointe Golf and Country Club is about how the course was almost bulldozed and lost to a developer wanting to build 180 new homes. But Barbara, Lornie and other residents were determined to fight to save it. Many challenges arose as they worked with others to save the course and their way of life for the good of their community.
Barbara's book established her as an expert and caught the attention of the national PGA Merchandising Show organizers. She was invited to teach a class at the largest golf show in the country held in Orlando in late January. "It's so large that there are golf carts to take folks around!" she said.
Education classes are held for the PGA pros so they can upgrade or document progress as a professional card-carrying PGA pro. "PGA Pros have to accumulate so many points. So, they have to attend the classes," she said. Barbara's class, "Thrive or Survive" was one of those classes. "It was a one-hour class exploring the importance of prioritizing goals as well as being ready for the necessary Plan B's if there is an unforeseen circumstance that could threaten the progress of a course," she said.
Barbara said she wanted "students" to come away with three main takeaways:
1. The importance of a business plan
2. The importance of marketing
3. The critical element of communication: verbal, vocal and non-verbal with staff and clients.
"Saving A Golf Course" gave her the background of an actual experience.
Celebrating its 70th anniversary for the largest global golf business gathering of the year, Barbara relayed that all aspects of the golf industry are marketed at the large convention center. "At one end is a huge net with 16-20 range stations where golfers can try out new clubs from all major manufacturers. Throughout the three days you can see clothing, golf carts, new golf inventions and schedule photoshoots with famous golfers. There are new inventions and you can hit balls." There are various countries merchandising their countries," she said. "Scotland and England are always there." To attend, you must be a PGA Professional, Golf Club Owner or Golf Club Pro, or a Golf Industry Vendor, Pro or Owner. "The golf channel is situated on a high central stage and broadcasts from the event throughout the show," said Barbara.
During the show, people who were successful during the year receive awards, world-wide golf courses have booths to promote the important courses in their country and, of course, the PGA Pro classes are held.
Closer to home, Barbara is again working with Shalimar Pointe currently under renovation. When she's not trying to save a golf course, you can usually see her hanging around the Heritage Museum of Northwest Florida as board chair working on fundraising events, such as the recent one held at Regatta Bay in Destin. Barbara is also a retired guidance counselor at Niceville High School and an adjunct professor of Communication Arts at the University of West Florida.
Barbara has come a long way since her first aversion to the game. But now she hopes golf will become the center of Okaloosa County. "I want people to see we have a fantastic golf community. We have the presence to be a phenomenal tourism driver," she said.