By Kenneth Books
Recovery from addiction is hard. Resources are limited and the lure of drugs and alcohol can be overwhelming. But there is a resource in our area that helps women break the cycle of addiction, get and stay sober and create a normal, fulfilling life for those who wish to be free.
Freedom Life Compass is the brainchild of president and founder Stephanie Wedel, our hometown hero, whose early life was far from a Leave It to Beaver episode. "I grew up in a drug house," Stephanie says. "I fell into the lifestyle and started using at age 11. Eventually, I became a high school dropout. I did a lot of things I'm not proud of." Her father was a drug dealer who later served time in prison for selling methamphetamine. Her brother, Rex, was a drug addict.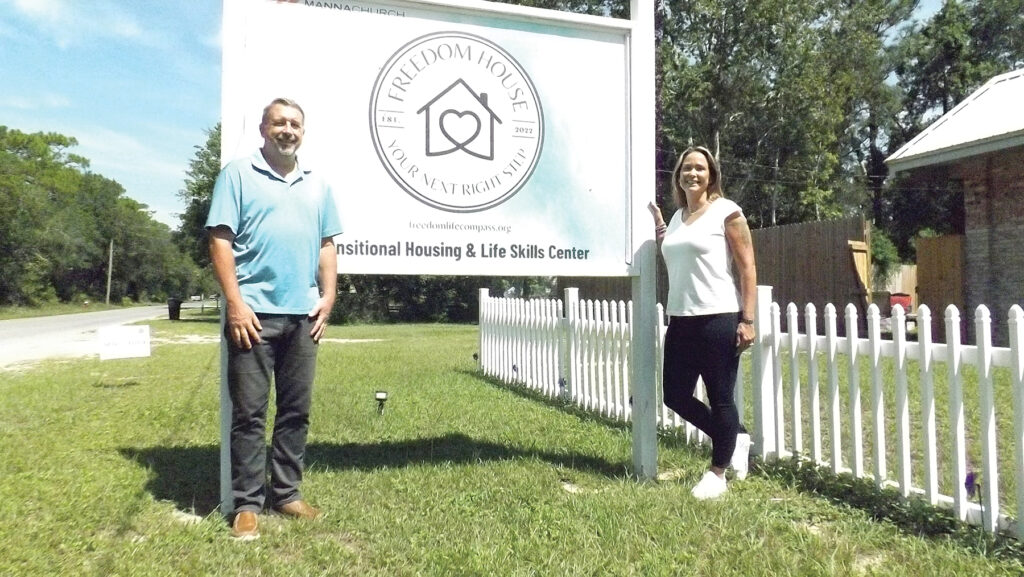 At age 23, Stephanie found herself homeless. So, she joined the Army, the only service that would accept her without a high school diploma. "The Army was great," she says. "It taught me discipline." She spent 15 months in Iraq and when she came home, she learned her mother had become a born-again Christian. "I started attending church with my mom," Stephanie said. It was then that "Jesus transformed my life."
Today, the entire family is sober. Rex is the Executive Director of Project Hope Recovery Center Florida and Stephanie is the recovery minister at Crosspoint, Niceville.
To help her brother in his struggle to remain free of drugs, Stephanie started Freedom Life Compass. The organization, which started in 2018 opened the doors to the Freedom House in April, a ministry to help women caught in the same trap of addiction that Stephanie once was. "Over the last five years, one of the biggest needs was transitional housing for women," Stephanie says. "We saw a need for this place."
She expressed that need at a meeting of Parakaleo (Greek for "Come alongside.) Among the listeners was Chris Shinnick, the pastor of Manna Church, which meets at Niceville High School. He gave Stephanie the use of a property on County Line Road in 2022, with a five-year lease. A large building contains a dormitory for women in need not just recovering addicts, a kitchen, showers and a garden, prayer path and chicken coop.
Behind the building is the Freedom Life Center office. Currently, two residents are staying there, both single women. "It's transitional housing for women," Stephanie says. "We're helping anyone to take their next right step." One of the residents has been incarcerated in the past, but now has a length of sobriety under her belt and is looking for an apartment. The other has mental issues. "We got her off the streets," Stephanie said.
Part of the difficulty in setting up such an organization is the need for money. Because part of the requirements for help includes church attendance, no state or federal money is provided. Crosspoint church had hosted a bazaar for 39 years. "They gave it over to us," Stephanie says. This year's Niceville Bazaar, supporting Freedom Life Compass, took place Oct. 21 at the Niceville Mullet Fairgrounds. Last year, the first that Freedom Life Compass sponsored the bazaar, more than 5,000 people attended the free event. Because of the City of Niceville's grant of the grounds, Freedom Life Compass donates five percent of the proceeds to the city Fireworks Fund. It also donates 10 percent to another non-profit.
Recently, Freedom Life Compass hired Dave Glinka as Program Director to assist with re-entry programs, specifically the Freedom House. David, who spent 22 years in the Air Force in Explosive Ordnance Disposal (EOD), has brought with him his more recent experience working in a non-profit for homeless women and children, and also provides his personal relations and networking assets, having lived in Niceville since 2000. On July 31, he began his most recent non-profit work at Freedom Life Compass as the Program Director. "I take care of day-to-day operations, resources and case management, Dave says. "I bring a lot of networking; I know a lot of people in Niceville. However, I can't do this job without the support of the amazing volunteers who are needed to provide transportation, lead devotions and help with events."
"Our vision is to help individuals coming out of life-controlling situations, such as trafficking, incarceration, homelessness and addiction, find Christ-centered recovery and resources," states Freedom Life Compass material. "We can help begin to break the cycle of addiction and dysfunction in their lives and, in turn, change the course of their families' lives. Our Life Skills Center provides job training, computer skills, administration training and basic skills. Partnering with organizations in our community we will offer classes for financial management, business etiquette, dressing for success, and other essential skills needed to become a productive member of society.
To learn more, visit FreedomLifeCompass.org.