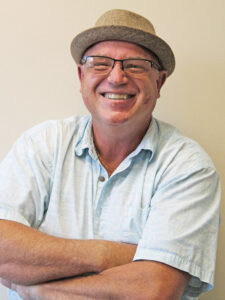 Mattie Kelly Arts Foundation (MKAF) has named Roger van Lieshout of Cape Coral, Florida, the 2023 Festival of the Arts poster contest winner.
Recognized as one of Northwest Florida's premier fine art shows, the Festival of the Arts, produced by MKAF, is one of the most anticipated cultural events of the year on the Emerald Coast. This year's 28th annual event will kick off on Friday, Oct 27, with a reception at Henderson Beach Resort. The Festival weekend follows on Saturday, Oct. 28, and Sunday, Oct. 29, at the Mattie Kelly Cultural Arts Village in Destin.
An oil painter since childhood, Roger van Lieshout, a native of Winnipeg, has worked as a professional artist full-time for 14 years. Originally trained in renewal resources at the Saskatchewan Institute for Arts and Sciences in Saskatoon, Canada, he then completed his undergraduate degree at University of Manitoba.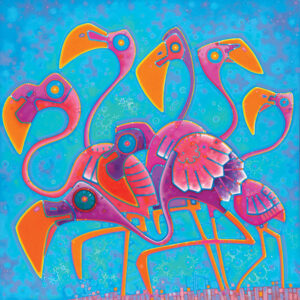 The winning piece is a 36-by36-inch oil on canvas, titled "Flamboyant." This vibrant, whimsical piece evokes both the color, beauty, and spirit of Florida living.
"Flamingos are often seen as gangly and funny but look more closely and their grace and beauty become evident," van Lieshout says.
A previous Festival of the Arts exhibiting artist, this is van Lieshout's first MKAF Poster Art Contest win.
"I am most honored to have 'Flamboyant' chosen to help represent the 2023 MKAF Festival of the Arts," van Lieshout says. "The organizing committee and volunteers work hard to produce one of Florida's premier art events, and the location is a fantastic place to spend a memorable day. Last year's turnout was fantastic and having the opportunity to visit with both locals and visitors is always the best part of the fun. The 2023 Festival is bound to be as good if not better than last year!"
As the Poster Art Contest winner, van Lieshout will receive a cash prize of $500. The winning artwork will be used to promote the 28th Annual Festival of the Arts by being prominently showcased on the official Festival poster, program guide, T-shirt, in the Festival marketing campaign, on the MKAF website, across MKAF's social media channels, and more.
During the two-day Festival, more than 100 premier artists from across the United States will exhibit original artwork in the form of oil, watercolor, acrylic and glass paintings; photography, sculpture, pottery, wood, paper, fiber, mosaics, mixed media, jewelry designs and more in order to compete for $12,000 in cash prizes in 18 award categories, including the coveted Best in Show and People's Choice Award, which is selected by the festival fans. The Festival also will feature a Collaborative Art Exhibit, which showcases select artwork of 85 adult and student artists.
A celebration of art, music, food, and family fun, special features of the Festival include a live music lineup, hands-on arts and crafts activities for children, art raffle and more. A diverse menu of delicious cuisine served up by local food trucks, along with a wine and beer garden. On-site parking and free shuttle service are also available.
Admission is free. Proceeds from the Festival help MKAF and its community education outreach initiatives including ArtsReach serving K-12 students, at-risk youth, people with disabilities, and the military population with visible and invisible injuries.
To make a tax-deductible donation or provide a corporate sponsorship, or for more information about becoming a MKAF member, visit www.MKAF.org or call (850) 650-2226.