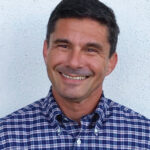 By Dr. Richard Chern, MD
Are you seeking to regain your energy, improve your well-being, and reclaim your zest for life? If you're a man or woman over 40, and some as young as 30, the Hormone Restoration Center in Miramar Beach offers a transformative opportunity through hormone therapy. Step into a world of renewed vitality and optimal health with advanced treatments.
In today's fast-paced world, hormonal imbalances can often disrupt our lives, leaving us feeling fatigued, experiencing mood swings and struggling with various symptoms. The Hormone Restoration Center specializes in personalized hormone therapy programs that cater to the unique needs of individuals suffering from these symptoms.
The cornerstone of our approach is bioidentical hormone replacement therapy (BHRT). Unlike synthetic hormones, bioidentical hormones are derived from natural sources and mirror the hormones naturally produced by your body. This enables a seamless assimilation process and enhances the effectiveness of the treatment with minimal side effects. The expert providers at the Hormone Restoration Center will conduct a comprehensive evaluation to create a customized treatment plan tailored to your specific needs and goals.
The advantages of hormone therapy are clear. Patients frequently report increased energy levels, improved mental clarity, enhanced mood stability, and an overall sense of well-being. Furthermore, hormone therapy can aid in weight management, boost libido and help maintain muscle tone and bone density. The experienced team at the Hormone Restoration Center will guide you through the process, ensuring you experience a transformation that extends beyond symptom relief, empowering you to live your life to the fullest.
Your safety and well-being are of utmost importance at the Hormone Restoration Center. It adheres to the highest standards of care, utilizing state-of-the-art diagnostic tools and evidence-based treatments. The expert physicians and staff closely monitor your progress, making adjustments as necessary to maximize results and minimize potential risks. Rest assured, you will receive comprehensive care that is tailored to your unique needs and guided by a commitment to your health and satisfaction.
Conveniently located in Miramar Beach, the Hormone Restoration Center offers a warm and welcoming environment. The compassionate and knowledgeable team will provide the support and guidance you need throughout your journey. Complementing the hormone therapy program, the center offers weight loss options including the newest semaglutide to optimize your long-term success in maintaining your newfound vitality.
Take charge of your well-being and rediscover the joy of life. Experience the transformative power of bio-identical hormone therapy at the Hormone Restoration Center in Miramar Beach. Embark on a journey towards enhanced wellness, irrespective of your age. Schedule your consultation today and embrace a life filled with energy, vitality, and renewed purpose by calling us at (850) 837-1271.
Dr. Richard Chern, MD provides hormone therapy to men and women across the country and treats many of the doctors and nurses in the area. Call him for an appointment at The Hormone Restoration Center at (850) 837-1271.