By Mike Mahon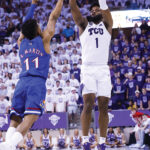 The countdown has begun for one of the premier sporting events in the area as the eighth annual Emerald Coast Classic college basketball tournament fast approaches.
Eight teams will compete in the tournament, which will be held at Raider Arena on the campus of Northwest Florida State College Nov. 25-26.
Iowa will face Clemson in a semifinal round game at 6 p.m. on that Friday, while TCU will play Cal at 8:30 p.m. The third-place game will be played at 3 p.m. on Saturday Nov. 26 with the championship game scheduled for a 6 p.m. tip off on that Saturday.
Fans can purchase tickets on line by visiting www.emeraldcoastclassic.com clicking on the ticket link. Session tickets gets fans into both games of the session.
Both Iowa and TCU played in the 2022 NCAA Tournament with the Horned Frogs beating Seton Hall, 69-42, in the first round. TCU fell to top-seeded Arizona, 85-80, in overtime in the second round.
Iowa captured the 2022 Big Ten Conference Tournament championship, tied for fourth in the conference standings and won 26 overall games, the second most wins in a season in program history.
For the third time in program history, TCU is nationally ranked to start the season. The Horned Frogs appeared at No. 14 in the Associated Press preseason poll on Monday. Iowa also received votes in several preseason polls as well.
"The reputation of our tournament has allowed us to attract teams from the premier basketball conferences in the country," said tournament director Maury Hanks, chief executive officer of Global Sports. "And this year is no exception with TCU being ranked in the top 20 of several preseason polls. We strive to bring the best college basketball teams possible to the Emerald Coast of Florida. Fans are also going to see some of the top collegiate players in the country this year."
Fran McCaffery has coached Iowa to 20-plus wins eight of the last 10 seasons, including four straight years. The Hawkeyes have competed in the last three NCAA Tournaments and have been ranked in the final Associated Press Poll each of the last three years: No. 16 in 2020, No. 8 in 2021 and No. 25 in 2022.
Iowa's fortunes will be built around forward Kris Murray, named to the Preseason All-Big Ten team, and redshirt junior forward Patrick McCaffery, who is the leading returning scorer at 10.5 points per game, Murray was Iowa's leading scorer (9.7) and rebounder (4.3) off the bench last season.
The Horned Frogs' second NCAA Tournament bid under coach Jamie Dixon was their fourth postseason appearance in the five seasons that postseason was held, the best in program history.
The Horned Frogs return all five starters from last season's team. Included in the returners are Preseason Big 12 Player of the Year Mike Miles Jr., and Preseason All-Big 12 Conference forward Emanuel Miller.
Miles is the Big 12's top returning scorer after averaging 15.2 points. He also averaged 3.8 assists to become the Big 12's only player to finish in the top six in points (fifth) and assists (sixth). Miles was named to the 2022 All-Big 12 Tournament Team and the NABC All-District 8 second team and to the USBWA All-Region VII Team.
TCU forward Emanual Miller earned his first preseason honor, as he was selected Preseason All-Big 12 honorable mention. The senior ranked averaged 10.3 points and ranked 10th in the Big 12 with 6.2 rebounds per game.
TCU won the 2017 Emerald Coast Classic title, beating St. Bonaventure in the championship. Iowa played in the 2016 Emerald Coast Classic.
Both Cal and Clemson are looking to parlay preseason foreign summer tours of playing basketball in Europe into paths toward success this winter.
Returning starting forwards Hunter Tyson and PJ Hall will key the fortunes for Clemson, which won five of its last six games to close out the 2021-22 campaign. Brad Brownell is the winningest coach in Clemson history, earning 218 victories in 12 years while guiding the Tigers to the 2021 NCAA Tournament, 2018 Sweet 16, 2011 NCAA Tournament and three NIT appearances.
Hall was named preseason second-team All-ACC by league media. Hall, playing through a foot injury for most of the season, averaged a team-and-career best 15.5 points last year, while averaging 5.8 rebounds.
Mark Fox will enter his fourth season as head basketball coach at Cal and has averaged nearly 19 wins each year in his 17-year coaching career. In previous stops at Nevada and Georgia, Fox has guided teams to five appearances in the NCAA Tournament. Cal boasts 28 postseason appearances, including 19 NCAA Tournament appearances.
Forward Sam Alajiki returns after becoming the first Cal player to earn Pac-12 All-Freshman team honors since 2015-16 last year.
For more information about the tournament or for tickets, visit www.emeraldcoastclassic.com.