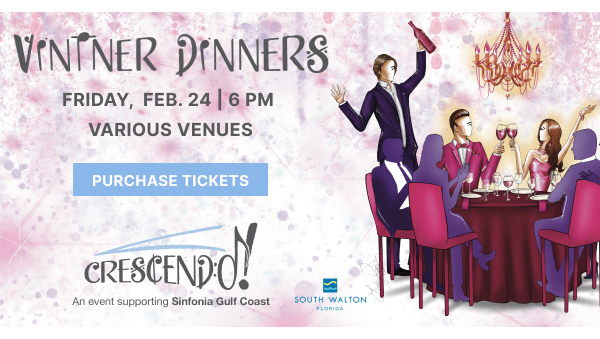 By Nathanael Fisher, Emerald Coast Theatre Company
"Christmas time is here. Happiness and cheer. Fun for all that children call their favorite time of year."
It doesn't matter if I am in the car, in a store, or walking down the street at Grand Boulevard listening to their outdoor music…this song makes me stop and feel the holiday season. Back in 1994, as an intern at Jupiter Theatre, I was in a production of A Charlie Brown Christmas in Jupiter, Florida. We sang this song as part of the production. I played Linus with those famous lines of, "Lights please! And there were in the same country shepherds abiding in the field, keeping watch over their flock by night." One of my favorite parts of the play was when Snoopy and I were choreographed to "skate" across the stage as if suddenly the stage was ice and we had skates on. One of the other interns that played Charlie Brown and I became friends through the process. I'd always loved the cartoon A Charlie Brown Christmas, but from that wonderful song to "skating" across the stage to playing Linus to becoming friends with the guy playing Charlie Brown… all of these are such fond memories. We are so thrilled to be bringing this classic show live on stage at Emerald Coast Theatre Company, and our high school program (Jr. Company) students are doing such a wonderful job with this play. You are guaranteed to feel ALL the happiness and cheer.
Our professional holiday production is The Best Christmas Pageant Ever: the Musical. This is directly taken from the holiday novel that was written in the1970s by Barbara Robinson. This musical adaptation of the book originated at the Charlotte Children's Theatre in 2016. One of the things I am most excited about this production is that it is a collaboration between ECTC's growing educational program and our professional company. With songs like "Our Perfect Little Town" contrasted with "Die Herod Die," this musical is full of fun comedic moments and finishes with all the heart and warmth we all want for the holiday season. Many of the children in this production will be making their professional debut. We always get really excited about milestones here at ECTC. Anna and I sometimes talk about how we get to see our community's children grow up. You can be a part of that too while enjoying a night of exceptional professional theatre. If you have or know a child that would be interested in taking a theatre class or having a part in our spring educational program productions check out our website for a full list of classes and programs: emeraldcoasttheatre.org/youthclasses.
Another offering this holiday season is our Christmas Cabaret. Vincent Pelligrinowill be hosting again this year and if you want to see a musical theatre guy living his best life, then this holiday cabaret is a must. We have a talented cast of singers to perform some classic holiday songs you will definitely know and others you may not. Vincent pulls it all together with some jokes and a song or two himself. It's more fun than a stocking full of puppies.
Finally, since this is the giving season, we thought it would be nice to share that we helped 38 children through our scholarship program this past fall. This means that these families were helped with anything from a $200 to $600 scholarship towards educational theatre class tuition. Our goal is to make sure that anyone who wants to can participate, and that cost does not prevent any child from experiencing the joy of theatre. This holiday season, if you can make a contribution to help a child out, please go to our website and donate to the scholarship fund. You can also call the box office for ways to sponsor, donate, or volunteer.
We hope you'll let us usher in the holiday season with you and yours. We happen to love Christmas around here… and we love our community. As Charlie Brown and his friends would say, "Christmas time is here, families drawing near, oh that we could always see such spirit through the year."
Happy Holidays,
Nathanael Fisher, Producing Artistic Director and CoFounder
A Charlie Brown Christmas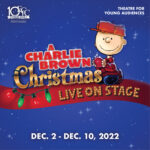 By Charles M. Schulz, Adapted by Eric Schaeffer with special arrangement by Arthur Whitelaw and Ruby Persson
December 2-10: Saturdays at 9:30 a.m. & Sunday, December 4 at 2:30 p.m.
Discover the true meaning of Christmas with Charlie Brown, Snoopy and the rest of the Peanuts Gang in this classic adaptation of "A Charlie Brown Christmas." Presented by ECTC's talented Junior Company teen players.
The Best Christmas Pageant Ever: The Musical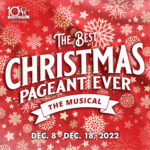 Book and Lyrics by Jahnna Beecham, Music and Lyrics by Malcom Hillgartner, Based on the play by Barbara Robinson, Orchestrations and vocal arrangements by Deborah Wicks LaPuma
December 8 – 18: Thursday – Saturday at 7:30 p.m., Sundays at 2:30 p.m., Wednesday, December 14 at 2:30 p.m.
The Herdmans are the worst kids in the history of the world–so when they crash Sunday school and demand parts in the Christmas pageant, the whole town panics. There's not supposed to be biting or cigar-smoking in Bethlehem and soon everyone is calling for reluctant director Grace Bradley to cancel the whole thing. It's now up to the Bradleys to help the community see the Herdman kids through new eyes in this buoyant musical adaptation of the funny and touching holiday classic.
Christmas Cabaret at the Boulevard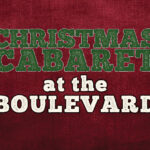 Wednesday, December 14 at 7:30 p.m. and Saturday, December 17 at 2:30 p.m.
Mix, mingle and enjoy live musical selections performed by our talented actors. Enjoy classic holiday songs and join in some carols as well. Like a mug of hot cocoa, this limited-run event will warm your heart and get you in the holiday spirit!
For more information or to purchase tickets go to emeraldcoasttheatre.org or call 850-684-0323.