By Doug Stauffer
Congressman Mike Waltz, representing Florida's 6th Congressional District, has taken the reins from Gov. DeSantis in the continued fight for national security, veterans' affairs and economic growth. This former Green Beret serves on several House committees, including Armed Services—a natural fit, given his Army Special Forces experience. This committee has jurisdiction over the Department of Defense, including military research and development, nuclear energy and construction.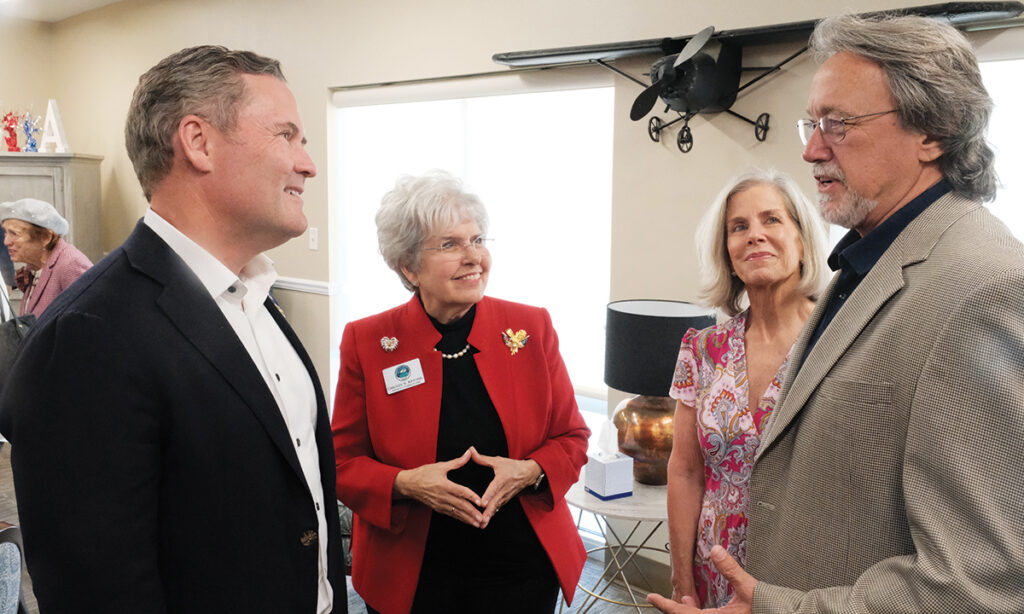 Waltz recently visited Okaloosa County. The congressman took to the stage at the Air Force Enlisted Village, a luncheon that was anything but ordinary as he began by reminiscing. Picture a young Waltz in training, knee-deep in swamp water, shivering in the freezing Florida night. "You'd never think you could get that cold in the Sunshine State," he said, "but I did." Fortunately, this memory has long since faded, replaced with his love for his constituents.
Now, fast-forward to a world where the Federal government's number one priority is no longer keeping its citizens safe. Waltz passionately declared, "I am trying to get Washington to do less and focus on the right things." With fire in his eyes, he warned us that "the Big One is coming."
The formidable Chinese government, he explained, is locked in an economic struggle with the U.S., seeking to outmaneuver and overpower us. With a navy now larger than ours, outbuilding our ships at an astonishing 5:1 ratio, and launching more into space than all other nations combined, the Chinese threat cannot be ignored. "They control the U.S. supply chains," Waltz warned, "including antibiotics, with 90% of computer chips made in Taiwan, a nation China seeks to control."
Waltz also criticized the Green New Deal, claiming it would merely replace one dependency with another, as China controls much of the world's cobalt, manganese and other essential minerals in battery production." Arming Taiwan and Japan in advance is crucial," he declared, "I am 100% focused on that, and it gets me up in the morning."
Yet, he explained that the challenges our military faces aren't just external. The Congressman lamented the worst recruiting crisis since Vietnam, misguided strategies for electric tanks, and an unnecessary focus on differences rather than unity. "Unit cohesion in combat is life and death," he argued. "I have called in every plane in the Air Force for close air support, and no one ever asked what color or sexual orientation the pilot was."
Waltz emphasized the importance of supporting our troops and their families, who sacrifice so much for our nation. "The last thing they need," he said, "is to return to a moldy barracks or concrete chunks falling from the ceilings in the hangers." With that, the audience was left to ponder the gravity of the situation and the responsibilities we must all bear in the face of these challenges.
As a House Armed Services Committee member, Waltz has been involved in oversight of Eglin AFB and Hurlburt Field, which are both critical to America's national defense. Waltz has been a strong advocate for these installations in Congress, securing funding for important programs and infrastructure projects and advocating for policies that support military readiness and strengthen America's defense capabilities. Additionally, as a veteran, Waltz understands the sacrifices and contributions of the men and women who serve in uniform. He has been a strong advocate for their needs and priorities.