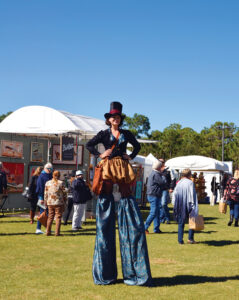 The 27th Annual Mattie Kelly Arts Foundation (MKAF) Festival of the Arts held Oct. 29-30 in the Mattie Kelly Cultural Arts Village in Destin featured exhibits of more than 100 artists from throughout the U.S. showcasing a diverse palette of artistic styles in nearly 20 different art mediums. Guest judges Anna Killian Cavnar, artist and adjunct faculty member at Pensacola State College, and Dan Taylor, artist and art advocate of Tallahassee, awarded 29 ribbons and cash prizes. Recognizing artists whose work reflected exceptional talent and craftsmanship, the judges awarded "Best in Show," three Awards of Excellence, five Awards of Merit, and 10 Judges' Recognition Awards. Best in Show Winner ($2,000) – Curtis Whitwam, Tampa – Watercolor; Award of Excellence Winners ($850) – Valerie Walchek, Ocoee – Ceramics; Michael Fagan, Pensacola – Mixed Media; and Phillip Fiuza Lima, Mariett, Ga. – Wood.
Vertex Solutions, a leading developer of high-fidelity learning technology, including extended reality (XR) training, was selected by the Defense Innovation Unit (DIU) to develop a reconfigurable Multi-Place Mixed Reality (MPMR) flight simulator. The MPMR flight simulator will replace the currently fielded Weapon Systems Trainers (WSTs) and save several times their initial fielding, modification and sustainment costs, all while providing greater access to pilot training for students. This is exciting news for the USAF, who will be able to train more pilots effectively, at a lower cost, to help address the pilot shortage! Vertex Solutions' Immersive Training Devices are a great example of dual-use technology that benefits both the military and commercial industry. This technology not only satisfies U.S. DoD pilot training needs, but is directly applicable to commercial aviation training in passenger and cargo flight operations.
The City of Niceville recently celebrated the grand opening of the new Recreation Area adjacent to the Niceville Senior Center. Serving as the foundation of Niceville's vibrant community of adults over 55, the new Senior Center Recreation Area will deliver on the community's desire to create an outdoor activity space for senior Adults. Begun in November 2018, the City had the vision to establish a lively mixed‐use, recreation area at the core of Niceville's City Complex. The new Recreation Area consists of the courtyard, dedicated to Gary Allen Brown in recognition for his 30+ years of community service to the City of Niceville. Mr. Brown honorably served in the Air Force for 20 years at Eglin Air Force Base and served for 24 consecutive years as a City of Niceville Council Member. Mr. Brown was known as a n accomplished community leader with great integrity, passion, and dedication for preserving the heritage of Niceville Florida. The Recreation area also has pickleball courts, a putting green, two gazebos, shuffleboard courts, and restroom facilities for the enjoyment of Senior Center members and may be rented out to private groups. The pickleball courts are open to the public outside of the Senior Center hours of 8:30 a.m. to 4:30 p.m.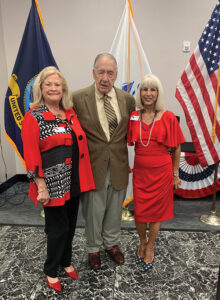 The Republican Women of Okaloosa Federated held its 4th Annual Veterans Appreciation Luncheon on November 2nd at the Wyndham Gardens on Okaloosa Island with 155 guests in attendance. Flags from all services were provided by the Shalimar United Methodist Church and made a beautiful backdrop for the ceremony. Thanks to Scott Newbold and Pat Brantley for making this happen. Retired 4-star General Charles Horner was the special guest speaker. The Emerald Coast Chorus, led by Kevin Wilson, sang all the service anthems, patriotic and songs from the past. Corlene Ziegler, with the American Legion, presented the VietNam Era veterans and veteran's widows in attendance with commemorative pins and certificates. As in previous years, the program was coordinated and emceed by Immediate Past President Maddie McNeal.
Recently, the Heritage Museum held its annual Night at the Museum featuring live performances from the cast celebrating the 100th anniversary of Valparaiso. Participants enjoyed wine tastings paired with appetizers from local restaurants while they heard about the lives of our founding fathers; John Prine, Lula Edge, Addie Lewis and James Plew. The Museum had a successful event thanks to the volunteers, members, staff and board that helped put together this guided tour. A special thanks to the Members of the Museum as well as the community that signed up for the event and came out to show their support for local history.
In lieu of a monthly meeting in December, the Freeport Republicans will have a Christmas buffet dinner for members and their guests on Mon., Dec. 5 at Café Nola in Defuniak Springs. This function will be held with the North Walton Republican Club from Defuniak Springs. Our January meeting will be Tues., Jan. 10 at the Hammock Bay Clubhouse, 1830 Great Hammock Bend in Freeport. Registration begins at 5:30 p.m.; meeting 6-7 p.m.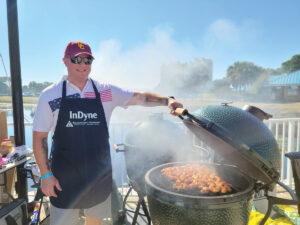 The 8th Annual Big Green Egg cooking competition, Eggs on the Beach, raised $45,000 for local non-profits. The event, held Oct. 15 at Seascape Towne Center, featured a diverse array of deliciously creative bites. Presented by Bay Breeze Patio, 20 cook teams served culinary creations while tasters voted for their favorites. Proceeds from the event are divided between the winning non-profit cook teams and the two benefitting charities, Food for Thought and Fisher House of the Emerald Coast. This year, they both received a $19,500 donation to support their mission. In addition, non-profit cook teams competed for a donation toward their cause. This year's non-profit winners include First Place: Healing Paws for Warriors partnered with Swiftly Catering and presented a Korean Brisket burnt end with pickled veggies bite earning the non-profit $3,000; Second Place: The Eggstrahs for South Walton Academy won for their bacon bites and earned the charity a $2,000 donation; Third Place: Food for Thought won for their handmade meatballs and earned the organization an additional $1,000.
The Market Shops hosted its Seventh Annual Bloody Mary Festival in October raising a record-breaking $50,000 for Habitat for Humanity – Walton County. 1st Place People's Choice Award – The Beach House; 2nd Place People's Choice Award – Camille's at Crystal Beach; 3rd Place People's Choice Award – Chiringo; Judge's Choice Award – Chiringo; Best Accoutrement – Camille's at Crystal Beach. All awards were custom made by local artist, Maxine Orange.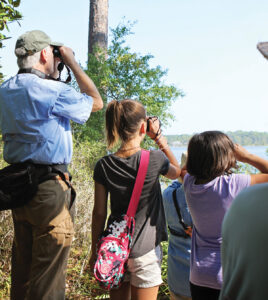 The Choctawhatchee Audubon invites you to "Birding with Noah Stryker" in Utah and a quick stop at High Island Thursday, Dec. 1st in Room 800 on the 2nd floor of the Chandler Center (NW door of 519 Helms St.) at the Crosspoint Church in Niceville. Socializing with refreshments begins at 6:30 PM, and the program begins at 7:00. Admission is free and open to the public. Hear Donna Cronwell who was fortunate to go birding for three days in northern and central Utah with Noah Styrcker, a renowned world birder. On the flight back home to Florida, she and her husband, Dale Cronwell, were able to stop over in Houston and visit High Island during bird migration. During their trip to Utah and Texas, they recorded a total of 185 species of birds. For more information, email choctawhatcheeaudubon@gmail.com.
There will be a Christmas Bird Count coordinated by Malcolm Swan, on Sat., Dec. 17. To participate, contact Malcolm at 210-452-4899 so that he can configure birding assignment areas.
The Walton County Republican Executive Committee (REC) will meet Monday, Dec. 12 at the Hammock Bay Clubhouse, 1830 Great Hammock Bend in Freeport. Registration begins at 5:30 p.m.; meeting 6-7 p.m. and is open to Republicans in Walton County. The REC meets monthly on the third Monday of each month at the same location and time.
Emerald Coast Theatre Company has opened registration for 2023 Spring Educational Theatre Programs. The popular educational Theatre program provides creative and engaging offerings designed especially for young thespians from pre-school to high school, as well as adult classes. The full schedule of class dates and times along with and registration rate information can be found at www.EmeraldCoastTheatre.org.
Bluewater Bay Garden Club will meet Thursday, Jan, 12, at 10 a.m. in the Community Life Center, rooms 909-911, Niceville Crosspoint Church. "Shade Gardening" will be the topic presented by Master Gardener Janet Hayes. Visitors are welcome! For questions, call Marilyn Norse at 850-678-4588.
Destin Commons welcomes Grunt Style to its lineup of popular and unique retailers. In 2009, a former Army Drill Sergeant started Grunt Style in Fort Benning, Ga., with just $1,200 in his pocket. Today, this location is Grunt Style's first in Florida but 14th in the nation. With the military being such an integral part of this community, Grunt Style is a brand representative of the values that we collectively share. Grunt Style is dedicated to displaying that American pride through their vast selection of apparel, gear, and accessories. Taking the fighting American spirit and instilling it in everything they do, you will find the most patriotic apparel on the planet where everything is 100% guaranteed for life.
The Walton Area Chamber, an FMA Member, has an initiative called Mentoring Emerald Coast which helps strengthen our community. Program mentors agree to meet a mentee twice a month for the first two months and once a month for the last seven months. The program does allow for "one off" mentors who are not paired up with a mentee. But if that mentee needs something specific and it is the mentor's specialty, they will arrange a few meetings together. If you would like to be a mentor, sponsor or need mentoring, contact Gabby Kilgore at 850.892.3191.