By Chuck Hall
"We love the "darlings" of Main Street, Not Wall Street," said Apex Senior Partner Chuck Hall. "Our team at Apex Design Center is devoted to finding 'Apex Premiere' products for our home improvement clients emphasizing high-quality American Made Brands." From countertops and cabinets to flooring and wall paint, American Made is well represented throughout the Apex showroom at 4641 Hwy 20 East in Niceville.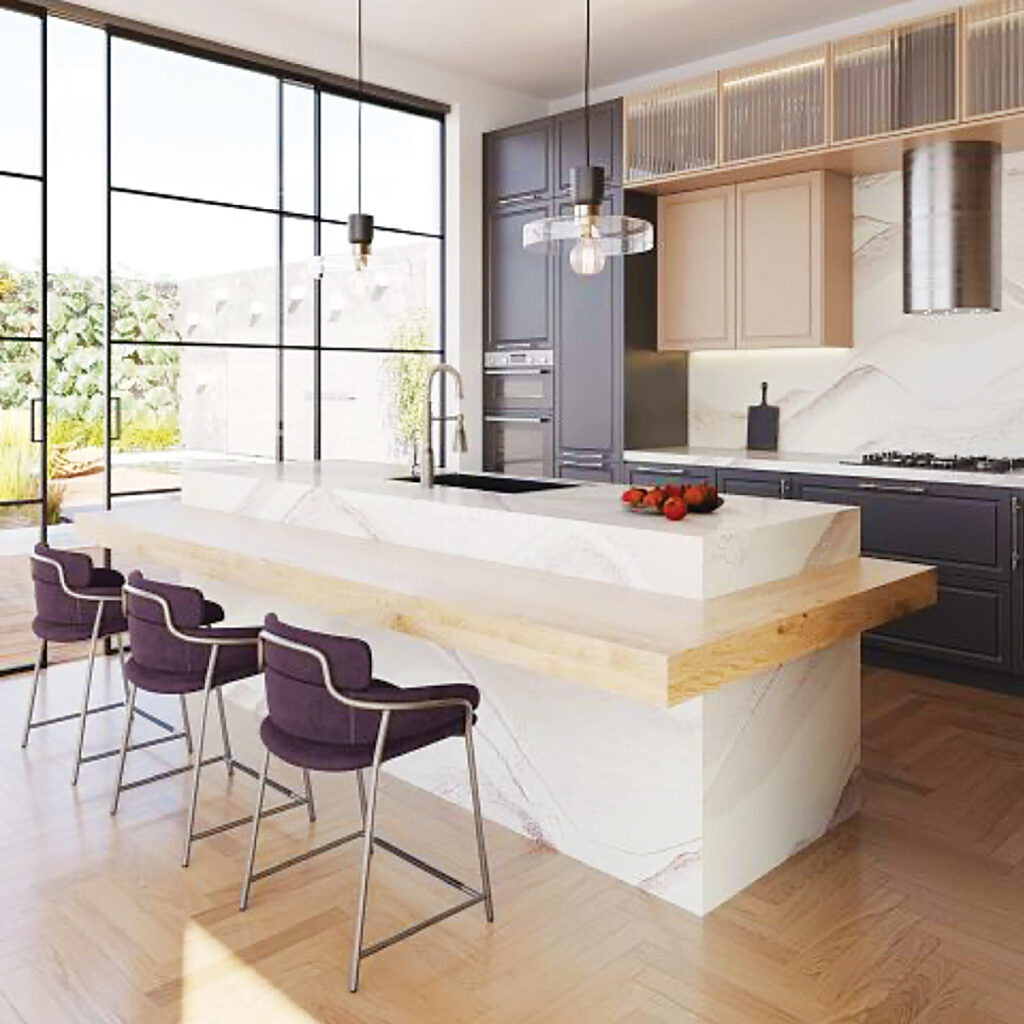 American Made Cambria®, a family-owned Quartz manufacturing business based in Minnesota, is very representative of its mission. To walk through the Cambria state-of-the-art facility is to witness a wonder: It is where science meets craft, where passion meets expertise and where the commitment of American workers meets the legacy of a proud American family. When we say Cambria quartz surfaces are American made and family owned, this is what we mean. From slab production to countertop installation, every Cambria purchase invests over 95% of costs back into the U.S. economy. Cambria combines superior American craftsmanship and innovation with the purest materials to create stunning natural quartz surfaces with unmatched beauty, durability and performance for life. All backed by first-class customer service and the industry's strongest warranty, American pride and craftsmanship are the cornerstones of Cambria. Despite remaining a family-owned brand, it has established itself as a dominant national leader in the quartz industry. Strong family values, hard work and a dedication to excellence has driven the company focus for decades.
What makes Cambria "Premiere"? Every Cambria surface begins with the finest natural quartz from the best sources including Cambria's own mine. The purest materials enable Cambria to create designs with unmatched depth and clarity. Proprietary technology allows Cambria to create a vast and diverse design palette. It offers industry-leading finishes and, because Cambria is only crafted in Minnesota, it controls the quality from start to finish. Extensive testing ensures flawless performance creating a product that never needs sealing, polishing or reconditioning. Quartz is one of the hardest minerals on Earth; this strength, along with rigorous testing, makes Cambria a superior choice and is backed by a transferable full lifetime warranty. No other quartz manufacturer offers a stronger warranty.
From Minnesota to Montgomery, Ala., we discovered another family-owned business offering a high-quality line of American made kitchen and vanity cabinets in Jim Bishop. While most regional and national cabinet companies are now owned by large conglomerates, Bishop cabinets remains family owned and operated. In addition to direct family members, many co-workers, dealers and vendors have been a part of this extended business family for years. In addition to another great American family legacy, they are also devoted to superior quality and the subsequent value that comes with producing an "Apex premiere" product. That said, in only a few minutes with a small display, we can demonstrate the superior quality of Bishop's "ultimate box" construction as well as their great styles and finishes compared to other brands in the industry. We are very proud of the Jim Bishop line and our customers have raved about the impact on their renovations with the installation of new Bishop cabinets.
Complimenting these great legacies is Mannington Mills flooring. This great American company has survived and thrived, through two World Wars, The Great Depression, 16 recessions and three devastating fires. How unique is it for a family-owned company to survive into the fifth generation? Only 3% make it past the third generation. Truly one in a million, Mannington Mills has not only survived for 100-plus years, it has grown, evolved and thrived. The company was founded, and is still headquartered, in Salem, NJ. In 1915, John Boston Campbell wanted to start a business with his sons. Now, generations later, the company is led by Chairman of the Board Keith Campbell (John Boston Campbell's great-grandson). Mannington associates, over 3,500 of them across the globe, comprise the larger Mannington family, all of whom still operate under the same mission that was set forth generations ago: to be the best people to do business with in the flooring industry. While operating around the world with production aboard, they remain very committed to American Made products maintaining significant production in the USA.
While we have other historic and accomplished brands in our line up including PPG paint the largest paint producer in the USA, we remain relentless in the pursuit of other American Premiere Brands. We do carry some imported products, but continue the relentless pursuit of superior American Brands to offer many great values in our lineup to meet the various needs of our clients. "When Only the Best Will Do," we have the perfect solution—Apex Premiere Brands!