The Cultural Arts Alliance of Walton County (CAA) in partnership with the South Walton Artificial Reef Association (SWARA) announced that the Underwater Museum of Art (UMA) recently received the 2023 CODAaward for Collaboration of the Year!
CODAawards: Collaboration of Design + Art recognizes outstanding projects that integrate commissioned art into interior, architectural or public spaces. The 11th annual international design competition recently announced winners across 10 categories, as well as two People's Choice Award winners and a new Collaboration Award. This year's 411 submissions came from 24 countries throughout the globe, celebrating innovation and artistic excellence.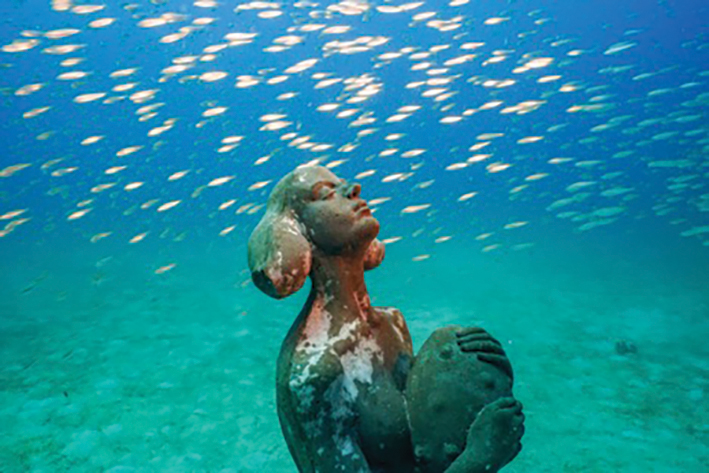 This year, a new award was added for the first time. Titled the Collaboration of the Year Award, this honor goes to the project that demonstrates the importance of the collaborative process among creative teams, commissioners and industry resources. Toni Sikes, CEO of CODAworx states that "The Collaboration of the Year Award recognizes the collective imagination of many professionals who work together to create spaces that are transformed through artwork. The end result is pure magic." Information on the 2023 CODAawards is available on CODAworx.com.
Named by TIME Magazine as one of 100 of the "World's Greatest Places," the UMA is the first and only permanent underwater sculpture museum in the U.S. and is located less than one mile off the coast of Grayton Beach State Park.
Part of the CAA's Art In Public Spaces program, the UMA also augments SWARA's mission of creating marine habitat and expanding fishery populations while providing enhanced cultural, economic and educational opportunities for the benefit, education and enjoyment of Walton County residents, including students and visitors.
The first phase of the UMA project included seven pieces of sculpture installed in June 2018 and the fifth installation occurred in July 2023, bringing the total number of UMA sculptures to 40.
Learn more about the project, see photos and video of the previous installations at UMAFL.org.