By Anna Fisher, Associate Artistic Director, ECTC
Picture it; America–1956. A gallon of gas is 29 cents and a glass bottle of Coca Cola costs you a nickel. Grace Kelly becomes Princess Grace of Monaco and new products on the market include Play Doh, Comet Cleanser and a funny little dice game called Yahtzee. It is also the year a relatively unknown Elvis Presley explodes onto the scene at the tender age of 21. The term "catapults" might even be more apt. 1956 is a rock-n-roll pot of water that is just beginning to boil, and then Elvis comes along and cranks up the heat.
He released five songs to top the Billboard pop charts that year including "Heartbreak Hotel," "I Want You, I Need You, I Love You," "Don't Be Cruel," "Hound Dog" and "Love Me Tender."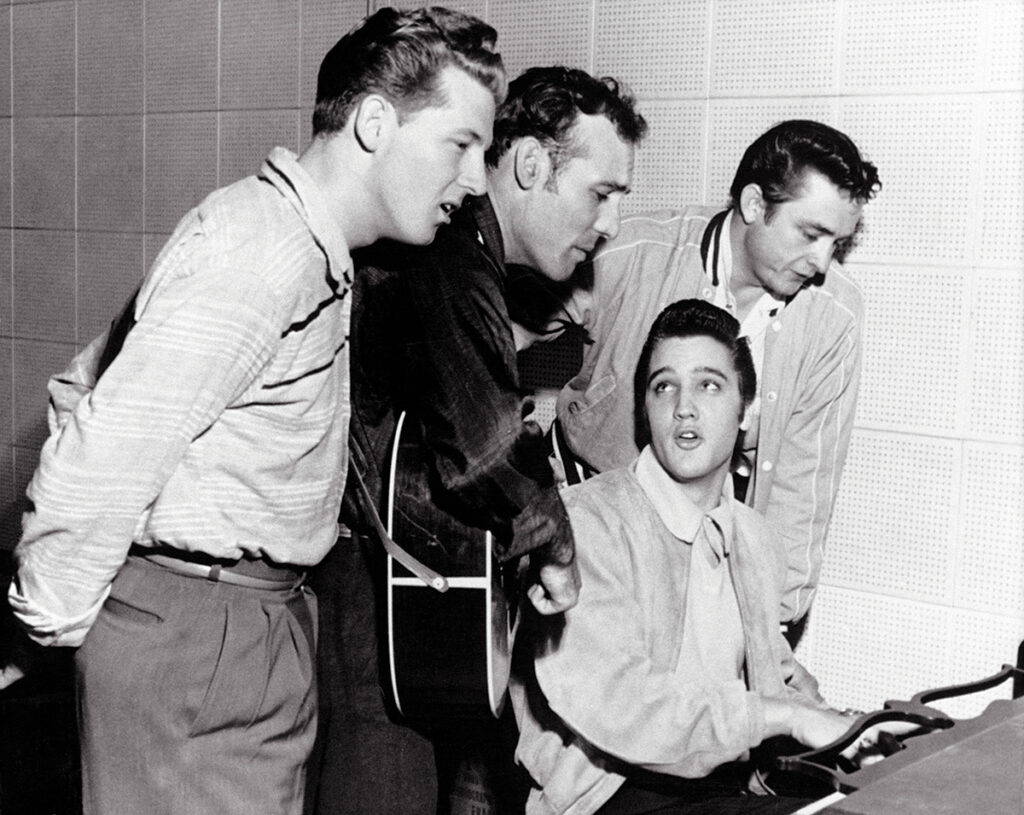 On Nov. 15, 1956, the movie "Love Me Tender" was released, and not long after that on Dec. 4, 1956, Elvis stopped by Memphis-based Sun Records Studios to have a chat with owner Sam Phillips, also known as the man who invented rock-n-roll. It just so happened that Rockabilly artist Carl Perkins, who originally wrote and performed "Blue Suede Shoes," was there to lay down some tracks. Wild piano man Jerry Lee Lewis was brought in to help fill out those tracks with his distinctive sound. Oh, and there was someone else there, too—a popular country singer named Johnny Cash.
These four legendary musicians proceeded to have an impromptu jam session that included gospel, hymns, rockabilly, country and a little rock-n-roll thrown in for good measure. Sam Phillips had the presence of mind to leave the tapes running, and managed to get a recording of this epic jam session that made the Memphis newspapers the next day with the headline "Million Dollar Quartet."
The actual recording wasn't released until 1981 and, even then, only in Europe. It wasn't until 1990 that the complete recordings were released in America. The musical, which is based on this once-in-a-lifetime convergence of some of the greatest musical talent in American history, premiered in Chicago in 2008 to rave reviews and eventually went to Broadway.
I am absolutely thrilled that this incredible, based-on-a-true-story musical is the opening show for Emerald Coast Theatre Company's 11th Season! The music makes this show great, but the story behind the music is what gives this show a magical texture. We, as the audience, have the privilege of knowing that this event was an ephemeral, once-in-a-lifetime happening. For those guys, it was just another Tuesday. What a stroke of genius for Sam Phillips to have the gift of foresight and capture the moment for all of us to savor years later. And just as brilliant that Colin Escott and Floyd Mutrux saw the magic in the story and wrote a show about it. Get your tickets soon because Elvis will be in the building on September 15th through October 1st. Visit www.emeraldcoasttheatre.org.
The great thing about ECTC's premiere of this toe-tapping musical is that you have more than one random Tuesday afternoon to catch it. As the King would say, "It's now or never."