By Will Estell
If you are a full-time or part-time resident of any of the beach towns and coastal communities that dot Northwest Florida's Gulf Coast you've likely heard a thing or two about the Artificial Reef Program initiated and managed by Destin-Fort Walton Beach Tourism.
As much as the program has been praised as a haven for the 150-plus species of fish and invertebrates that inhabit the purposely and strategically sunken vessels, the artificial reef program is part of a much larger and more complex five-year objective plan designed to both enhance the area's marine ecosystems and spark additional interest in NW Florida Gulf Coast water adventures.
Since 2019, the project has deployed about 1,500 structures and 10 vessels. Those include limestone reefs that were deployed in partnership with Starborough Wines, Destin High School, Emerald Coast Reef Association and Saltwater Restaurant Group. These vessels include R/V Manta (180-by-38-foot steel hulled research vessel); R/V Dolphin (192-by-39.9 foot steel hulled, bottom cable research vessel); and the RMS Cyclops (105-by-24 foot steel hulled, offshore supply vessel). The RMS Atlantis (a decommissioned offshore supply vessel) and The Deep Stim are also new, soon to be deployed vessels.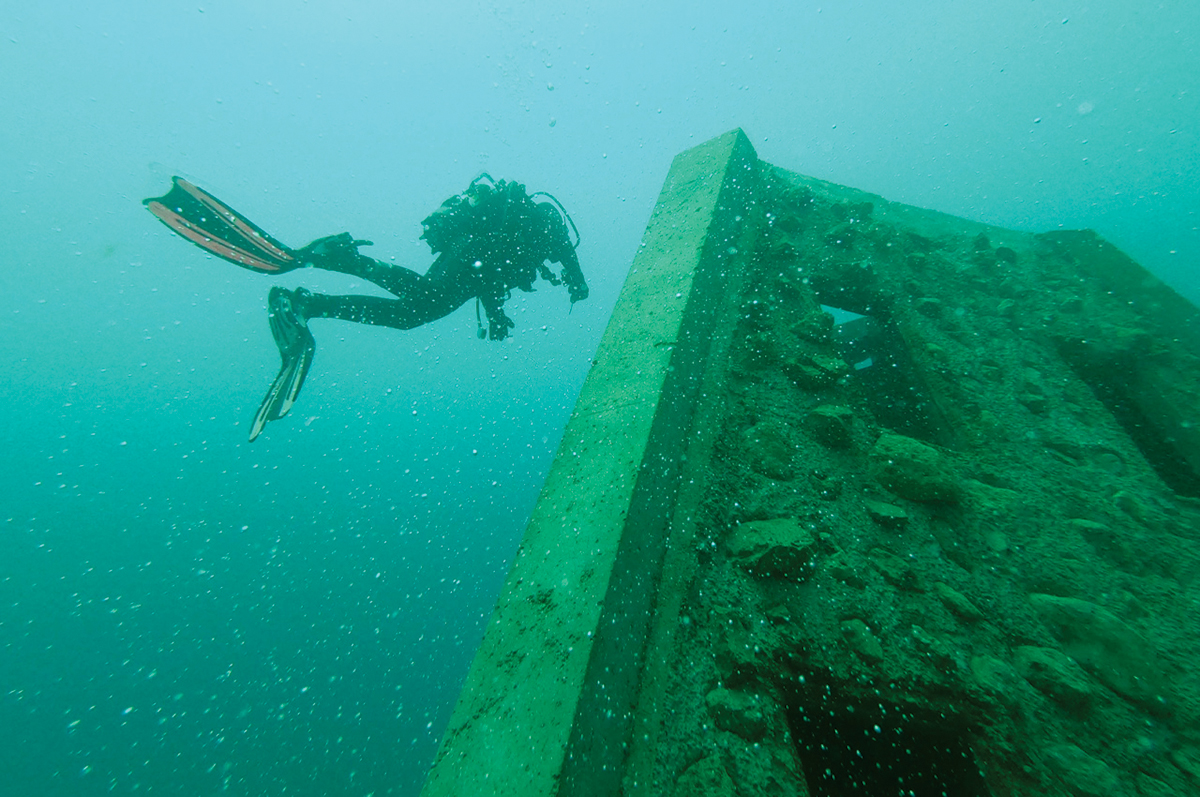 The various concrete structures and medium-to-large shipwrecks used to create the artificial reefs provide remarkable opportunities for diving, fishing and snorkeling. In addition, they reduce the environmental impact to naturally occurring reefs, by spreading out fishing and diving across a larger and more controlled area. The new reefs do a significant part in helping to sustain and control the fishing industry and prevent overfishing along our Gulf Coast.
I sat down with Alex Fogg, Okaloosa County's Coastal Resource Manager, to talk about Destin-Fort Walton Beach Tourism's Artificial Reef Project. We explored the benefits and merits of this remarkable program, as well as his love of the project, and the future of artificial reefs in our area.
How did you get involved in this field, and where does your passion for the Artificial Reef Projects come from?
Growing up, my dad was in the Navy, which resulted in a lot of moving around, but it was always to coastal locations. We fished and snorkeled every opportunity we had. We vacationed in Florida often and would fish the reefs in the destinations we traveled.
I realized I needed to pick a career path that kept me near the water and marine science was the obvious choice. I can remember my dad talking about spearfishing and scuba diving. That was what drove me to become scuba certified and really catapulted my desire to continue with my career. I graduated from the University of South Carolina right as the BP oil spill was occurring, which resulted in a number of positions opening up around the Gulf Coast. I made my way to Mississippi, where I began working on oil spill response projects with NOAA. I then moved on to the University of Southern Mississippi and completed my masters, looking at lionfish life history. As I was wrapping that up, I knew I wanted to be in Florida and a position opened managing the largest artificial reef project in Northwest Florida. This was an easy decision but after a few years with Florida Fish and Wildlife I knew I needed to find something on a more local level, and that's when I made it to Destin-Fort Walton Beach and began working with Marine and Coastal Resources and getting the artificial reef program up and running again.
What do you consider the most personally rewarding aspect of your job?
The most rewarding part of my job is being able to work on projects that directly benefit the community that I live in. My previous jobs were over a much larger geographic area and I didn't have the same satisfaction. Working with Destin-Fort Walton Beach Tourism, and this project, is just a dream come true for me.
What do you consider to be the biggest challenge to the Gulf waters we, and our tourism community, love?
I think everyone who knows me has heard me say "weather dependent." What I mean is that a number of the projects we work on are so dependent on the weather, which makes scheduling a real pain sometimes.
If budget were not a constraint, and you, in your position and with your passion could do any single or multiple layered project within the scope of these efforts what would it be and why? What's your, "We have to do this one?"
Oh, Will, that's a tough one. I Think on the tourism side, I want to deploy the largest artificial reef in the world! Something like a 1000-foot-plus vessel. This is something that I hope to achieve during my career, but cost is always a big consideration.
Outside of tourism, and thinking more along the lines of conservation, we have made great strides to develop our coastal resource programs, but like anything else, projects that benefit and enhance our environment are quite expensive. So, having funds to complete all of our dream projects would be ideal. That's something we are shooting for, and with the help of the businesses and individuals who continue to donate vessels and essential elements of operation, we'll hopefully get to do lots more
We've touched on some of the previous artificial reef projects of Destin-Fort Walton Beach Tourism involvement, but can you shed some light on future projects we can be looking for? You can tell us… We won't tell anyone and ruin the surprise [laughing]?
(Alex provided this list of upcoming deployments):
AJ's Blackbeard/Flying Eagle: A 72-foot sailboat has been donated by AJ's. Deployment location will be near the Cordonazo sailboat that was deployed last year to form the "Yacht Club" reef site
MV Deep Stim III: A 270-foot offshore supply vessel. This is a joint project between Okaloosa, Walton and Bay counties.
Crimson White: A 125-foot tugboat that caught fire in dry dock and is currently being cleaned for deployment in state waters less than nine miles from shore. Expected deployment will be this month (August) and will be part of a TV special highlighting artificial reefs.
Module Deployment: A $1.26 million project to deploy more than 400 modules throughout our coast's permitted areas from three to 30 miles offshore.