20 Years Down the Line, This Mystery Train Shows No Signs of Slowing Down
By Christopher Manson
In the interest of full disclosure, I have been involved as an actor, stage manager and errand boy with the local comedy troupe Act4Mystery since 2005. Paula Hilton founded the troupe in 2003 and, upon my joining two years later, they started to get really good.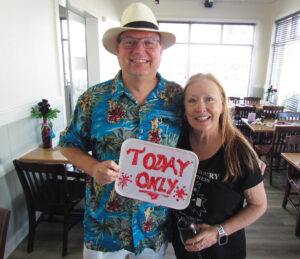 Ms. Hilton is the group's writer, director and occasional actress. She is referred to affectionately by her actors as "Madam Director." "When I started this, I didn't know how much work would go into it, even just one production – getting everything organized and agreed upon with the venues, as well as dealing with the actors' schedules and personal problems."
For Ms. Hilton, the last two decades have been a learning experience, "but it hasn't taken away my enjoyment and love of this. If I didn't enjoy it, I wouldn't be doing it, because it's so hard.
"And I couldn't do it without help. In the beginning, my mom did all the sewing, my daughter Rochelle acted in the shows, and my dad built props." Rochelle is also the group's choreographer and ran the group when Ms. Hilton lived in Gainesville to undergo cancer treatment in 2006 and 2007. Ms. Hilton's youngest daughter, Jessika, has acted in a handful of shows, too.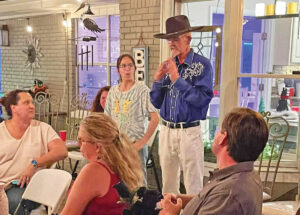 Prior to moving to Fort Walton Beach, Ms. Hilton lived in California and acted in murder mystery productions. "I was performing someone else's shows, and then I decided to write one. I presented it to my director, and she made some suggestions – trimming dialogue, that was something I had to learn.
"When I moved here, there wasn't a murder mystery company as far as I knew. I felt like it would be something different and that it could benefit the community."
She talked her sister, Dr. Julie McNabb, into letting her put on her first show for the nonprofit Horizons (now the Arc of the Emerald Coast), where Dr. McNabb served as CEO. That first show, "Peace, Love and Murder," encouraged the audience to dress up in their best hippie duds and sold out two nights in a row.
"I didn't have any actors, but several people on the Horizons board were actors or knew somebody that acted," says Ms. Hilton. "That first show had seven actors, and I used some of them for other fundraisers." Act4Mystery performed its first public show at the now-defunct Summerhouse restaurant.
Cast members have come and gone, but some have stuck around for as long as Kenan Thompson has been on SNL. "Kay Yarbrough, who was on the Horizons board at the time, acted in the first show and is still with us." Joe Chase, a Stage Crafters veteran, and the multitalented Cynthia Bergquist have been an integral part of the troupe for nearly as long.
When Ms. Hilton first held auditions, she put a notice in the local newspaper. One notable, Michelle Dellafave, called and said she was interested. "I asked if she had any experience, and she said, 'Well, I was on the Dean Martin TV show and toured with Bob Hope…' She was great." Ms. Dellafave currently lives in New York and continues to perform.
The Act4Mystery founder has written 38 shows, the most recent being 2022's "Murder on a Ghost Walk." "I try to write one show a year, but I haven't been able to in 2023," she says. "We've been very busy. We did three performances of three different shows in August and I had to bring in new people. So, we had to have about four rehearsals for each of those."
Ms. Hilton does have several "note files" for new shows kicking around, but hasn't been able to write due to her full-time job and some time-consuming family health issues.
The only thing that almost derailed this mystery train in the last 20 years was – you guessed it – COVID. "We didn't perform for 14 months," she says. "My scripts are licensed all over the world, and none of those groups were performing either. I think I only wrote one show and cleaned up some of the older ones."
But, let's focus on the highlights. "The performances are always wonderful," says Ms. Hilton. "There have been a ton of clients I've enjoyed working for, and I just loved our annual awards parties. Recognizing you guys and your hard work, dressing up, handing out trophies… We did the last one right before COVID, and I hate to say no to doing another one."
This fall, Act4Mystery has some private parties lined up which, Ms. Hilton says, are always a blast. The troupe has performed in a variety of venues, including intimate living rooms, a backyard tent, a train in Milton and the Air Force Armament Museum.
This month, you can catch "Killer in the Kitchen" – an elaborate cooking show spoof – at 790 in Destin (Thursday, Oct. 19) and the board game-inspired "Murder Without a Clue" at Samuel's Roadhouse in Crestview (Saturday, Oct. 28).
"I love writing the shows and then watching my characters come to life," she says. "And when the audience laughs at something I've written, that's mind-boggling sometimes."