By Lori Leath Smith
For many years, our piece of Paradise has ignited the holiday spirit in each of us and allowed the season to come to life for the young and young at heart. With a unique blend of theatrical storytelling, musical notes and beautiful and whimsical Christmas lights, we are welcomed into a world of yuletide nostalgia and local flavor and personalities where reindeer fly, sugarplums dance in our heads and Christmas comes alive in our own bay area, coastal style. I invite you to explore the vast, unique holiday traditions, some many years in the making and new ones to delight our senses and usher in the "reason for the season" – the celebrated birth of Jesus, our Savior. Join Bay Life in some of these holiday celebrations where you can create some new family traditions of your own while rekindling your favorites.
You can visit St. Nick at The Village of Baytowne Wharf at his sleigh Wed. Dec. 7, 14 and 21 from 6-8 p.m. Tap your feet to some of your favorite sing-along classics each Wednesday during the holiday edition of the Wed. Night Concert Series. Dec. 7 – Gateway Academy and Fort Walton Beach High School Choir; Dec. 14 – Niceville High School; Dec. 21 – Matt McCarty Band. Plus, visit with Santa from 5-7 p.m. Dec. 4 during Tuba Christmas! Visit baytownewharf.com.
Visit Santa at HarborWalk Village weekends until Dec. 18 from 1-4 p.m.
Visit Santa at Bass Pro Shop at Destin Commons through Dec. 24. There are also free games, crafts and a free 4-by-6 professional photo with Santa, as well as a free digital download. To book, visit basspro.com.
It's almost time for the Ice Skating Extravaganza at The Village of Baytowne Wharf, Fri., Dec. 2, 6-8 p.m. at the Baytowne skating pavilion. You can watch free, featured performances from well-known skaters at 6 and 7:30 p.m., who will also share tips and tricks. Before and in between the shows, lace up those skates and skate around with the pros. The Village of Baytowne Wharf's ice rink is open through Feb.5. Hours vary daily. Visit BaytowneWharf.com.
The The sixth annual Troon Goon Christmas Lightshow in Bluewater Bay, Dec. 3 – Jan. 6, 6- 9:30 p.m., uses the highest technology of programmable LED lights and features house lights, a mega tree, bouncing arches, floodlights, pixel matrices and other standalone features for an unlimited amount of pixel combinations and graphic animations. Taking place on Troon Drive East, the show loops every 30 minutes.Watch the show from your vehicle and listen to the accompanying music by tuning your radio to 103.1 FM. Vote online for your favorite song versions while you watch. No show during inclement weather.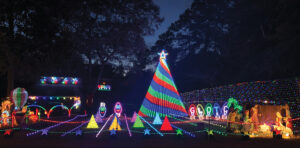 Everyone who loves Yuletide décor, joyful holiday music and festive Christmas lights should make the 2022 "Geek Lights" show through Jan. 6, at the corner of Bluewater Boulevard and Antiqua Way in Bluewater Bay. Shows loop every 30 minutes starting at 6 p.m., with the last show starting at 9:30 p.m. Sun.-Thurs., and 10:30 p.m. Fri., Sat. and holiday eves. Now in its 15th year, the free show consists of Christmas lights and other themed display elements, all under computer control and synchronized to music. All donations support Crestview Area Shelter for the Homeless. The show is the technical and creative wizardry of Jeff Werner, the "Northwest Florida Geek" and Wendy Werner, his "spouse peripheral." FaceBook.com/GeekLightsOnTheCorner
Emerald Coast Theatre Company presents fantastic shows to get you in the holiday spirit! A Charlie Brown Christmas: Live On Stage by Charles M. Schulz, adapted by Eric Schaeffer with special arrangement by Arthur Whitelaw and Ruby Persson. Sat., Dec. 3, 9:30 a.m., Sun., Dec. 4, 2:30 p.m., and Sat., Dec. 10, 9:30 a.m. The Best Christmas Pageant Ever: The Musical runs from Dec. 8 – 18. Thurs. – Sat., 7:30 p.m., Sundays at 2:30 p.m., and Wed., Dec. 14, 2:30 p.m. Christmas Cabaret at the Boulevard will sing you into the Christmas spirit, Wed., Dec. 14, 7:30 p.m. and Sat., Dec. 17, 2:30 p.m. Enjoy classic holiday songs and join in some carols as well. All will be held on the second floor of 560 Grand Boulevard in Grand Boulevard Town Center in Miramar Beach. Purchase tickets online at emeraldcoasttheatre.org.
The City of Freeport will host its annual Christmas Parade and Tree Lighting Sat., Dec. 3. The parade starts at 5:15 p.m. at Freeport Elementary School. The tree lighting will take place after the parade at Freeport City Hall where you can enjoy live music, food and craft vendors and photos with Santa. If you, your business or organization would like to participate submit an application and liability form at freeportflorida.gov.
studio6twenty5 presents The Nutcracker Dec. 9, 5:30 p.m. at the Destin Community Center and features the studio6twenty5 Children's Program as well as Adult/Open Division dancers.
Staging, arrangement and choreography by artistic director Rachel Prescott, with original choreography by Shaye Smith; guest performances by Luminary Entertainment Company and choreography by Lydia Faith. Reservations are recommended with a suggested donation of $10/ticket with 100 percent of proceeds benefiting the studio6twenty5 Children's Program.
Donations can be made at Will Call upon check-in. Reserve seats at studio6twenty5.com/events.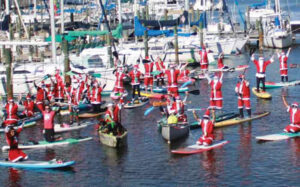 LJ Schooners' 5th Annual Santa Paddle Parade is back Sat., Dec. 17, at Bluewater Bay Marina. All paddlers are welcome; if you can paddle it, bring it! Paddle on a stand-up paddle board, canoe, kayak, paddle boat or surf skis. Group photo is at noon with paddle starting at 12:10 p.m. when the group of Santa Clauses leave BlueWater Bay Marina and paddle East to Rocky Bayou Bridge, North to North Shore of Rocky Bayou and back to the marina. Registration ($30) includes your Sunny Santa Suit, which must be worn during the paddle. The first 75 to register are guaranteed Santa suits. Proceeds benefit Sharing and Caring of Niceville. To register, call Bluewater Bay Marina Ship Store at (850) 897-2821 or visit bluewaterbaymarina.com.
Bluewater Bay Marina will host its annual Christmas Boat Parade Sat., Dec. 17, at 5:30 p.m. (Skippers meeting at 4 p.m.; parade staging at 5 p.m.) The parade course exits Bluewater Bay Marina north to Nelson's Cove, around Rocky Bayou, south to the Rocky One marker and then returns to Bluewater Bay Marina. Boats must pre-register. After the Boat Parade, LJ Schooners Dockside Restaurant will host a Christmas party, with live music from Fathom, 7-10 p.m., and an ugly sweater contest at 9 p.m. For more information, email: frontdesk@bwb-marina.com.
Sun., Dec. 18, 5:30 p.m., the annual 2022 Niceville Valparaiso Rotary Club Christmas Boat Parade, presented by Emerald Coast Marine, will feature a traditional display of fun onboard holiday-themed lights and decorations. Festivities include complimentary hot cocoa, a visit from Santa Claus and Mrs. Claus and the elves, provided by the Rotary. The parade route travels southwest from Emerald Coast Marine to Tom's Bayou, past Lincoln Park, then east toward Lions Park, returning back to Emerald Coast Marine. Boat entries are $30 each. All proceeds raised will benefit Sharing and Caring Niceville. For more information, visit nicevillevalparaisorotary.org.
The Village of Baytowne Wharf at Sandestin will hold a special light show Wed., Fri. and Sat. nights Dec. 2-23 during the 12 Nights of Lights. The tree lights in the events plaza will dance and blink to music at 6, 7 and 8 p.m. Visit BaytowneWharf.com.
Join Sinfonia's Holiday Pops, featuring The Doo Wop Project Dec. 9, 7:30 p.m. at the Destin-Fort Walton Beach Convention Center. The Doo Wop Project boys will get you into the holiday spirit! Hear old-school holiday classics like The Drifters' White Christmas, The Temptations' Rudolph the Red-Nosed Reindeer, along with "Doowopified'' contemporary hits like This Christmas and Last Christmas. It's sure to be a jolly good time! Tickets at SinfoniaGulfCoast.org.
The 2022 Niceville Valparaiso Christmas Parade is coming to town Sat., Dec. 10, 10 a.m. The 2022 theme is "Imagine Peace on Earth." Sponsored each year by the Niceville Valparaiso Rotary Club, the annual Christmas parade is made up of civic and youth groups, organizations, churches, businesses, and individuals take part in the festive procession. Watch the parade on John Sims Parkway and Partin Drive along the route. The Eagle Pride Marching Band will be in the lead. Visit NicevilleValparaisoRotary.org or its Facebook page to participate or for more info.
The Heritage Museum of Northwest Florida presents the Yule of Yesteryear Annual Christmas Event Sat., Dec. 10, 10 a.m.-4 p.m. Gather together to enjoy the carols and other festivities after the Niceville Christmas Parade ends for free admission to the museum, food vendors, craft vendors, walton guard reenactors, school choir groups, bake sale, raffle ticket prizes, letters to Santa and more! 115 Westview Ave., Perrine Park, Valparaiso.
The EO Wilson Biophilia Center will hold its Winter Extravaganza from 9 a.m.-2 p.m. Sat., Dec. 10. There will be a special visit from Santa, a hot chocolate bar, food trucks, games, and more. Please bring any canned food and nonperishable goods you can spare.
Enjoy a memorable family holiday experience at LuLu's (at the foot of the Mid-Bay Bridge) for its seventh annual Billy Claus free event Sun., Dec. 11, 1-3 p.m. Billy Claus is Santa's warm weather-loving brother who lives in the Caribbean, but comes this way every year to help Santa during the Holiday season. The LuLuBelles are Billy's version of Santa's elves. Billy will pass children's wishes on to Santa and will be available for photos. In addition to kid's arts and crafts activities, there will also be a reading of the children's book authored by Lucy Buffett, Billy Claus and the Spirit of Christmas. LulusFunFoodMusic.com/destin/ (850) 710-5858.
Don't miss the 33rd Blessing of the Live Nativity at the corner of 2nd Street and Church Avenue, hosted by First Baptist Church in Fort Walton Beach, Thurs., Dec. 15-Wed., Dec.21, 6 – 8:30 p.m. each night. Drive through or participate in direct interaction with Mary, Joseph and baby Jesus and pet and feed the animals. Get your photo taken in the nativity scene and enjoy a cookie, coffee or hot chocolate! Children receive a candy cane and learn the Christian story behind its invention. To illustrate the complete salvation story from Jesus' miraculous birth to his crucifixion and resurrection, there are Roman soldiers at the Cross and angels at the empty tomb. fbcfwb.org.
Visit the Festival of Trees at Grand Boulevard at Sandestin through Christmas Day, an annual event in the park at Grand Boulevard shopping center showcasing uniquely decorated Christmas trees from 12 local, non-profit organizations. Participating non-profit organizations compete to win cash prizes totaling $7,000 for beautifully decorated Christmas trees. Cast your vote for the People's Choice award.
Enjoy free horse-drawn carriage rides around the Town Center at Grand Boulevard at Sandestin while taking in the Coastal White Christmas lights and the Festival of the Trees display. To add to the festivities, get a professional photo with Santa while listening to the seasonal sounds of the Emerald Coast Theatre Company's Dickensian Carolers singing popular holiday carols, Dec. 2 – 17 Fridays and Saturdays from 5 to 8 p.m.; Dec. 19 – 23 all week from 5 to 8 p.m.
Eden Gardens State Park will be illuminated Sat., Dec. 10, 5-8 p.m. More than 2,000 luminaries will light the garden paths of Eden Gardens at nightfall. The Historic Wesley House will be decorated for Christmas and visitors can see all the rooms decorated by local organizations from throughout the community. Music and carolers voices will fill the air throughout the evening and cookies and hot beverages will be provided by the Friends of Eden Gardens. The event is free and park entry fees will be waived from 5-8 p.m.
Movie lovers will delight in this year's Northwest Florida Symphony Orchestra's Holiday Pops: "Christmas at the Movies" at the Mattie Kelly Arts Center in Niceville on Fri., Dec 9 at 7:30 p.m. It includes a mix of film favorites from past to present as well as traditional holiday selections, featuring guest soloist Lakisha Jones, and the NFSO chorale and artists from our college community.
Hosted by the City of DeFuniak Springs through New Year's Eve, Chipley Park lights up with the annual Christmas Reflection Displays, a light display like no other in our area with more than 10 million lights reflecting on the lake and throughout the park. You can view the lights by walking, driving or even taking a horse-drawn carriage ride. Admission is $5 per person and children 5 and under are free. Fri.-Sat., 5:30 – 9:30 p.m.; Sun.-Thurs., 5:30-9 p.m. nightly. $5 per person, free for children under 5, Tues. discount for military; $10 for carload up to five people. Carriage rides are available on select nights. $10/person. (850) 978-2999.
Main Street DeFuniak Springs brings back Merry Main Street! Free to attend, Merry Main Street boasts live music and theatrical performances, an outdoor market, food trucks, rides on the Choctaw Express Train, visits with Santa and Mrs. Claus, kids character appearances and more family fun – all taking place outdoors along Baldwin Avenue in downtown DeFuniak Springs. Events occur every Friday and Saturday until Christmas. https://bit.ly/MSD_MerryMain, Info@mainstreetdfs.org, (850) 296-9051.
To kick off your new year, get your "Glitter and Glam" on with Diamond Dan at LJ Schooners' New Year's Eve party! Dinner specials will run from 5–10 p.m.
The Village of Baytowne Wharf will host Baytowne Countdown, Sat., Dec. 31, 6 p.m.-1 a.m., with two breathtaking fireworks displays at 8 p.m. and midnight. Enjoy a family-friendly evening from 6-8 p.m. The first fireworks display happens at 8 p.m. Dance the night away with live music from Bay Kings Band 7 p.m-1 a.m. End the night with a spectacular midnight fireworks show.
Noon Year's Eve is just for kids at LuLu's Destin. It's the 7th annual Noon Year's Eve celebration Tues., Dec. 31, 10 a.m. to 1 p.m. with non-stop, free kid-friendly fun. There will be arts and crafts, inflatables, face painting, live music and more. Kids can have their fun by counting down to Noon with kid-safe "fireworks" and a huge Beach Ball Drop. Visit LulusFunFoodMusic.com/destin or call (850) 710-5858.