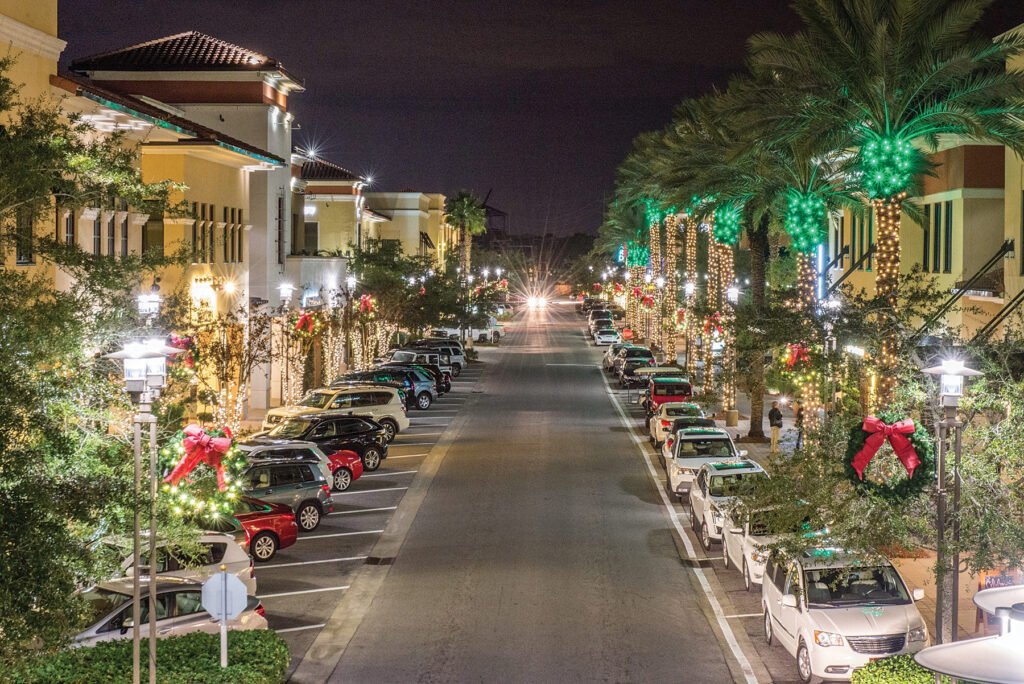 Baytowne on Ice | Oct. 27–Feb. 4 | Village of Baytowne Wharf
Dust off those skates and get ready for the holidays at The Village of Baytowne Wharf's Baytowne on Ice. Ice rink is open Sunday, Oct. 27 – Sunday, Feb. 4. Hours vary daily. Visit BaytowneWharf.com.
Blue Angels Homecoming Air Show | Nov. 3-4 | Pensacola
The NAS Pensacola Blue Angels Homecoming Air Show on November 3-4 brings together locals and visitors from all over who look forward to highlighting the area's hometown heroes. The two-day event showcases an incredible lineup of aerobatic performers and Pensacola's very own Blue Angels. This year's theme, "Celebrating Women in Aviation," highlights the Blue Angels' first female F/A 18E/F demonstration pilot, Lt. Amanda Lee, who was formally announced as part of the Navy Flight Demonstration Team in July 2022. This event is free and open to the public. Spectators are encouraged to bring their own seating, otherwise, paid seating is available for purchase.
30a BBQ Festival | Nov. 3 | Grand Boulevard at Sandestin
Mark your calendars for Nov. 3 for the 30A BBQ Festival at Grand Boulevard's North Lawn from 5:30 to 9 p.m. Indulge in the coast's finest BBQ while enjoying live music by Certainly So from Nashville. Proceeds benefit The Sonder Project's mission to uplift impoverished communities through sustainable development.
Freeport Bayfest | Nov. 4, 9 a.m.-4 p.m. | Hammock Bay
The 9th annual Freeport Bayfest brings a fun-filled day of family entertainment and fun for the entire family Food & Craft Vendors, Jeep Show, Mullet Toss, Kids Zone, Cook Off (Taste of the Bay 11 a.m.), Car Show, Children's Art Contest, Pony Rides, Cornhole, Live Entertainment. Free Admission. Freeport Regional Sports Complex, 563 Hammock Trail E, Freeport. Website: freeportbayfest.com Facebook: www.facebook.com/freeportbayfest/
Sinfonia Gala Event | Nov. 4 | Hotel Effie
Experience the electrifying energy of Trombone Shorty & Orleans Avenue live in concert at Sinfonia Gulf Coast's Gala Event on Nov. 4, 6 p.m. at Hotel Effie! From the moment they take the stage, you'll be captivated by their infectious charisma and magnetic performance. Gala includes valet, reception, dinner, and live performance!
MKAF Wine Walkabout | Nov. 9, 5:30 p.m. | Ruth's Chris Steak House Destin
Wine Walkabout guests will enjoy savoring hors d'oeuvres, tasting stations, visiting with vintners from exclusive wineries, trying their luck at a wine pull, bidding in a silent auction, live entertainment and more. Tickets are $95 per person (Members use code to save 10%). After the Walkabout reception, stay for an intimate Wine Walkabout dinner featuring a specially curated wine pairing dinner. Tickets for the dinner are $295 per person and include the Wine Walkabout. Tickets: www.mkaf.org. Proceeds will fund Mattie Kelly Arts Foundation's community outreach mission to provide cultural outreach programs serving K-12 students, adults and children with special needs, at-risk youth, and active/veteran military suffering from visible and invisible injuries in our community.
Christmas Parade and Santa Arrival | Nov. 4 | Bass Pro Shop
Families are invited to tailgate at Bass Pro Shops and Cabela's for a festive parade to kick off the Christmas season, featuring Santa as he returns to open Santa's Wonderland at Bass Pro Shops in Destin Commons Saturday, Nov. 4, and will be there until Dec. 24. Mail a letter to Santa. Photo packages available. https://www.basspro.com/shop/en/santas-wonderland.
Coastal White Christmas | Nov. 17 | Grand Boulevard at Sandestin
Join friends and neighbors on Nov. 17 at 5 p.m. for an old-fashioned holiday parade down the Boulevard culminating in the park with holiday music and the lighting of the Grand Boulevard Christmas Tree. Parade concludes with a visit from Santa! Great opportunity to get your family holiday photo with Old Saint Nick. Bring an unwrapped gift to support our local toy drive.
Santa Arrival | Nov. 17 | Destin Commons
Kick off the Christmas season on Nov. 17 when Santa rides in the holiday parade down Main Street in Destin Commons to light the biggest Christmas tree on the Emerald Coast. Have fun with free face painting and photo opportunities with Rudolph and Frosty characters, all set to festive holiday tunes. The parade starts at 7 p.m. and fireworks will immediately follow.
Sparkling Wine & Holiday Lights | Nov. 18 | Village of Baytowne Wharf
A November holiday favorite is the Sparkling Wine and Holiday Lights, Nov. 18, at The Village of Baytowne Wharf in Sandestin. Stroll the beautifully decorated streets of Baytowne Wharf enjoying an evening full of holiday spirit, delicious appetizers and sparkling wine from 4-6 p.m. featuring more than 30 champagnes and delicious appetizers at featured Village restaurants. There's also plenty of holiday cheer, with carolers and bubbles. End the night with the first tree lighting of the season and Baytowne Whard's choreographed light show, 12 Nights of Lights. Tickets: www.baytownesparklingwinefest.com.
Turkey Trot | Nov. 19 | Sandestin Golf and Beach Resort
Join the Sandestin Golf and Beach Resort for the 2nd Annual Sandestin Turkey Trot 5K run and 1-mile fun run/ walk on Sunday, Nov. 19 at 8 a.m. Participants are invited to stick around for a post-run tailgate party and a great time for the entire family at the Baytowne Marina at 11 a.m. beers, food, prizes, rewards and the NFL on the big screen. Registration is $45 for adults and $25 for 17 and under. The first 30 people to register will receive a free t-shirt. Visit https://www.sandestin.com/things-to-do/events/sandestinr-turkey-trot to register.
Festival of Trees | Nov. 21-Dec. 25 | Grand Boulevard
The Festival of Trees at Grand Boulevard at Sandestin runs Nov. 21 through Christmas Day 2023. Participating non-profit organizations compete to win cash prizes totaling $7,000. Cast your vote for the People's Choice award. Festival of Trees is an annual event in the park at Grand Boulevard shopping center showcasing uniquely decorated Christmas trees from 12 local non-profit organizations.
Christmas Reflection Displays | Nov. 24-Dec. 31 | Defuniak Springs
Starting the day after Thanksgiving, Nov. 24-Dec. 31, the City of Defuniak Springs lights up Chipley Park lights with its annual Christmas Reflection Displays, a light display like no other in our area with more than 10 million lights reflecting on the lake and throughout the park. You can view the lights by walking, driving or even taking a horse-drawn carriage ride. A variety of Victorian, animal and toy soldier cutouts, Santa's workshop, and the grandfather clock ticking away are among the thousands of decorations that adorn these historic grounds. Admission is $5 per person and children 5 and under are free. (850) 978-2999.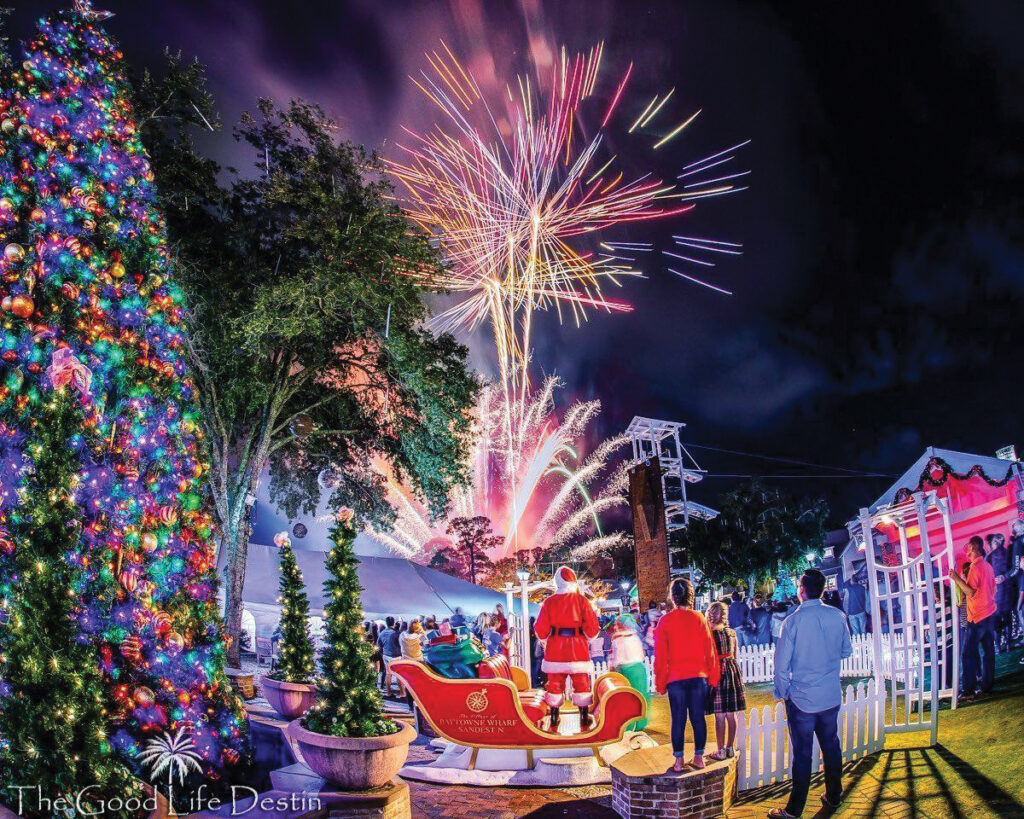 Santa Arrival | Nov. 25 | Village of Baytowne Wharf
Here Comes Santa Claus, Saturday, Nov. 25, 6-9 p.m. right down Baytowne Lane! Cheer Santa on as he makes his way to the Event Plaza Lawn to light up the Village Christmas Tree. Santa will start his horse drawn carriage journey into Baytowne Wharf at 6 p.m. and parade around the Village. Then he'll flip a switch to officially light up the Christmas tree for the holiday season. The fireworks light the sky immediately after around 6:15-6:30. There's also face-painting, kids crafts and, after the fireworks, visits and photos with Santa. Visit www.baytownewharf.com.
Holiday on the Harbor | Nov. 25 | Harborwalk Village
Holiday on the Harbor kicks off every year with Santa's grand arrival at Harborwalk Village. Visit with Santa and Mrs. Claus at HarborWalk Village beginning Saturday, Nov. 25, at the main stage from 1-4 p.m. Kids will enjoy crafts, face painting and a Rudolph-themed treasure hunt on Santa's arrival day. All of Santa's guests will receive a special treat and a free 4-by-6 photo.
Merry Main Street | Nov. 25-Dec. 23 | Defuniak Springs
Main Street DeFuniak Springs brings back Merry Main Street Nov. 25-Dec. 23! Free to attend, Merry Main Street boasts live music and theatrical performances, an outdoor market, food trucks, rides on the Choctaw Express Train, visits with Santa and Mrs. Claus, kids character appearances by The Character Clubhouse, and more family fun – all taking place outdoors along Baldwin Avenue in downtown DeFuniak Springs. Events occur 5 p.m. Fridays and 3 p.m. Saturdays until Christmas. MainStreetDFS.org. (850) 296-9051.
Polar Express | Nov. 26 | Village of Baytowne Wharf
A holiday favorite, The Polar Express, will be shown Friday, Nov. 26 at The Village of Baytowne Wharf in Sandestin. Join other movie watchers for this special showing on an LED HD Video Wall on the Events Plaza Lawn at 6 p.m.