Sea Shul Rings in Jewish New Year with Community and Waves
Sea Shul, the new vibrant Jewish community in Florida's 30A region, has announced its inaugural Rosh Hashanah celebration, "New Year, New Tide," including a beachside service and semi-formal dinner Saturday, September 16th, at Watersound Beach Club.
As part of Sea Shul's Rosh Hashanah weekend festivities, the event aims to offer an extraordinary experience for community members to engage in the spirit of togetherness and belonging.
Starting at 6 p.m. with a beachside service led by Rabbi Joshua Lesser, the night then transitions into a delightful Rosh Hashanah dinner at 7 p.m. featuring a range of entrees catering to all tastes, including traditional Rosh Hashanah dishes such as Challah, apples and honey, and wine.
Rabbi Joshua Lesser remarked, "A Jewish New Year brings with it hope and a promise of new beginnings, and so does the creation of Sea Shul. Sea Shul emphasizes the importance of community, finding our place, and connecting with people because it nourishes our souls. As we usher in a New Year, we welcome new friendships and a sense of belonging. Rosh Hashanah at Sea Shul is not just an event but the foundation of a collective journey.
General Admission is $150 for Adults (Ages 11+), $65 for Children (ages 4-10) and Age 3 and Under Free. Purchase tickets at https://seashulRH2023.eventbrite.com.
"Sea Shul is not just a community, it's a vibrant catalyst for unity and connection," explained Micah Davis, Interim President of Sea Shul. "As we welcome Rosh Hashanah, we're not only celebrating a new year, but the start of an exciting chapter for Sea Shul. We're crafting a dynamic future where every member feels a profound sense of belonging and becomes a key part of our collective journey. Together, we'll foster an environment that embraces warmth, friendship and forward-thinking growth."
In addition to the "New Year, New Tide" event, Sea Shul has organized an array of activities for the Rosh Hashanah weekend including a potluck dinner on the first night, Mind and Movement prayer service, and Tashlich service that will be open to the community.
For more information, visit facebook.com/seashul or contact shalom@seashul.com.
The 3rd Annual Wentz Brothers' Festival of Fears Continues to Become Bigger & Better
The Wentz Brothers invite one and all to their third annual Festival of Fears haunted attraction in Fort Walton Beach. This year's event promises to be bigger and better than the last, opening in a new facility at the Santa Rosa Mall. The new location boasts over 80,000 square feet, leaving the Wentz Brothers, Alex and Andrew, with plenty of room to continue growing the Festival of Fears into "the Gulf Coast's premier haunted attraction."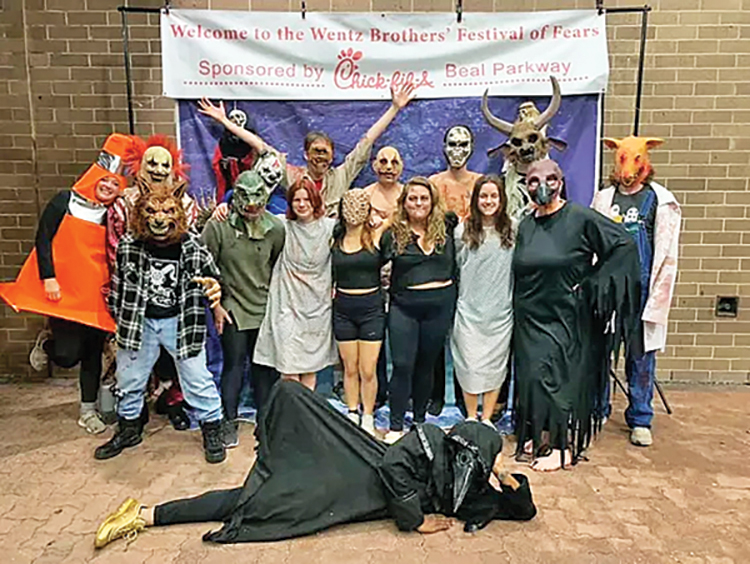 The 2023 haunt season will introduce guests to a number of new characters, offerings and attractions you won't want to miss. The Festival of Fears will host three all-new, original haunted houses alongside new and improved horror-themed midway games, two haunted, 15-minute escape rooms, a spooky gift shop, food trucks and an expanded bar serving a variety of drinks from alcohol to event-exclusive Fear Potions. The Wentz Brothers also plan to host a number of new events held throughout the season such as the inaugural Drop Dead Disco costume party, two Family Day events, and a special surprise for Friday the 13th.
Keeping with the Festival of Fears' tradition of changing haunted house themes each season, 2023 will boast three unique, haunted house concepts and styles. The first, Beasts of the Bayou, will transport guests into a backwoods marsh never explored by man, but home to a bevy of hideous and hungry monsters. Next, Nightmare Menagerie will have guests venture into an abandoned, roadside zoo that has now become home to a new breed of evil. And finally, guests will step under the big top to see the newest additions to the Collector's horrifying horde in Into The Festival Of Fears: The Secret Show. Additionally, guests can test their nerves and their wits in two new, haunted, 15-minute escape rooms — Lazarus Toys: No Escape and Experiments In Evil: Razorback's Revenge.
The Festival of Fears is located in the old JC Penney's building at Santa Rosa Mall and is open select nights from September 15th to November 4th. Haunting hours start at 6 p.m. sharp with a special pre-show to kick things off — so don't be late. Guests who book their tickets for any night in September will receive $5 off general admission or $10 off express entry or VIP passes using the promo code: SEPTEMBER at checkout. Tickets can be purchased at the door or online at www.wbfestivaloffears.com.
Join the 6th Annual Niceville Strong October 1
Niceville Strong, an annual prayer rally designed to unite the local community in the fight against addiction, mental health issues and violence, is scheduled for Sunday, October 1 at 6 p.m. in the Niceville High School Auditorium. Now in its sixth year, the event has become a Niceville staple for successfully bringing together community leaders, faith-based organizations, residents, and businesses to address growing pressures on today's students and communities.
In 2022, drug overdose deaths rose to nearly 110,000—a staggering statistic that represents the third year in a row where overdose deaths exceeded 100,000 across the U.S. In Florida alone, overdose deaths account for more than 5,200 lives per year, and the suicide rate is currently greater than the national average.
Featuring an evening of music, prayer, testimonies and speakers, Niceville Strong is free and open to the public and typically draws approximately 500 people. The agenda will feature pastors from local churches, school officials and community leaders, as well as families and students who will share their experiences and offer inspiration to others.
In addition, representatives from local resource groups will be on hand beginning at 5:30 p.m. to provide information to families and students in need of help. These groups include faith-based support and recovery groups, student advocacy groups and other organizations focused on breaking the cycle of negative influences.
A united community front that is grounded in faith is the best offense in defeating the negative dynamics impacting our youth and families," said Perian Herring, cofounder of the event with her husband Eddie Herring. "Prayer is our most powerful weapon."
For more information about Niceville Strong, visit www.nicevillestrong.com.
It's Almost Time for Mid-Bay Rotary's 29th Annual Oktoberfest
Friday, Sept 29 | Saturday, Sept 30 | Merchants Walk – Bluewater Bay
The Mid-Bay Rotary Club will hold its 29th Annual Oktoberfest Friday (5 to 10 p.m.) and Saturday (11 a.m. to 10 p.m.) September 29 & 30. The Octoberfest will be held again at Merchants Walk in Bluewater Bay. The festivities will include the Joe Occhipinti German Band, Accordionist Walter Kasprzyk, Face Painter Maria, The Emerald Coast Community Band and Folk Musician Gary Schmitz. There will be over 30 vendor booths. There will also be a children's giant slide, rock climb and bouncy house. Brats and Kraut, German Pretzels, Chicken, and Hot Dogs will be served. German beer, soda and water will also be served. Free admission!