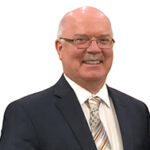 By Pastor Doug Stauffer
Does society seem like it is constantly bombarding you with negative messages? These obstacles are intended to defeat us. Whether it's the media, societal pressures, or personal struggles, staying motivated and focused on your goals can be challenging. As a pastor, I am dedicated to helping others overcome these obstacles by finding the right path forward. I want to explore critical issues contributing to self-defeating behaviors and offer biblical encouragement for overcoming them.
Courage is a vital attribute that originates within the heart of an individual. The Bible states that courage comes from a strength of heart based upon faith, hope and trust in God. It teaches that godly courage is a righteous act blessed by the Lord, while ungodly courage hinders the work of God. As believers, we must exhibit godly courage in every aspect of life.
The first of 16 times the Bible uses the phrase "good courage" reveals the need for godly courage in every believer's life. Moses told the 12 spies sent to search out the land of Canaan to be "of good courage" while stressing the importance of completing the task set before them. Moses knew that it would take "good courage" to fully follow the will of God since most of these men were unaccustomed to showing courage in the face of overwhelming adversity. Courage must rely upon the power of God and not upon your wisdom or one's abilities.
The Bible also teaches that courage can be used for ungodly purposes. David described the fear he endured. His testimony provides insight into the dangerous nature of his enemies. David pointed out that they "encouraged themselves in an evil matter." Christians are to encourage themselves in the work of God. Unfortunately, friends and associates sometimes encourage those determined to work iniquity to increase their wicked behavior. Even David failed in this regard following the murder of Uriah when he told a messenger to "encourage" Joab.
Godly courage is a righteous act blessed by the Lord. On the other hand, ungodly is just the opposite. Therefore, as believers, we must exhibit godly courage in every area of our lives. Only courageous people can truly lead others during times when courage is necessary. When we lack courage, we can hardly admonish others to trust God and have great courage.
Let us strive to be courageous in all we do, relying on the strength and power of our Lord and Savior Jesus Christ. As a teacher and writer of Bible prophecy, I know what the Bible says about the future and the sinful propensity of one's nature. The Bible foretells that "evil men and seducers shall wax worse and worse, deceiving, and being deceived" (2 Timothy 3:13). If you believe the Bible, people are going to get worse. If you don't believe the Bible, people are getting worse as a testament to its veracity. The key to success: stay encouraged in the Lord by looking to the Lord for your strength.
Dr. Doug Stauffer is pastor of Faith Independent Baptist Church. He was saved July 6, 1980, in Niceville, while stationed at the 33rd Tactical Fighter Wing at Eglin Air Force Base and has now been in the ministry for over 35 years. He has written 20 books including the best selling "One Book" trilogy ("One Book Rightly Divided, One Book Stands Alone, One Book One Authority"); along with several devotionals ("Daily Strength" series); and prophecy books ("Reviving the Blessed Hope, When the End Begins").